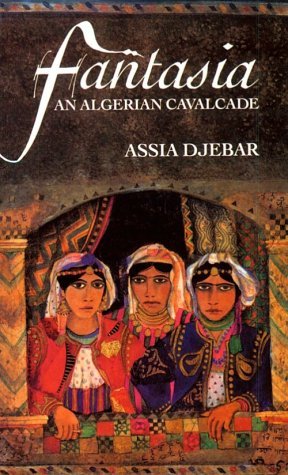 In this stunning novel, Assia Djebar intertwines the history of her native Algeria with episodes from the life of a young girl in a story stretching from the French conquest in 1830 to the War of Liberation of the 1950s. The girl, growing up in the old Roman coastal town of Cherchel, sees her life in contrast to that of a neighboring French family, and yearns for more thanIn this stunning novel, Assia Djebar intertwines the history of her native Algeria with episodes from the life of a young girl in a story stretching from the French conquest in 1830 to the War of Liberation of the 1950s. The girl, growing up in the old Roman coastal town of Cherchel, sees her life in contrast to that of a neighboring French family, and yearns for more than law and tradition allow her to experience. Headstrong and passionate, she escapes from the cloistered life of her family to join her brother in the maquis' fight against French domination. Djebar's exceptional descriptive powers bring to life the experiences of girls and women caught up in the dual struggle for independence - both their own and Algeria's....
| | | |
| --- | --- | --- |
| Title | : | Fantasia: An Algerian Cavalcade |
| Author | : | |
| Rating | : | |
| ISBN | : | 9780435086213 |
| Format Type | : | Paperback |
| Number of Pages | : | 256 Pages |
| Status | : | Available For Download |
| Last checked | : | 21 Minutes ago! |
---
Fantasia: An Algerian Cavalcade Reviews
Fantasia is a book in two parts, which alternate before one narrative takes over. The first is a retelling of the French conquest of Algeria and the following insurgency in the early 19th century. The second is an autobiographical version of the author's life a century later, as she grows as a person and sheds the roles which are forced upon her from both colonizer and colonized. Without context, it's easy to assume a novel in French about Algeria or Morocco titled Fantasia would be some uncomfortable fetishism. Thankfully there's none of that, at least on the part of the author. This is a project about reclaiming history, from the omissions of the archives and her own veiled position. Djebar reclaims history and her own thoughts, but also holds a wake for the dead and those else who were silenced.I admire the scale and aims of this project. But, I have reservations on Djerba's style. It is so much a product of the interaction between French and Algerian Arabic that it might not have survived translation. The language is repetitive, and even cliched at points. Still, I admire the goals and thoughts of this book enough that I will likely look into Djebar's work further.

Assia Djebar wants you to write a term paper about her book. She wants you to deploy trendy crit theory terminology to unpack her overtly symbolic and extremely self-aware meta-narrative of historical readings, elided autobiography and tiresome, italicized hinge pieces. But she also wants you to learn about Algerian history, about life as an Arab woman and about the torturous process of forging an identity in the liminal space between a conquering and a conquered nation. Unfortunately, she has little faith in her readers and frequently interprets her own book to be sure that everyone understands how fractured she is, what "the other" has done, on how many levels the metaphor of being veiled can operate, or what a compromise it entails that she is writing in French.When Djebar gives voice to the Algerian women who aided the native resistance or when she frames the observations of victorious Frenchmen, she shares memorable and moving stories. Her offering of Algeria's history is absorbable and relevant, knit from carefully chosen details that contrast each other quite appropriately (for instance, the Frenchman observing the battle at an aesthetic remove, perving out at the spectacle and the Frenchman drily tallying the dead stand in pointed opposition to the women who report how often "France" burnt down their homes and destroyed the men of their community). Some of these retellings are gripping and devastating because when Djebar restrains her anger and allows history to speak for itself, the book sails.I was considerably less interested in her autobiographical chapters, in the precocious observations of the privileged young child who escapes the veil through reading and scholarship. Similarly, the portion of the novel that shows a young Djebar being deflowered in Paris amongst great inward drama and traditional lament verges on melodrama and isn't strong enough to stand up to the real tragedies in the book.At one point, Djebar writes, "When writing, I have but one concern: that I should say enough, or rather that I should express myself clearly enough. Rejecting all lyricism, turning my back on high-flown language; every metaphor seems a wretched ruse, an approximation and a weakness." Aside from the fact that those sentences contain numerous metaphors, Djebar is simply lying. How can she square that sentiment with, "To attempt an autobiography using French words alone is to lend oneself to the vivisector's scalpel, revealing what lies beneath the skin. The flesh flakes off and with it, seemingly, the last shreds of the unwritten language of my childhood." Or, "every language is a dark depository for piled-up corpses, refuse, sewage, but faced with the language of the former conqueror, which offers me its ornaments, its jewels, its flowers, I find they are the flowers of death—chrysanthemums on tombs!"When Djebar works to "resurrect so many of (her) vanished sisters," her book is unique and engaging; when she pulls back to be her own theorist and when she spotlights tiny moments of her personal development on the world historical scale of her novel, she weakens her project on the whole.

1830: France invades Algiers. 1962: Algeria gains independence. (1936: Assia Djebar is born. 1984: Fantasia: An Algerian Cavalcade is written.)It's hard to call this a novel. It's not. I'd call it an essay, except at 284 pages that's stretching it. Orientalism aside, the quote on the front calling it a "mosaic" isn't far off. Djebar mixes her own autobiography with historical sources from the 19th century and discussions with women who remember the struggle for independence, and what came before and after it.1950s: a 13-year-old girl joins the fight for liberty after seeing her brother gunned down. Captured by the French, she sneers "What are you going to do, execute a girl? Throw me in jail if you want, you won't be here long enough to keep me in it." 20 years later Assia Djebar interviews her, a prematurely aging woman, taking care of her husband's children. So it goes.The central (and somewhat belaboured) metaphor here is the veil: the one women are expected to wear past a certain age, sure, but also the other veils. The one drawn over the victims of colonialisation by letting the colonialists write history. The one drawn by language, by the palimpsest of history (Algiers has Roman ruins, Christian saints, Turkish beys...) The things that are hidden by being made conspicuous, and vice versa. The freedom offered by untouchability.While the man still has the right to four legitimate wives, we girls, big and little, have at our command four languages to express desire before all that is left for us is sighs and moans: French for secret missives; Arabic for our stifled aspirations towards God-the-Father, the God of the religions of the Book; Lybico-Berber which takes us back to the pagan idols--mother gods--of pre-Islamic Mecca. The fourth language, for all females, young or old, cloistered or half-emancipated, remains that of the body: the body which male neighbours' and cousins' eyes require to be deaf and blind, since they cannot completely incarcerate it...People are buried, not just in the ground (martyrs, victims, traitors, invaders) but in the language as well; some openly, with huge monuments, others quietly, so as to pretend they never existed. Or at least never needed a monument. Djebar writes of Algeria in French, the country that enslaved her people, the language that let her mother treat her father as an equal, the language that isolated her from the women of her own family. Exposing myself by writing my autobiograpy in the language of the former enemy puts me at constant risk of burning myself up.It's notable that even The Battle of Algiers puts men at the centre of everything. Meanwhile, European politicians want to solve a problem simply by banning a piece of cloth. And so layers keep being added, and all a writer can do is point them out.

Fantasia: An Algerian Cavalcade is not a novel, or a memoir or an oral history, though it shares characteristics with all three genres. It's a piece of literature that defies easy categorization. It is, perhaps, best described as a meditation on history (Algeria's in this case), alienation and women based on sources from both the French and native sides of Algeria's recent, tragic history, including the author's own experiences (she fought in the last rebellion that ended in Algeria's independence).There are passages that are intensely interesting and even moving; the reader gets swept up in Djebar's world but then she drops into an off-putting, deconstructionalist voice that threw me entirely out of the book. I would have enjoyed it more had she not found it necessary to pull back from the immediacy of the narrative to beat me over the head with its meaning. Djebar should have had more confidence in her audience, or put the metafictional part of her musings in a separate context.I'm on the fence still with Assia Djebar. I'm impressed enough and respectful enough of her writing to be interested in reading further but I'm reserving a final opinion.

L'Amour, la Fantasia est le genre de livre dans lequel on vit, on voyage, on rêve.. Au fond d'une Algérie ancienne, prise, violée, brûlée, Assia Djebar nous raconte des histoire qui peut-être ont échappé aux historiens, les misères, le courage, la solitude de tout un peuple..

This is a book about giving a voice to those who are silent. And to those who have been silenced. Many people's stories weave in and out of one another, a tangle of emotion that eventually forms the tapestry of a nation's soul. The stories center on Algeria – France's initial occupation of Algeria in the 1830s and Algeria's war for independence in the 1950s.Most of the voices heard in this book are those of Algerian women. The author herself, older war widows, young brides, outspoken women held in French prisons, silent watchers hidden behind their veils. Ms. Djebar (an Algerian writer and member of l'Académie Française) juxtaposes stories and images to communicate in an understated way: the freedoms of French women up against the brutality of French generals, the repression of the veil alongside the bravery of Algerian women during the desperate circumstances of the war, the heartwarming along with the savage.As I was reading the book, I found it to be quite frustrating. It's written almost entirely in the first person, but the narrator shifts without warning. In each chapter, it required effort to discover the identity of the narrator. At one moment the narrative is a memoir, at the next it's a historical account, then it's an interview with survivors of the war. This made for a very frustrating read at times, but in the end the pieces all came together like a mosaic, all the more beautiful and intriguing for the confusion and diversity of its materials. Ultimately I was left with the impression that it was less important for me to know the identity of each speaker than to know that their combined voices made up the pulse of their struggling nation – a heartbeat of shared experiences during a time of war and suffering. Amid my frustration with the book's form, it was the style of the language that kept me reading. The words and images struck me with force; each scene felt vivid and immediate. I was struck by the recurrence of the image of the veil: we see the veil not only as a garment that hides, covers, and secludes women in their own cloistered world, but also as a metaphoric covering or baring of emotions in daily interactions. Djebar points to the power of the veil as an image both when she describes a veiled face as a face tuméfiée and when she speaks of writing as a refusal to veil her voice.Among the many stories, each told in its own unique voice, there is one chapter that brings an intimacy between the reader and the text that is almost hard to bear. It is written in the second person (in French the even more intimate tu form), and tells the story of a pregnant Algerian hostage on a French ship. She gives birth to a stillborn son and we feel her desperation as she senses that she no longer has a land in which to bury him. The immediacy given by the feeling that the story is being told about oneself gathers the reader up into the full storm of emotion in the Algerian plight. I can only end with the power of this woman's words: Notre terre est à eux! Cette mer est à eux! Où arbiter mon fils mort? N'y aura-t-il plus jamais un coin d'Islam pour nous, les malheureux?*****If you appreciated this review, check out my blog at pagesandmargins.wordpress.com

My attempts to be more worldly with my reading sometimes lead to great discoveries, and sometimes they lead me here. Not that Assia Djebar is not a fine writer; her prose is lovely, if a bit joyless. I did not care for this book, however.One thing I would have appreciated would have been Djebar establishing a stronger narrative through-line. There are many first-person narrators in this book, from all eras, and I couldn't keep them all clear. Is the one who played with her cousins in the opening chapter the same one who later got married in Paris? Whose brother died in the siege? Was it hers or someone else's, or maybe even someone's grandmother's?Maybe the point Djebar intended to make her was that the land--Algeria--is the real star here. I definitely got a feel for the constant turmoil of the area, from the French invasion in 1830 up until their war for independence in the 1950s and 60s. Djebar weaves a nice correspondence between this land teeming with contradictory traditions and the Muslim women, full of conflicting emotions about their lives, their bodies, and their relationships with men.But when the book moves back into the battlefield--oh, so boring. And the battlefield occupies at least 50% of the narrative. So, ultimately, not a win for me.

A Rich Mosaic of FragmentsThis is the first novel written by an Algerian, man or woman, that I have ever read. I suspect that could be true for many readers. As a new voice in my world of literature, then, it's an important book. I saw FANTASIA as a kaleidescope, though, always producing patterns and colors, always arranged, but not always understandable. I found it very hard to judge this work because it has many facets, like a shifted kaleidescope.***** Five stars for the idea or conception of the novel, for language (if it is well-translated), for the whole effort of bringing a woman's perspective on colonialism, on revolutionary struggle, and on tradition. Djebar is obsessed with the "word", especially the written word and its strength. "The word is a torch; to be held up in front of the wall of separation or withdrawal..." Words preserve and pass on memories, tragedies, pain, love and lack of love. Words hold the keys to Algeria's past, the world shattered by the French invasion and conquest of the mid-19th century, when 25 years of war ruined the country. But the French conquerers wrote of it, much more than the Algerian defenders. Their words must be mined for the reality, we must forge the Algerian view from the 'ore'. Words again unite the Algerian women and men who fought France in the 1950s. But those very French words, the language of the conquerers and destroyers, are used to pass on here, in this novel, the very heartfelt, most intimate emotions of the author. She speaks of this. Perhaps silence is more powerful, implying resistance. "Writing does not silence the voice, but awakens it, above all to resurrect so many vanished sisters." Those are the sisters who didn't know French, who could not speak out from their cloistered existence.****For bringing Algerian history to life from an Algerian perspective, and an Algerian woman's view at that, a woman who, through an educated father and schooling escaped the enclosed future that awaited her. The struggle, the never-ending resistance to the occupation of their land.***The plot of a novel is a fishing line with some attractive hooks for catching readers. If this line is broken too often, no fish can be caught. The novel becomes a collection of beautiful fragments, leaving the reader to imagine what it could be if it were all joined somehow. FANTASIA suffers from a too intricate sub-division of the voices. It is a layered approach, the conflict between two worlds---a conflict that entered even into the author's soul--- it is effective poetically, but not as prose....we lose track of who is saying what, who is related to whom, where everyone fits in. Overall Djebar reaches us, but the novel has an abstract quality that does not emotionally involve us much with any characters.

My Body, my LandWhy am I reviewing this? Do I even understand it? No, not entirely, but I understand enough to know that it is a remarkable work, part philosophy, part personal statement, part a history of Algeria under French rule. Its very language a paradox: an Arab author writing in French, the language of the conquerors—but also the language that gives her freedom as a woman from the patriarchal oppression in her own land. And reading it in French as I did, I got an extraordinary sense of Djebar's writing, sonorous, richly colored, syntactically free, juggling unfamiliar terms and proper names. I attach a sample below;* not for nothing is she a member of the Académie Française. Her prose sometimes has the detachment of an historian, sometimes the immediacy of personal confession, sometimes the intoxication of a poet—but a normal novel this is not.Look at the cover, a detail of a Delacroix painting, perfectly chosen. It is obviously influenced by Delacroix's visit to Algeria, full of colorful orientalism. But it also represents a rape, and the underlying theme of Djebar's book is surely the rape of a country and the repression of women. Indeed, for her, the failure to fully possess either her country or her own body are one and the same thing. The feminism of her writing is personal, political, and historical at one and the same time. Alternate chapters of the book tell the story of the French conquest of Algiers in 1830, the repressive and even genocidal campaigns again guerrilla resistance that followed, and the final wars before independence in 1962. But in the personal chapters that come in between, Djebar is as much concerned with male dominance as with colonialism.Her opening scene, "Little Arab Girl's First Day at School," contains virtually the entire book in a nutshell. A woman walking her daughter to school realizes that the girl will learn to write, and that writing will both expose her to oppression and give her the means to overcome it. She remembers once receiving an innocent letter from a boy, and her father tearing it up unread. I'd like to offer the rest of the chapter in the English version by Dorothy S. Blair, translated as Fantasia: An Algerian Cavalcade, because it shows Djebar's extraordinary enfolding of the feminist, political, and sexual in almost every paragraph:During the months and years that followed, I became absorbed by this business of love, or rather by the prohibition laid on love; my father's condemnation only served to encourage the intrigue. In these early stages of my sentimental education, our secret correspondence is carried on in French: thus the language that my father had been at pains for me to learn, serves as a go-between, and from now a double, contradictory sign reigns over my initiation. As with the heroine of a Western romance, youthful defiance helped me break out of the circle that whispering elders traced around me and within me. Then love came to be transformed in the tunnel of pleasure, soft clay to be moulded by matrimony.Memory purges and purifies the sounds of childhood; we are cocooned by childhood until the discovery of sensuality, which washes over us and gradually bedazzles us…. Voiceless, cut off from my mother's words by some trick of memory, I managed to pass through the dark waters of the corridor, miraculously inviolate, not even guessing at the enclosing walls. The shock of the first words blurted out: the truth emerging from a break in my stammering voice. From what nocturnal reef of pleasure did I manage to wrest this truth?I blew the space within me to pieces, a space filled with desperate voiceless cries, frozen long ago in a prehistory of love. Once I had discovered the meaning of the words—those same words that are revealed to the unveiled body—I cut myself adrift. I set off at dawn, with my little girl's hand in mine.It is hard to know to what extent the book is autobiographical. The "I" might be Djebar herself, or at least as much as the real woman (Fatima-Zohra Imalayen) cares to reveal through her nom-de-plume. In the last half of the book, where the sections follow one another like movements in a piece of chamber music, enfolding themes and variations, she will introduce several different "I" voices—resistance fighters, exiles, torture victims in the last wars against the French—any one of which might have been her as a young woman, but one assumes were not. But she becomes all women, just as she becomes her whole country.And so to the title. The "Amour" is not going to be a history of the writer's romantic life, though she has a remarkable passage when the young bride's cry at the moment of defloration in a Paris apartment becomes like a rallying cry echoing across borders and through time. "Fantasia" is more complex: an allusion to the musical structure of the book, a specific term describing the cavalcades of horsemen with rifles that are features of Arab celebrations, and (by analogy with fantassin meaning "fighter") a symbol of armed resistance. Perhaps even a national ideal, noble but fated? The same ambiguity returns in the final section of the book, entitled "Tzarl-Rit." This is an Arab word for an ululation made by striking the lips with the hand (like a child's war whoop). Both Arabic-French dictionaries she quotes ascribe this only to women, but one calls it a cry of joy, and the other a howl of despair. There is much despair in this book, but joy too—and that is what makes it so extraordinary.======*Here is a small sample of Djebar's French, sonorous images with few verbs, admittedly at the end of a short chapter entitled "Sistre" (sistrum), whose intent is both musical and poetic:Soufflerie souffreteuse ou solennelle du temps d'amour, soufrière de quelle attente, fièvre des staccato. Silence rempart autour de la fortification du plaisir, et de sa digraphie. Création chaque nuit. Or broché du silence.

Ethnically rich and inspiring in its descriptions, this 1985 collection of vignettes is an eye-opening look at a courageous North African country and people that have undergone an incredibly difficult history of colonization, war, and struggles against poverty, and oppression--of its women in particular. Assia Djebar is not easy to read in English translation much less in her original French. However, as I read the translation Fantasia: An Algerian Cavalcade (original title: L'Amour, La Fantaisia), I realized I was actually doing both the author and myself a disservice. The French language is an integral part of this narrative because it brings out an ugly irony about colonization. One of Djebar's main themes that runs all through these varied stories on Algeria's difficult history is the oxymoron of communicating her passionately patriotic feelings for her country in the language of the conquerer/colonizer--France. So, why, then, didn't Djebar write the story of this painful history from 1830 to 1962 and beyond in Arabic? I believe she wanted her stories to reach a wider audience, particularly in France where she wished to remind readers of France's brutal treatment of her people in the mid-19th century and later during the bloody war in independence, 1954-62, as well as France's attempted absorption of the Algerian culture into its own. " . . . faced with the language of the former conquerer, which offer me its ornaments, its jewels, its flowers, I find they are flowers of death--chrysanthemums on tombs! (181) . . . This language was imported in the murky, obscure past, spoils taken from the enemy with whom no fond word was ever exchanged: French . . . . This language was formerly used to entomb my people; when I write it today, I feel like the messenger of old, who bore a sealed missive which might sentence him to death or to a dungeon" (215).The collection of stories includes accounts of the original arrival of the French to Algeria's north Mediterranean shore in 1830, and provides vivid descriptions of the atrocities of the conquest--attempted genocide of Algerian tribes who hid in caves and died when French forces set fires outside the entrances to smoke them out. There are also tales of tragic outcomes of later 19th-century insurrections. (The Algerians did NOT want to be conquered by anyone!) Djebar also writes about her own childhood in the 1950s as well as tales of the painful aftermath of the independence for various widows and children. The book begins and ends with the image Djebar had of herself as a small girl being led to a French school by her father, who had been privileged to receive an education and secure a position as a teacher at that school. He wanted to give young Assia the same advantage of education, the French language, and freedom from the Muslim veil that her young cousins were already forced to wear. But with privilege came guilt and irony. "At the age when I should be veiled already, I can still move about freely, thanks to the French school. . . Unlike [my classmates:] who haven't got cousins who do not show their ankles or their arms, who do not even expose their faces. My panic is also compounded by an Arab woman's 'shame.' The French girls whirl around me; they do not suspect that my body is caught in invisible snares" (179).This collection is much more than just a self-analysis of Djebar's own identy. It's a whole saga of a country's centuries-long struggle to seize and maintin its identity and unique character despite its tragedy-laced history. As I said, not simple to read, but well worth the journey through Djebar's peculiar mode of expression.

The book interspersed the history of the Algerian people in their fights against France, especially the 1830 invasion and the liberation war of the 1950s and 1960s, with personal vignettes of the author and other women who lived through these times. While it was often poetical and thoughtful, it was a tough book to read. Maybe if my French was as good as my English, I could have appreciated it more. Not just difficult French vocabulary but also Arabic and Berber vocabulary which weren't familiar. And maybe, if she had so chosen, Assia Djebar could have given us more help in being able to follow some of the narrative. Using Google and Wikipedia I was able to make sense of most of it. While reading it, there was a danger of me finishing the book and thinking "Why did I bother?" but I didn't. Upon completing the book I thought about all she recounted and how pleased I am that I persevered. It wasn't a conventional novel or history. It was pieces, reflections and some well researched information about a subject many of us in the UK know little. The few Algerians I have met I have liked and because the country is not really open to western tourism, it has a certain mystery and appeal even. About three or so years ago, I read Ce que le jour doit à la nuit by Yasmina Khadra. That was a completely different story of Algeria, albeit one which also included quite a bit of history of 20th century Algeria. But it made me very interested in the country. I especially liked how Yasmina Khadra described the appeal of the small town of Rio Salade. Another book I have read which is relevant is L'art français de la guerre by Alexis Jenni which also intersperses personal vignettes with accounts of war. Jenni follows a French soldier who fought in WW2, Indo-China and Algeria. While Assia Djebar's book is very much from the female perspective, Alex Jenni's is most definitely from the traditional male viewpoint.

A book that I can honestly say I hated, from the first page to the very last one. I started reading it in English (part of a series of books for a class on Arab Women Writers), and got suspicious about it while reading the apologetic preface: here we had a translator writing about the "brilliant" style, the "luminous" effects of language, and how the English translation doesn't do justice to the original French, etc. In short, this indicated to me that the translation was either pretty bad, or that the book itself was pretty bad. To confirm my suspicions, barely a few pages in, I realized I hated the reading this book. It takes a lot to get me frustrated like that. The writing was clunky, flowery and convoluted; like trying to read Victorian wallpaper! I got so frustrated with the writing style that I stopped reading the English version of the book and managed to get a hold of a copy in the original French at Powell's. Reading the book in French was a great improvement, since French is a more pictorially poetic language than English. But, Gosh, darn it!, the book still consisted in disjointed and stylistically ethereal, pardon me, incoherent ramblings about the French invasion / rape of Algeria, a jumbled, meaningless amalgam of vague musings about the poetry / constraints of language, about women's repressed / oppressed condition throughout the decades, etc. (snore). It was a struggle to find some shreds of direction towards a meaning of some sort. Reading it, I was grasping at straws, struggling to continue reading; each page turned a motivation to keep on going. It was the literary equivalent of a Bad Trip or a root canal. However, in all things there are positives: Today is a Good Day; I am done with this book and look forward to get rid of it, in French as well as in English! In French (L'amour, la fantasia).

The grande dame of Algerian literature is hailed as a Nobel Prize contender, and one of only four women and the first writer from the Maghreb to have been admitted to the prestigious Académie française. She has won many prizes, and Fantasia: An Algerian Cavalcade is one of her most famous novels for good reason; Djebar artfully addresses themes such as the written, formal language of French versus the oral traditions of Berber tribes, the colonized Algerians versus the French colonizers, self versus the other, and cultural traditions - such as women wearing veils and staying indoors- versus self expression and emancipation. Experts have pointed out that the novel's structure is like a musical fantasia with a "fugue" pattern that has two "melodic lines" which in turn also have a duality each, and interrelate and enhance each other. Indeed, there are two, dual narratives: The first is the "current" time with flashbacks of the narrator as a girl in colonial Algiers. The second is the storyline of "The Cavalcade," focusing on the 1954-62 Algerian War of Independence as well as the French conquest of Algiers and environs in 830. Although most readers revel in this highly complex structure, I admire, but do not enjoy it. Simplistic as this may be, first and foremost, I want to be told a story of people I can relate to and empathize with so that all the history and insight into a culture will not only become meaningful to me as a person but will also lift me up to become a better, wiser me. While I am keenly aware of the chances of my being labeled a "blasphemist," I have to be honest; as amazing an accomplishment as this novel is, this self-important and overly symbolic meta-narrative disappointed me in English as well as French.

This was a little hard to get into at first, but after taking my time with it and really looking at everything she was doing, it became an amazing masterpiece. Djebar interweaves stories from across cultures, genders and time in order to create a history of Algeria that focuses on being inclusive and understanding that good and bad are in everyone. It's beautifully written - I haven't come across an author who can write so poetically and brilliantly since I read Steinbeck years ago. The more I think about this book the more I piece together the fragments and see a whole that is incredibly complicated and interwoven. I highly recommend this. Just be prepared to think.

Can be a bit confusing with the interweaving of time frames from past to more present. Algeria's colonization- and the fragmentation of its history, told from both oral stories and written reports from Algerians, french soldiers, and observers. An interesting piecing together of different views to create a sense of history and identity. Discusses the strength and importance of the role of women in this time of revolution and struggle.

الحب و الفانتازيا صوت نسوي ينطق بلغة المستعمر ليعبر عن مكنونات صدر مثقل بقمع لغة الأب، يتسلل إلينا كما تتسلل الأرمادا الفرنسيةإلى الجسد الجزائري المنهوك فتملئه بلهاثها و حقيقتها... آسيا الجبار تتكلم لغتها -لغة المرأة- بدلالات لغة الغازي؛ لغتها لا تنتمي إلى قوانين الجغرافيا و الناشيوناليزم و الحدود بل لقانون البوردر دوالر و الكونتاكت زون : لغة تحمل بين جوانحهاكل لغات العالم

Het is een goed geschreven boek, de structuur is complex en de schrijfster wist mij al snel diep te raken. Ik mis alleen wat, maar ik weet niet precies wat ik mis. Ik kom daar later op terug.

I quite loved this raising of women's voices that plays with the deeply collective nature of their experience. It acknowledges the strengths of an enforced world of women hidden away behind veils and walls, but also its high walls and limitations, examining the fractures in that world as women support the independence struggle, receive an education, travel to Paris. They are both joyful and devastating fractures. This narrative from multiple viewpoints in time and space struggles with an undifferentiated mass of understanding, survival of a life cycle where freedom of streets and speech end before puberty and all else folds in on the family and other women, but also those women who have been torn like splinters from it, whether through education or the freedom struggle. There is pride in this heritage, and also frustration. Nothing is easy and nothing is entirely one thing or the other.She writes:How could a woman speak aloud, even in Arabic, unless on the threshold of extreme age? How could she say 'I', since that would be to scorn the blanket-formulae which ensure that each individual journeys through life in a collective resignation? . . .my oral tradition has gradually been overlaid and is in danger of vanishing: at the age of eleven or twelve I was abruptly ejected from this theatre of feminine confidences -- was I thereby spared from having to silence my humble pride? in writing of my childhood memories I am taken back to those bodies bereft of voices. to attempt an autobiography using French words alone is to lend oneself to the vivisector's scalpel, revealing what lies beneath the skin. the flesh flakes off, and with it, seemingly, the last shreds of the unwritten language of my childhood. (156)The complications of relationships around gender fold into the complications of the colonial relationships fold into the complications of being a writer and a women emerging from then women's world of illiteracy and oral tradition. It is a swirl of what is lost and what is gained negotiating all of these sides, and a needed counterpoint to the more straightforward narratives of the French/Algerian struggle narrated so eloquently by Mouloud Feraoun, and Alistair Horne.It is the French as the Other:The policeman and his family suddenly seemed like transient ghosts in this locality, whereas these images, these objects became the true inhabitants of the place! For me, these French homes gave off a different smell, a mysterious light; for me, the French are still 'The Others', and I am still hypnotized by their shores.Throughout my childhood, just before the war which was to bring us independence, I never crossed a single French threshold, I never entered the home of a single French schoolfellow... (23)It is the French use of language, and their imprisoning within their own ideologies and stories, contrasted with young Algerian women:But what is the significance behind the urge of so many fighting men to relive in print this month of July 1830? Did their writings allow them to savor the seducer's triumph, the rapist's intoxication? These texts are distributed in the Paris of Louis-Phillipe, far from Algerian soil...Their words thrown up by such a cataclysm are for me like a comet's tail, flashing across the sky and leaving it forever riven.And words themselves become a decoration, flaunted by officers like the carnations they wear in their buttonholes; words will become their most effective weapons. Hordes of interpreters, geographers, ethnographers, linguists, botanists, diverse scholars and professional scribblers will swoop down on this new prey. The supererogatory protuberances of their publications will form a pyramid to hide the initial violence from view.The girls who were my friends and accomplices during my village holidays wrote in the same futile, cryptic language because they were confined, because they were prisoners; they mark their marasmus* with their own identity in an attempt to rise above their pathetic plight. The accounts of this past invasion reveal a contrario an identical nature: invaders who imagine they are taking the impregnable City, but who wander aimlessly in the undergrowth of their own disquiet. (45)It explores the collectivity of women created by time and tradition and strict rules. One of the narrator's sits outside of this, she receives a love letter and somehow feels it is for all:those women who never received a letter: no word taut with desire, stretched like a bow, no message run through with supplication. (60)There exists the fact that husbands always referred to as 'he' and not by name because for each woman there can be only one he, a multitude of unnamed men to match the multitude of women present. A tradition that beats individuality off with a stick, disciplines human being into the roles laid out for them.You escape Algeria momentarily for Paris, the uneasy relationship, love found between two young people there, even as they remain trapped in the webs of revolutionary fratricidal violence:The couple continued to roam the streets, chatting together, momentarily free of the others and the 'Revolution'; nevertheless, even if their embraces in a doorway could not claim that they were making history, still their happiness was part of the collective fever, and they were always on the look-out to see if they were being shadowed and to throw the police off their trail. But the police were not seen to be the greatest danger...the couple knew that the secret fratricidal struggle was all around them....As they strolled through the Paris streets together, at every crossroads the girl's eyes instinctively avoided the tricolour flag whose red reminded her of the blood of her compatriots recently guillotined in a Lyons prison...(102).Here a woman finds freedom and expression and space in the streets without being the prostitutes idealised by Breton or Soupault, without being the flaneuse or nightwalker.A woman walks alone one night in Paris. Walking for walking's sake, to try to understand...Searching for words and so dream no more, wait no longer.Rue Richelieu, ten, eleven o'clock at night; the autumn air is damp, To understand . . . Where will this tunnel of interior silence lead? Just the act of walking, just to put one foot energetically down in front of the other, feeling my hips swinging, sensing my body lightly moving, makes my life seem brighter and the walls, all the walls vanish . . .While the solitude of these recent months dissolves in the fresh cool tints of the nocturnal landscape, suddenly the voice bursts forth. It drains off all the scoriae of the past. What voice? is it my voice, scarcely recognizable? (115)Some find voice in the city streets of Paris. Some find voice in the French language. But always it comes at a cost:As if the French language suddenly had eyes, and lent them to me to see into liberty; as if the French language blinded the peeping-toms of my clan and, at this price, I could move freely, run headlong down every street, annex the outdoors for my cloistered companions, for the matriarchs of my family who endured a living death. As it . . . Derision! I know that every language is a dark depository for piled-up corpses, refuse, sewage, but faced with the language of the former conqueror, which offers me its ornaments, its jewels, its flowers, I find they are flowers of death... (181)And yet...To refuse to veil one's voice and to start 'shouting', that was really indecent, real dissidence.Writing in a foreign language, not in either of the tongues of my native country...writing has brought me to the cries of the women silently rebelling in my youth, to my own true origins.Writing does not silence the voice, but awakens it, above all to resurrect so many vanished sisters. (204)Nothing can sit easily here. Nothing avoids contradictions.After more than a century of French occupation -- which ended not long ago in such butchery -- a similar no-man's land still exists between the French and the indigenous languages, between two national memories: the French tongue, with its body and voice, has established a proud presidio within me, while the mother-tongue, all oral tradition, all rags and tatters, resists and attacks between two breathing spaces. In time to the rhythm of the rebato, I am alternately the besieged foreigner and the native swaggering off to die, so there is seemingly endless strife between the spoken and written word (215)A story comes near the end of the book, interspersed with an old woman telling of her hardships in supporting the freedom struggle, the house burned down about her, tramping into the hills. Burying her sons. A young woman joining the struggle. Burying her brother. This story of a wedding, a celebration of women to which uninvited guests can come and watch but cannot remove their veils and join in.As if they were finding a way of forgetting their imprisonment, getting their own back on the men who kept them in the background: the males -- father, sons, husband -- were shut out once and for all by the women themselves who, in their own domain, began to impose the veil in turn on others. (205)It mourns and celebrates the opening up of this world, the freeing of women and men from these bonds, and looks uneasily into the future and the crushing of contradictions and the voices that they made possible.I wait amid the shatter sheaf of sounds, I wait, forseeing he inevitable moment when the mare's hoof will strike down any woman who dares to stand up freely, will trample all life that comes out into the sunlight to dance! Yes, in spite of the tumult of my people all around, I already hear, even before it arises and pierces the harsh sky, I head the death cry in the Fantasia.Paris/Venice/Algiers(July '82--October '84)*severe malnutrition characterized by energy deficiency.

This one came to me as a recommendation to follow Clarice Lispector's short stories. I wasn't sure what to expect when I ordered it from Amazon, and ended up with something that is quite hard to describe. This follows a young Algerian woman in modern Paris/Algeria interspersed with stories built from primary source material from the French invasion of Algeria and Algerian war for independence. It is deeply political and concerned with identity of the woman who has been raised under French rule, freed from the harem by learning French and having a French education, but who is also deeply nationalistic. It's not something that I would have picked up had it not been a recommendation, but it was interesting and a novel that I will think about in the future. I think in the French, it might be significantly better than in the English translation I read.

Read for Contemporary Postcolonial Literature.There were passages of this book that completely blew my mind because they were so beautifully written. Exploring themes of women, violence, war, memory and writing, Djebar suggests what it means to tell a traumatic story, to create an archive and to listen to the experiences of everyday citizens.

A challenging, complex read, particularly the first half (set in the 1800s), due largely to the history and many names, places, and words that I was not familiar with.

The way Djebar writes this book may confuse readers without some context or explanation. The book's introduction should hopefully help. I suspect the novel's translation from French also affects the clarity of the novel. Djebar seeks to capture Algerian women's collective experience by exploring the nation's history of colonization and its impact on gender in society a century later. She does this by giving historical accounts of French colonization in the 19th century, by sharing oral accounts of women involved in the War of Independence in the 50s, and by detailing her own experiences. In the first two parts of the novel, Djebar alternates between historical accounts and autobiographical accounts. The third part of the novel contains the more recent history of the War of Independence, which is broken up by autobiographical accounts as well. We see how the historical and political impacted Djebar as a young child and a young woman — Djebar was French-educated and often struggled to balance her French education and her Arab heritage. The narrative in the third part of the novel becomes more ambiguous, and Djebar intentionally does not clarify which experiences belong to which women. This is meant to paint a broad picture of life for the Algerian woman and articulate shared experiences. The novel definitely requires a thoughtful reading but was overall a pretty good read.

Closer to 3.5 stars.This is a difficult book to review. It is not a memoir or autobiography. It is not a history book. It is not fiction created from whole-cloth, either. Fantasia shares elements with all of these. The book does not really have a plot, per se. The author gives us snippets from her childhood in Algeria, and the perception of women. This is interwoven with set-pieces from Algerian history, specifically, the French-Algerian War and Algeria's own war for independence. Some of the pieces are very lush and beautiful, and others seem to have an almost clinical detachment, even when it is describing a fearless woman standing up to the French, for example. This disconnect had a tendency to pull me out of the reading, and made this book very slow-going for me, at times. In short, I am glad that I read it, but I feel that I am missing a lot. I don't know if it is because it was originally written in French (always a wonder when not reading in the original language), or because I only knew a smattering of Algerian history going in, thanks to Wikipedia. Apparently, there is a second and third book in the series, but I'm not sure if those are more novel-like or much like Fantasia. [From my readings it appears that it was supposed to be a quartet, but Ms. Djebar passed earlier this month, so I don't know if it was ever completed.]

An intensely affective read

Such a rich text but entirely too academic-ish for me. I understand the need to abrogate and appropriate imperial structures but wonder if it can be less painful. I value so many fragments of this book: the intimate moments of linguistic alienation, the allegorical rape that is colonization, the transferring of the oral accounts of the Algerian females into text -- all were moments which provoked deep introspection and de-centered my perspective.Unfortunately the more far-reaching elements of the text are so grounded in inaccessible literary theory that it undermines any kind of anti-establishment agenda here. The fact that Djebar has been inducted into the French Academy speaks volumes about the inevitable imperial co-optation at play in literary review. Try as she might, Djebar cannot escape colonial aesthetic and evaluative standards. So we have a book which is inaccessible and praised by the literary establishment despite its radical inversion of colonial structures...hmm. 2 stars!

Dorothy Blair's excellent introduction to Algerian author Assia Djebar's "Fantasia" provides the following background regarding the title: "The Fantasia (derived from the Arabic fantaziya [meaning ostentation]), is in North Africa a set of virtuoso movements on horseback executed at a gallop, accompanied by loud cries and culminating in rifle shots; the Fantasia, associated with ceremonial occasions and military triumphs . . ." This novel can be characterized as autobiography, history (Algerian wars with France), heart-wrenching eye-witness accounts, and perhaps most poignant, it provides insight into the complex role of women in Algerian and Islamic society. The latter part of the novel has a musical structure to the eye-witness accounts (five movements), and can be viewed as a "threnody of war" (p.56). As usual, I was challenged by Djebar's autobiographical story-telling skill. I also highly recommend Djebar's collection of stories, "Femmes d'Alger dans leur Appartement" ("Women of Algiers in their Apartment").

apparently a fantasia is a military manuever of the opposing sides taking turns being on the offensive and the defensive, making a back and forth sort of motion. if you look at the table of contents for this book, the actual structure of the novel takes that form as well--in and out, indented and not (brilliant!). using a mix of first person memoir, written-down oral accounts from algerian women, and actual military accounts, djebar tells the history of the algerian-french conflict in way that shows how people's individual lives make up History.

This work houses some of the most beautiful language I have ever seen on a page. The author seemed to draw from the experiences of her soul to create this work of art. I only withhold five stars because the book is longer than necessary, and difficult to read due to its structure. There is no through story line. It is a series of vignettes, quick glimpses, into Algerian history under French imperialism. It's positively dripping with symbolism and metaphors so beautiful they can make you weep.

I read this book years ago in a women's lit class and absolutely loved it. I knew only a very little bit about Algeria and their drawn out war with France for independence, and this book portrayed those times in vivid fashion. Interweaving the stories of the war with the stories of a girl growing up in Algeria over 100 years later was done beautifully by the author. I had the opportunity to meet her in this class, which was amazing - it was a memorable experience.