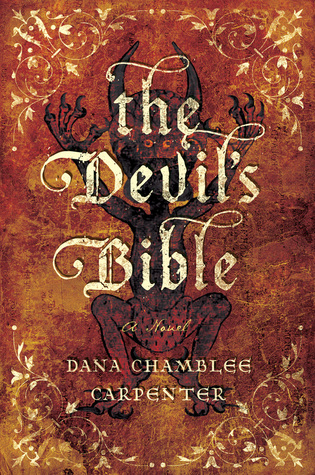 The Devil's Bible. Once considered an eighth wonder of the world, the ancient book is shrouded in mystery. No one knows who wrote it or where it was written. Even dry-boned scholars whisper about the secrets hidden in the book: How it calls to the power-hungry. How it drives people mad. How it was written in the shadows by the hand of the devil himself.But no one knows theThe Devil's Bible. Once considered an eighth wonder of the world, the ancient book is shrouded in mystery. No one knows who wrote it or where it was written. Even dry-boned scholars whisper about the secrets hidden in the book: How it calls to the power-hungry. How it drives people mad. How it was written in the shadows by the hand of the devil himself.But no one knows the truth—no one except Mouse.She's been running from the truth at the heart of the Devil's Bible for so long that no one even knows her name anymore. She calls herself Emma Nicholas—a normal name for a normal college professor living a normal life. But all of it is a lie, and, when forces emerge that threaten to expose her, Mouse has no choice but to take flight once more.Desperate and on the run, Mouse unexpectedly finds hope in a stranger's kindness. But it will take more than hope to win this game of souls—a battle between good and evil set in motion long ago at the birth of the Devil's Bible....
| | | |
| --- | --- | --- |
| Title | : | The Devil's Bible |
| Author | : | |
| Rating | : | |
| ISBN | : | 9781681773377 |
| Format Type | : | Hardcover |
| Number of Pages | : | 400 Pages |
| Status | : | Available For Download |
| Last checked | : | 21 Minutes ago! |
---
The Devil's Bible Reviews
The Devil's Bible is a real book. Known more formally as the Codex Gigas (giant codex), it measures 36" tall and 20" wide. Believed to have been produced at the Podlažice Monastery in what's now the Czech Republic, this immense medieval manuscript received its nickname because of the eerie legend behind its creation, and because it contains a full-page color drawing of the devil, in all his maleficent glory. In her second historical fantasy novel, Dana Chamblee Carpenter uses the actual history and folklore surrounding this strange text to imagine the circumstances that led to its writing. It needs to be said that The Devil's Bible is a sequel to Bohemian Gospel, and readers starting with book two will miss many nuances and won't feel the full impact of events as they unfold. The first book introduced the character of Mouse, an orphaned young woman in 13th-century Bohemia whose unusual gifts and ability to harness supernatural powers caused people to fear her – for good reason, as it turned out. Bohemian Gospel was an impressive debut, but I like this sequel even more; it's more smoothly paced, and while the first book felt almost unremittingly dark, this book offers many moments of light and hope that counterbalance the bleakness. The story is split between two time frames. In the year 1278, Mouse, who refuses to cause more unintentional harm to others than she already has, has herself walled into a cell at Podlažice Monastery and inscribes the book that will become the Codex Gigas. Unfortunately, the source of her occult talents, her father, finds her there and insists on making his own contributions to the book. Then, in the present day, we find Mouse employed as a Nashville university professor calling herself Emma Nicholas. Fearful of becoming close to anyone over the last 700 years, she holds tight control over her gifts and hopes her father won't find her again. That is, until a former student claiming expertise in the Devil's Bible catches up with her at a conference. The power she unleashes in her defense naturally attracts her immortal father's notice. With its combination of speculative religious history and high-stakes thrills, The Devil's Bible may feel thematically similar to The Da Vinci Code, but the writing is more sophisticated, and it takes a more original spin. For Mouse, who struggles to come to terms with her nature, the Church and the devil are both strong adversaries, for different reasons. Her twisty relationship with her father kept me guessing (what does he want from her?). I also appreciated the scenes juxtaposing past and present and the continued focus on less trodden historical ground.While at the Vatican, Mouse encounters a likely enemy and finds a surprising ally who accompanies her on her mission. In their quest to evade her father and find clues from the book she inscribed centuries ago, she revisits many sites from her past: the crypts and monuments of medieval Prague, the crumbling ruins of Podlažice, and several others. Also, although Mouse is fictional, her depiction as the original scribe of the Codex Gigas fits neatly with its legend. First reviewed at Reading the Past.

Thanks Edelweiss for this ARC.Deep, philosophical, and mystical with heart racing travel around the world. Can't wait for more from Dana Chamblee Carpenter!

LOVED IT!!!If you have not read this series, then stop what you're doing and read it NOW!It has everything, the struggle between good and evil, the search for the true meaning of redemption/religion, romance, magic, history....oh so much beautiful history I LOVED IT. I felt like I was back in time in 13th century bohemia in book one and the seamless transition in this book....YAY!Mouse has only grown, in both literal years and in her conviction to redeem her actions. She is alone to start this novel, but her humanity always shines through. Her good. Then you ask yourself, who really are the bad guys? SOOOO GOOD!!!!

Absolutely spellbinding. Bohemian Gospel and The Devil's Bible have more hook than a Dan Brown novel. Review on the blog soon.

Series review on the blog at Bambi Unbridled

Why haven't more people read this? It's an excellent historical thriller. Perfect complement to the first in the series.

Wonderful !I mean wonderful in the full meaning, this book is full of wonders. The character of Mouse is so realistic that I have come to anticipate more stories. As a follow-up to Bohemian gospel it expounds Mouse more fully and allows the reader an in-depth look into her character and humanity. Highly recommended and eagerly awaiting a sequel.

Not as exciting as the previous novel…My thanks to my contacts at Pegasus Books, Iris Blasi, Katie McGuire, and Maia Larson, for my advance reading copy of this book. You ladies rock!I really enjoyed the previous volume, Bohemian Gospel, but this one not so much. There was so much mystery and tension in the first book, because Mouse's strange powers and longevity was a large part of the mystery. The Bohemian Gospel ended with a confirmation of the general consensus of just who and what Mouse actually is—SPOILER ALERT if you haven't read Bohemian Gospel—the daughter of the devil! Now her continuing adventures are a tad diminished by that certain knowledge. Had the author never confirmed the fact that the people Mouse encountered firmly believed, it would have been better for the sequel.Mouse now calls herself Dr. Emma Nicholas, a professor at a Nashville university. The secret of her parentage she has buried for the past seven hundred years. Now she runs the risk of exposure.One of her former pupils is in town to promote his controversial new book. His name is Dr. Jack Gray, and his book is titled Who Wrote the Devil's Bible? He'd been fascinated with The Codex Gigas ever since Mouse had mentioned it to him in class over thirteen years earlier. Granted, she had likely said a bit too much, which was really unwise given her own years of writing this oft-reviled religious relic.Dr. Jack Gray had this new book out now, and had called attention to her during his speech. Thus forced into the light, she knows that this will alert her father, the devil she has been hiding from for many years now.She resigns her Professorship, and flees to Europe to avoid her father. She travels to Rome and finds herself in a fiery dispute with the Vatican. She moves on to Prague seeking the final missing pages of The Devil's Bible. Her father needs these pages which hold a power even Mouse doesn't completely understand. All that she knows is that she has to find them before he does.Mouse knows that sooner or later her father will tire of sending foes such as the fire demon Moloch and will face her himself. On that day her fate will be decided once and for all—as may the fate of us all…Like I said the magic of the first novel lags in this sequel, but it isn't all that bad. It may just be that it plumbs depths that I personally find very dark and unsettling as a Christian. That's my excuse, anyway. The writing is crisp and the action detailed. The characters are complex and the dialogue smooth. I will give it three and one half stars…Quoth the Raven…

This series is the best I have read in years. I can really tell that Dana has worked hard both researching and writing this book. Gone is the timid mouse of the past books, time has hardened her and bought her freedom from her father. In this book she contemplates her immortality, her soul, and the possibility of others like her. Despite the setbacks that she encounters, she opens her heart again after 700 years, fighting for her very existence. I honestly can't wait to read more in this series when the last book is finished. I highly recommend it to anyone who has even a passing interest in the Codex gigax or likes historical fiction.

Great StoryAn imaginative story of the devil's daughter and her struggle to find her place -- will she take her place at her father's side or does God have something else in mind for her. Great story.

Even better than Bohemian Gospel. The first book had a lot of good things going for it, but Carpenter really amped it up in the sequel, which made for a truly epic read. I was prepared for the switch between centuries to be jarring, but Mouse's character and struggle--still recognizable, still heartfelt--tied everything together nicely. (While still leaving room for character growth, of which there was A LOT.)Personally, though, my favorite part of this book was getting to know Mouse's father. Carpenter's portrayal of him was wonderfully nuanced and thought-provoking, and his interactions with Mouse in the monastery were my favorite parts of the book. (The only thing that seemed strange to me was how he kept speaking in rhymes in the 21st century, which he didn't do in the 13th. Like, it seemed that his manner of speech evolved with the times more than Mouse's did? It wasn't a huge issue though.)Bishop Sebastian was an equally well-written antagonist, and it was interesting to see the evolution of Mouse's feelings toward the Catholic Church. Angelo also made for a worthy love interest--more so than Ottakar in the first book. He just had more depth to him. (I confess I initially thought Jack Gray was going to be Mouse's new love interest, and I'm glad he wasn't, because he was obnoxious!)In conclusion, I've gained even more respect for Carpenter's writing skills after this. I eagerly await the third book (I'm assuming there's going to be one, given that ending) and am curious to see what she does next! (On a side note, for me, this book really hearkened back to Elizabeth Kostova's The Historian.)

Medievil, European history/fantasyThe Devil's Bible actually exists. It is a medievil manuscript called the Codex Gijas (giant codex) due to it's size - 36 inches tall and 20 inches wide. It recieved it's nickame because of the many legends connected to it's creation and the full page color drawing of the devil.This is the second book in a series featuring an orphan called Mouse. I really like this character who has inherited immortality and strange powers from her father. He is also interesting, but very dark and menacing.The timeline is split between 1278 when Mouse literally locks herself away in a monastary to write the codex (with some unwanted help from her father), and the present day. In modern times, Mouse is continuously on the run, changing identities and avoiding any intimate relationships. She finally lands in Rome where she gains some enemies and a surprising friend and ally. He assists her in her quest for knowledge of her father and helps her with conflicts within her nature and her past. I really look forward to the next book and further adventures of Mouse!

The Devil's Bible is the sequel to Dana Chamblee Carpenter's best seller Bohemian Gospel. I highly recommend you read or listen to it first. Both books were very well researched in terms of the time periods and the very complicated politics in addition to the Church history. In the first book, Mouse, the main character, was a very unusual female for the time period. She was better educated than most women at the time. It is not her education that struck me as much as her spirit. She was trying to live a life of her own choosing.Mouse is changed in the second book, The Devil's Bible. Her spirit seems very damaged, if not broken. She is not living as much as surviving. She forms no ties with anyone or anything. She lives a life of simplicity that she can flee at a moment's notice. She is more of a shadow of a person than a person. While I understand why she felt she had to live that way, I really did not like Mouse like that. It made me angry. Ever wish you could jump into a book and save your favorite character? That is how I felt, like I needed to reach it and tell Mouse I would help her. I was so glad when she decided to fight to regain herself, she was more like the Mouse from the first book.There are so many plot points that I cannot discuss because they are spoilers, especially for someone who hasn't read the first book. Mouse is a character steeped in mystery and mythology. She is not wholly human as though it is what she longs to be. The characters she interacts with are human and non-human. I love Mouse and really like both books.Tantor Media had given me the first book and then offered me this one in exchange for an honest review. I was happy to accept. Justine Eyre is wonderful. Her voice has a musical quality to it. I found I could not listen to it in bed because I fell asleep. Otherwise I had to have a quieter atmosphere than usual. I think it was because of the complexity of the plot. Ms. Eyre does such a fine job of clearly enunciating every word. So it is totally my fault that I could not binge listen to it even though the story was enticing. I would recommend both Bohemian Gospel and The Devil's Bible narrated by Justine Eyre to anyone who enjoys historical fiction, mystery and paranormal fantasy.

I really enjoyed reading this sequel, especially knowing that The Devil's Bible actually exists in real life. The story that began with Mouse in Bohemian Gospel was taken to new heights here, as the tale flits from past to present to explain how things ended up the way they are now. The past revolves around the actual creation of the Bible, and how she became influenced by her father - who had his own ideas on what should be in this book. The present takes us to Mouse's current life as Emma Nicholas and how her new identity falls apart when her father and his "people" find her. While I enjoyed the story, I will say that I preferred the prequel. Perhaps it was because the prequel dealt more with Mouse's discovery of her abilities and origins whereas this novel was more of an internal conflict on how Mouse can save those she cares about. However, the story was still gripping and exciting and the conclusion left room for (hopefully) another book to be added to the series. If you are looking for an interesting spin on something historic with supernatural and fantasy elements, then this is a novel you definitely want to check out. Just make sure you read the prequel first!For more reviews, visit: www.veereading.wordpress.com

Dana Chamblee Carpenter is a very gifted writer and her character, Mouse, is intriguing and keeps you wanting to know more about her and her fated past/future. I loved the first book, BOHEMIAN GOSPEL. While this second book is also interesting, I felt the pacing lacked the urgency of the first book. But I am in love with the period of the 1200s in Prague where all the previous action took place in the first book and a few more scenes play out in this second volume. I will definitely read the 3rd book in the series and hope that it has a tremendous payoff! Go Mouse!

If you want a fast-paced, compelling story that does not have any dull moments, then this book is most definitely for you! The story is a great adventure with twists and turns that are welcomed and enjoyable. The air of mystery and fascination combine in this novel. Many times I felt like I was right there along with Mouse and Angelo on their adventure. You most definitely want to read "The Devil's Bible!"

Still FeelingOh my God! I have never had a book make me FEEL so very much. I've cried throughout so much of her story. I'm still crying as I try to rate this story. Thanks author carves all of our heroin's hopes, fears, dreams, heartbreak, into the reader's very soul! This story is amazing, so much more than I would have expected. I don't read any book twice, but I think I may need to come back to Mouse again, some day. She is most certainly worth a second visit. I've been an avid reader all my life 5 I am no spring chicken, but no book I've ever read, has had so POWERFUL an effect on me. Read it for yourself, if you don't you will have missed something very very special.

A good follow upThis was a good sequel, however the first book was better because I didn't know what to expect after every chapter. This one was a little more predictable; not because of the writing but because I knew the prior story. Still, I couldn't put this book down and am looking forward to the third book.....I hope.

Excellent book along the lines of Dan Brown's daVinci Code. My only issue is the part regarding stealing the Codex Gigas. I would imagine, at 36 inches tall, 20 inches wide, 8.7 inches thick, and weighing 165 pounds, that it would be a feat more difficult than described in this book. That said, this is fiction...

Enjoyed this one very much. Didn't realize that it's the second in a series? I really liked that, unlike some books based on historical Catholic documents, I didn't feel like I needed to go to seminary to understand what was going on. Now I just need to go back and read the first one!

This series is pretty cool. It's what the Dan Brown novels would be like if Robert Langdon were, well, a girl who had the devil for a father. It's got just the right mix of history, evil, travel, and high stakes for humanity. It's a lot of fun and drama all tied together.

I can't wait for the next book.

Excellent book, I can't wait to read more of Mouse, as I am sure this will not be the last book. Even better than the Bohemian Gospel

This story pulled me in from page one. I love how the author took a historical legend and created a wonderful story about how it is the choices we make, not our blood ties that define us.

I didn't know when I read the first book that there would be a sequel, but I am so glad the author decided to continue the story. This was a very good story and I look forward to the next one.

Ah, ok first of all this is based on the real manuscript Codex Gigas aka the Devil's Bible, so there's that historical connection. But calling this the next Da Vinci Code is quite a stretch. For starters, I didn't even know this Devil's Bible is a real thing until I finished the book and read the notes from the author. That's the biggest problem, not many know about the Codex Gigas like they do Leonardo da Vinci. So it all feels fictional and not like Da Vinci Code where you really have a "what if" moment. I respect the author's details and research, she definitely did her penance there. However, I never felt like a what if this could happen in real life, mainly because I'd never heard of the Devil's Bible and had no context regarding the Bohemian history and churches in Prague. I'm sure someone who grew up in Eastern Europe would be all over this, but for this Southern gal, it's a no-go. And the author herself is a Southerner, from Tennessee, so it really shows she truly did her due diligence for getting all this history right. Then again, it could all be wrong, I wouldn't know because I have never heard of any of the places or people or historical accounts she refers to. Also, the dialogue was stiff, the romance between Mouse and Angelo seriously lacking, and the name of the main character being Mouse was just plain weird. Mouse. Ugh, maybe it's because I hate mice and rats and rodents but every time someone called her by her name and she felt touched, I felt disgusted. It suspended belief for me. I bet you big bucks there will be a #3 based on the ending, which was too quick and left out too many details, I think the book could have been more detailed, less action, and it would have been more interesting. Will I read a #3 in this series? I loved #1, Bohemian Rhapsody because of the historical setting of Bohemia that was very Game of Thrones-like and the author's ability to add detail to bring the scenes to life. #2 though missed the mark for me and I don't think I'll pick up #3. I was interested in what would happen in #2, but I didn't get it, it didn't leave a well enough impression that I'm jonesing to read the next one. That being said I'll still be on alert to see what it's about, but if it's set in modern times or from Mouse's POV, I doubt I'll be reading it.

See my other reviews at Never Enough BooksThe Codex Gigas, also known as The Devil's Bible, is an ancient book shrouded in mystery. Once considered one of the wonders of the world, the truth behind who wrote it and where has been lost to time. Yet there are those who continue to whisper about the strange book - about how it calls to the power-hungry and eventually drives them mad.There is no one alive who knows the truth - no one except Mouse.Going by the name Emma Nicholas, Mouse has been running from the truth behind the Devil's Bible for centuries. Using a normal name and trying to live a normal life, Mouse only wants the one thing she can never have. Yet her life of a lie has caught up with her and when she finds herself facing exposure, Mouse has little choice to run.Believing herself beyond help, a stranger's kind act gives Mouse the first glimmer of hope she has felt in years. This flicker will need to be fanned to a full force flame however if Mouse wants to win this game of souls that began a very, very long time ago.The Devil's Bible is a real book, and like it is portrayed in this book with the same name, it is shrouded in mystery. No one truly knows the truth behind this book - who wrote it and where - though many theories abound. Chamblee-Carpenter offers one version, mixing reality and fantasy in this edge of your seat story.I really enjoyed reading The Devil's Bible. It wasn't until I was adding this book to my Goodreads queue that I realized it is the second book in a series. Fortunately, one does not have to read the first book to enjoy the second. The first book seems to be solely about Mouse's early life up to the point where she penned the Devil's Bible. The second book is more modern day and touches briefly on Mouse's past enough that the reader is able to follow along.There are some who might compare The Devil's Bible with The DaVinci Code with its combination of speculation and truth. And while there are some similarities, I enjoyed The Devil's Bible more. While rich in religious imagery, it also doesn't bash you over the head with it.The one drawback I found was what was supposed to be the "final" battle between Mouse and her father. Looking back I can see why it was written that way as it left things open for a sequel. However, as I was in the process of reading the book, I felt let down. Like so many things, the ending makes sense in hindsight.On the whole, I greatly enjoyed The Devil's Bible. There are numerous people on Goodreads who say you should read the first book, The Bohemian Gospel, first; yet there are just as many who were like me and read the second book without reading the first and liking it just as much. Whichever way you decide to tackle this tome, I recommend it to all of my readers.

I didn't enjoy this much as Bohemian Gospel. The Devil's Bible is fine and all but I felt like it just floated along, it didn't get me excited like the first novel. Oddly enough I liked Ottokar and Mouse's relationship development better than Angelo and Mouse's. Angelo is a likeable enough character but I was expecting more, something just felt flat about it, perhaps it is because Angelo was introduced two thirds into the book and he felt like an intruder for a time or his and Mouse's relationship happened too fast.

I really enjoyed Carpenter's first book, Bohemian Gospel, I did not realize it was first in what will be probably a series. This sequel was very meh for me. I enjoyed most the flash backs to Mouse and her Father and their time together getting to know each other and writing the Devil's Bible. (view spoiler)[I really did not care for the love interest. I don't know if it's just because he was going to become a priest, but maybe not since he didn't really have the 'calling from the church'. Just not here for it, I guess.(view spoiler)[It's setup for a third book, but honestly, I think I'm done.(hide spoiler)] (hide spoiler)]

This sequel to The Bohemian Gospel has a different atmosphere compared to the first book, with a change of time period and more character development - it is a little reminiscent of Dan Brown. The plot created during the first book is engaging and original and I guess more books are envisaged. I'll look out for them.