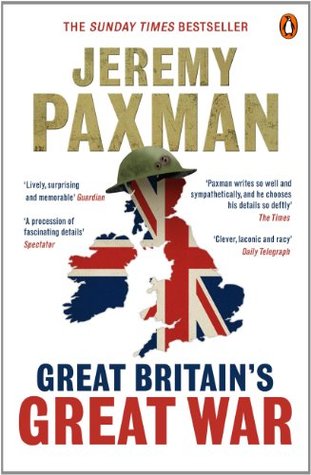 Jeremy Paxman's magnificent history of the First World War tells the entire story of the war in one gripping narrative from the point of view of the British people.'If there is one new history of the war that you might actually enjoy this is very likely it' The Times'Lively, surprising and memorable' Guardian'A procession of fascinating details' Prospect'Paxman writes so wJeremy Paxman's magnificent history of the First World War tells the entire story of the war in one gripping narrative from the point of view of the British people.'If there is one new history of the war that you might actually enjoy this is very likely it' The Times'Lively, surprising and memorable' Guardian'A procession of fascinating details' Prospect'Paxman writes so well and sympathetically and he chooses his detail so deftly' The Times'Clever, laconic and racy' Daily TelegraphLife in Britain during the First World War was far stranger than many of us realize. In a country awash with mad rumour, frenzied patriotism and intense personal anguish, it became illegal to light a bonfire, fly a kite or buy a round of drinks. And yet the immense upheaval of the war led to many things we take for granted today: the vote, passports, vegetable allotments and British Summer Time among them. In this immensely captivating account, Jeremy Paxman tells the entire story of the war through the experience of those who lived it - nurses, soldiers, politicians, factory-workers, journalists and children - explaining why we fought it so willingly, how we endured it so long, and how it transformed us all.'A profoundly personal and thought-provoking new analysis of the Great War' Mail on Sunday'One is left with a better understanding of how the Great Britain that began the war became more like ordinary Britain by its end' Sunday Times'A judicious mix between individual stories and the bigger picture ... engages the mind and emotions' Daily Telegraph'Particularly good in showing how much a modern perspective distorts our understanding' Prospect'Incisive, colourful. Paxman delves into every aspect of British life to capture the mood and morale of the nation' Daily ExpressJeremy Paxman is a renowned broadcaster, award-winning journalist and the bestselling author of seven works of non-fiction, including The English, The Political Animal and Empire....
| | | |
| --- | --- | --- |
| Title | : | Great Britain's Great War |
| Author | : | |
| Rating | : | |
| ISBN | : | 9780670919635 |
| Format Type | : | Paperback |
| Number of Pages | : | 368 Pages |
| Status | : | Available For Download |
| Last checked | : | 21 Minutes ago! |
---
Great Britain's Great War Reviews
Jeremy Paxman's book Great Britain's Great War discusses the Great War chronologically, taking the reader from origins to the battlefield to the aftermath of the Armistice. It is written plainly, and has some good insights and very thoughtful and intelligent observations about why men went to war, what the British hoped to achieve, and how our attitudes today perhaps misunderstand these fundamental ideas. A good point about this book is it doesn't lose its focus- it's about Great Britain and her experiences through the war, and sticks to this theme. This is a slight disadvantage in some ways; for example the Eastern Front and Russian Revolution are only mentioned in passing, but it does mean the prose of the book maintains its focus on the topic at hand. I felt that the book did not glorify the war; indeed it is critical where necessary. Lots of key figures of the war were discussed, including Kitchener, Asquith and Lloyd George, Seigfried Sassoon, Wilfred Owen, and so on. Paxman's work is clearly written and easy to understand, yet does not shy away from difficult topics. There is a discussion towards the end as to perhaps why some see the war today as "pointless" which I found interesting, as well as the discussions about the attitudes of the people who remained at home. One particular topic that made me think was the glorification of those that had died, but the revulsion at some of the men who were disfigured during battle. It seemed that many at home wanted the men to go and fight, but not many wanted to see the disfiguring results of such warfare, and sometimes the maimed were required to be hidden. I found this a difficult yet necessary topic.There is a lot more that can be said, but as it is all in my status updates I will sum up my experience of Great Britain's Great War as a readable, engrossing account of the war from the British point of view that does not lean towards any particular 'side'. Paxman presents the information in a style that can be easily digested, although his conversational tone might not suit everyone, and his chapters make use of plenty of primary sources and scholarship. I do think perhaps those that are very well read in this topic might not gain a great deal from this book, but it would certainly suit those looking to begin or refresh their knowledge of the First World War from the point of view of the British and/or the Western Front.

I enjoy reading Jeremy Paxman's books, and this was no exception. I wondered how he would handle such a momentous historical event, and he confesses that he sometimes struggled with the weighty task in hand.Although the general outline of the conflict is discussed, it's the little anecdotes and vignettes of everyday life during the Great War that really stand out for me. Paxman highlights the sense of paranoia which gripped Britain in the early days of the War, as it was assumed that German spies and agents were everywhere. This meant that anybody speaking a foreign language on the streets of Britain was automatically suspected of being an enemy agent. Thus, an elderly lady in Inverness was arrested by soldiers after she was heard speaking Scots Gaelic and assumed to be German!Oh, and forget buying your mate or partner a drink. The Defence of the Realm Act, introduced in Britain in 1914, contained some of the most draconian legislation ever passed by Parliament. It outlawed buying drinks for other people and allowed beer to be watered down, as well as forcing pubs to shut early. All, of course, to keep important war work from being interrupted by drunken workers.It's a book which, not surprisingly, captures snapshots of human emotion that such a bloody hell inflicted on that generation. I laughed in parts, and I almost cried in parts.

On the centenary of the First World War, a flurry of new publications have emerged detailing the events of The Great War, insuring that its significance in terms of the changes it provoked and the tragedies and deaths it amassed are not forgotten. Jeremy Paxman's 'Great Britain's Great War', which goes alongside his television programme of the same name, describes the war in terms of the people who lived through it at home. He tells the common man's story of the war. Paxman argues that the First World War sparked a series of changes in British society that have been steadfastly held and are recognisable today. When talking about this book at The Edinburgh Book Festival this year, he used the analogy of a Victorian time-traveller coming to Britain in 1924 and struggling to identify with it; compared to coming along in 1914 and being able to find some recognition with Edwardian Britain. Paxman narrates the important events of the war, from the "lamps going out all over Britain" to the Christmas armistice, the Somme, the stalemate in the mud to the last hundred days and the eventual Armistice. Interwoven with the tales from the Western Front are the tales of anguish and turmoil of those left back at home. He prosaically narrates how the war affected them in terms of governmental crackdown and intervention. He argues that this was the beginning of the government taking an interest in the workings of everyday life for the first time. With censorship and rationing came the, limited, vote for women in 1918, the passport and growth of allotments. The story of the everyman back home in Britain is often overlooked, which is incredible giving that it is tantamount to understanding why British society was so radically altered post-1918. Of course, the Western Front account of the war is significant, and where would we be without the war poetry from the trenches? However, it is refreshing to read something which pays particular attention to the other side of the story. Paxman's history of the Great War in Britain is written to be digested by the common man. He makes the struggles felt by those during the war years very real and very vivid. I would recommend this book as a starting point for those who want to learn more about the war in Britain. http://lucyanneshiels18.wordpress.com...

I read this as knew very little about WW1. this good basic insight as to the conflict and ideal to help know what aspects you would like to further read up on. Paxan does tend to write as he appears on TV, a complete know all

This was a very good and interesting book. An informative journey through the events of the First World War. Journalistic in style it covers in detail the awful conditions of the trenches, and also the contemporary wranglings of the British politicians as they failed to grasp the war as it unfolded. It lacked a decent conclusion and just sort of ended a little abruptly with a lot of threads untied, which had it have wrapped up nicely would have turned this from a good read to great one.

I had Paxman reading this book out to me in my head, which worked awfully well. Makes for a great read, full of interesting (and very human) vignettes from the Great War. P.S: As for the accuracy of statistics stated, I haven't done my homework with related background reading, so I have treated this book as a mere point of general reference.

Starts out promisingly, only to prove ultimately disappointing. I appreciated that Paxman strongly emphasized the necessity of not accepting received wisdom at face value, as well as the fact that he encouraged the reader to not dismiss the people who lived during WWI as a bunch of mislead dupes and dopes. Unfortunately, the author has a nasty habit of being misleading about things while carefully avoiding an outright lie. I was genuinely shocked when he implied that Britain experienced 181,000 gas-related fatalities during the conflict; in reality, this figure is closer to 8,000 (the total recorded gas fatalities for all combatant powers is roughly 91,000). If it'd been an isolated incident, I could've dismissed it as a mistake, but Paxman repeats the feat with other items throughout. Another example is his treatment of Edith Cavell, whom he insinuates didn't have much to do with smuggling trapped Entente soldiers to safety, a very curious take on Cavell's having saved the lives of 175 people. I won't belabor it, but suffice to say that these and additional examples add up to paint a not particularly flattering portrait of the author's willingness to tell truths that don't fit easily in with his ideas. That aside, the description of this book itself isn't terribly accurate, and anyone expecting it to be is going to be left wanting. Knowing that authors frequently don't have much control over what ends up on the back cover, I'm not inclined to think that this was an issue from Paxman's quarter. While the synopsis indicates that the book will give an overview of what day-to-day life was like for average Britons, the focus instead is on the military and the political, with occasional comment on the larger public. In this regard, it's fairly pedestrian, as this is territory which hundreds, if not thousands, of other books have covered, and with greater success. Between this and the fact that you'd have to read it while clasping a grain of salt the size of a bowling ball, I can hardly recommend it. My only consolation is that at least I got it on markdown.

"A subject that needs more thought that remembrance"This conflict seems so far away from our world, so disconnected from our present life, we think of the trenches and their awful conditions, stagnating men for years in immovable frontlines lines, the mud, the tunneling, blind men leading blind men out of trenches, men charging by the thousands into deaths arms. We are encouraged to remember, but not given much of a perspective as to why it occurred or how it concern us the great grandchildren of that period. This book present us with a reportage of those events and many conclusions and explanations of where things fit in this story and how they are still relevant to our period. This is the first war to use air forces, tank divisions, chlorine gas, mustard gas, submarines to sink civilian ships, and air raids on civilians, mass propaganda to recruit and miss inform, this was the first industrial war, with industrial death. Presenting us with the consequences of modern technology and war unleashed on humanity frailty.It is the point where women begin to be integrated into the workforce, giving them a real political place in society. The place in time where the old class system is charteredThese are the first inroads and seedings of the of future conflicts like the second world war, the cold war, and our current middle east conflicts and wars.Jeremy Paxman reports from within the time and period about the people of britain their concerns, beliefs, fears, and tribulations; he presents a picture that is history at street level, not from an ivory tower. He tries to capture the mood of a nation through the war and present us with concise analysis of the events, not just political but of a broad spectrum of social concerns.A very good read of a subject that needs more thought that remembrance.

I adore Jeremy Paxman for the same reason that many loathe him - I find his smug arrogance rather refreshing, and delight in his occasional bursts of wry humour. This book has the latter quality in abundance (perhaps surprisingly, considering the grim topic at hand), which makes for a delightfully engaging read. I adore the little "Paxmanian" touches scattered throughout the book, for example, his description of the Entente Cordiale resulting in "The grandest diplomatic hoop-la...with much doffing of unusual hats," and the poem he chose to include about "that shit Schute" made me laugh aloud. I also loved his tongue-in-cheek photo captions, though I do wish there could have been an additional photo section in the middle (mainly because he kept describing various handsome officers who I wanted to see for myself, but I did look them up after, and I must concur that Rupert Brooke was a fine looking lad (Siegfried Sassoon, not so much)). The book does contain much of the same content as his rather excellent BBC series, which I also very much enjoyed, though the book gives him a chance to flesh out the more interesting stories, and give some additional insight into the personalities of the main generals. I'm not normally much for military history, preferring social history covering the period of the war, but Paxman managed to blend the two together in a way that successfully held my attention. It's probably a bit basic for serious military scholars, but for someone wanting to learn more about the motivations and mind-set behind the Great War, I'd wholeheartedly recommend it.

Purports to put a new slant on events but is largely a re-telling, albeit in a very readable/listenable way. He introduces a great uncle who was killed in Gallipoli while tending to the wounded and this gives it a personal touch but Great Uncle Charlie disappears after the prologue (to make one brief re-appearance) and seems something of an add on to serve this very purpose. Paxman also sets out to expose the wrongness in liberal minded English teachers who set questions like "How does Owen expose the wrongness of war in Dulce et Decorum Est?" This begs the question of whether this is how First World War Poetry is taught and even if it is (it isn't in my experience) the question isn't really answered other than saying that both Owen and Sassoon went back to the front line after making protests.Lots of good anecdotal evidence and a well told account that includes the soldiers as well as the politicians. Short enough and readable enough to be an easy guide to the events of 1914-18. Detailed enough to be more than a summary of events. But not a new slant and, like English teachers for the last 80 years, struggles with the horror and glory, the rightness and the wrongness, the lions and the donkeys, the incredible bravery of the junior officers and the men and the wasting of an entire generation.

A really interesting, enjoyable and eminently readable history of Great Britain's Great World. I loved the focus on Britain, its soldiers, people and society rather than just the military manoeuvres of other books. This book certainly compliments the others I have read and gives you more facets of a huge subject.

This book sets out to discuss the British experience of World War I, and does so with some style and readability. It does rush through some areas, but hey, it is about 300 pages long and any half decent historian could write ten times that on the first day of the Somme alone, but it wouldn't be as good to read. Plus, it concentrates on how Great Britain was influenced by the War, which means it is less concerned with statistics about battles and campaigns. If you like Jeremy Paxman then you will like this book, because it reads just the way he speaks. I found it really interesting and informative from start to finish, and it does have an incredible number of citations to back up anecdotes. Both fantastic and poignant.

Having never really been a fan of Jeremy Paxman's previous work it was with some trepidation that I decided to pick this book up, but I'm glad I did. He covers the key aspects of the Great War in just enough detail for the more knowledgeable reader without putting off someone with little previous interest in the subject, a fine balance. Most importantly for me where other books falter by discussing the war in the context of 1914-18 failing to acknowledge the impact in its aftermath, Paxman does continually refer to the wars lasting impact.For anyone with the slightest interest in the Great War I would definitely recommend this book

I wanted to read a World War I book to mark the centenary, and I am glad this is the one I picked. Paxman takes you through every aspect of the war from Britain's perspective: politics, tactics, and social history. It's an incredibly readable book, packed with anecdotes that bring the events to life: the French Ambassador in tears while Britain wavered over whether to join the war; a tender personals ad from a woman who lost her fiancé and will take any man, however blind or maimed; starving German soldiers carrying chickens under their arms as they looted the French countryside in their final offence. I will definitely be reading more of Paxman's histories.

This book about WW1 shows the futility of war, which claimed the lives of countless men in dreadful conditions in the trenches. It also includes the aftermath with the broken lives of those who returned home with horrifying injuries, both physical pain and extreme mental anguish.Reading this book after 'The Nazis – A Warning from History' (which connects the end of WW1 through WW2), makes one wonder if it could happen again?I would recommend both books to all who value their freedom to live normal lives.

On the centenary of the First World War, a flurry of new publications have emerged detailing the events of The Great War, insuring that its significance in terms of the changes it provoked and the tragedies and deaths it amassed are not forgotten. Jeremy Paxman's 'Great Britain's Great War', which goes alongside his television programme of the same name, describes the war in terms of the people who lived through it at home. He tells the common man's story of the war.

A whistle stop tour of the First World War. This is a basic account of the war, touching on as many aspects as Paxman could fit into his nearly 300 pages. As a popular history book there is no great insight into anything and no substantial analysis but it's an easy read and very accessible. A good starting point for a basic overview and, as another review has mentioned, an ideal springboard for further reading.

While being a comprehensive study of the social, cultural & economic effects of the Great war on Great Britain it is more importantly a sympathetic insight into the real loss, and waste, of the lives of the dead, maimed and traumatized and their families. It focuses mainly on the rigors of trench warfare. It was wonderfully readable- informative, well written with perfect injections of humour, and an important reminder of the actual personal toll of war.

Jeremy Paxman's Great Britain's Great War is a brief but very readable tour through the landscape of World War I. It's a mix of the political, military, social, domestic and personal stories that give a surprisingly rounded picture of 1914-18. Paxman dispels some of the myths of the war and its aftermath. I liked the fact that this wasn't a strictly chronological account of the war, so there was no 'aren't we at the end yet' feeling. Recommended.© Koplowitz 2015

Fairly enjoyable read with the little quirks of the war brought out as well as the horror. Paxman takes pains to try to show things as they were seen at the time and this adds greatly to the book. Certainly worth a read.

A very readable book from JP. At last I can begin to understand the causes of the Great War, and the consequence for Great Britain. Recommended to anyone who is interested in this period of our history.

Most thorough, extensively researched, the Political and economic situation before during and after The Great War is described in detail. The changes brought about after the war are considered and their influence on life in the UK since then are discussed. A hard read, but worth it.

Another of Paxmans 'history lite' books ala 'Empire'. A good introduction.Immensely readable account of WWI. Focuses on the more human side of the conflict rather than the political minutiae behind it.

I really enjoyed this until the last chapter where some clunky generalisations about women and his own summing up of the war in a couple of sentences spoilt it.

fantastic book, recommend it to everyone. Very insightful about all aspects of the great war and also the immediate aftermath.

An excellent read, a series of observations of what seems peripheral matters, but was central to the lives of those involved.

A detailed, respectful and well-constructed account of WWI from one of Britain's finest journalists.

A very easy read covering a massive subject with skill and using well chosen aspects to illuminate a great deal. I feel a lot more 'educated' about the Great War now.

A readable and unemotional perspective from 100 years later, full of original source material. I learned a lot.

http://0651frombrighton.blogspot.co.u...