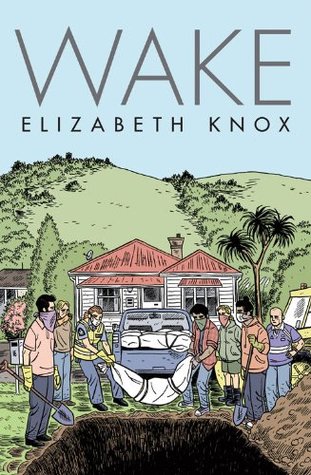 One sunny spring morning the Tasman Bay settlement of Kahukura is overwhelmed by a mysterious mass insanity. A handful of survivors find themselves cut off from the world, and surrounded by the dead. As they try to take care of one another, and survive in ever more difficult circumstances, it becomes apparent that this isn't the first time that this has happened, and thatOne sunny spring morning the Tasman Bay settlement of Kahukura is overwhelmed by a mysterious mass insanity. A handful of survivors find themselves cut off from the world, and surrounded by the dead. As they try to take care of one another, and survive in ever more difficult circumstances, it becomes apparent that this isn't the first time that this has happened, and that they aren't all survivors and victims—two of them are something quite other. And, it seems, they are trapped with something. Something unseen is picking at the loose threads of their characters, corrupting, provoking, and haunting them. Wake is a novel about what it really means to try to do one's best, about the choices and sacrifices people face in order to keep a promise like "I will take care of you." It is a novel that asks: What are the last things left when the worst has happened? and about extreme events, ordinary people, heroic compassion—and invisible monsters. An invisible monster is what one can't see coming; with an invisible monster one never knows when they're in danger and when they're safe—if they retreat to their fortress they can't be sure they haven't locked it in with them....
| | | |
| --- | --- | --- |
| Title | : | Wake |
| Author | : | |
| Rating | : | |
| ISBN | : | 20358841 |
| Format Type | : | Kindle Edition |
| Number of Pages | : | 448 Pages |
| Status | : | Available For Download |
| Last checked | : | 21 Minutes ago! |
---
Wake Reviews
maggie has added her two cents to the end of the review.this is a very satisfying addition to world of the horror/sci-fi genre-blend.a lazy person would say "this is Under the Dome with zombies*" and call it a day. but while that's a decent, if glib, encapsulation of the kind of story this is, it's much more layered than that. this is something completely new. at first, it does indeed seem to be a zombie story as people in the small new zealand settlement of kahukura start freaking the fuck out in the streets, attacking each other and themselves in grandiose and splattery violence. before we even hit page 35, a human bites another human's arm so hard that even when the mouth is (forcibly) removed, a tooth remains embedded in the bone of the forearm. and that's one of the least gruesome things to have happened by this point. that is either a selling point or a warning, depending on who you are. however, after that opening scene of spectacularly kinetic violence, the book cools down a bit into a more quiet and sedate horror better characterized as psychological than splattery. which doesn't mean it is less effective at all, there are just fewer people killing themselves with mailboxes.constable theresa grey is called out to investigate a helicopter crash and finds herself in the middle of the unfolding nightmare, which is so pervasive that by the time it is all over, there are only 14 people left alive and unaffected by the madness. if that wasn't unsettling enough, the survivors quickly realize that the town is caged in by an invisible force field through which they can neither physically pass nor communicate with the outside world. fourteen people, hundreds of corpses, and a lot of questions.for a while, it follows the familiar path of these kinds of stories - the survivors, ranging in age from fifteen to eighty, share their stories about where they were when the event occurred, and the horrors they witnessed, their backstories emerge, trust and distrust brews, theories are proffered, canned goods are amassed, bodies are disposed of, people cooperate, fight, hook up. but once the answers start revealing themselves, the story became something else, something new. i read bunches of horror, and it is just so refreshing to not only come upon something that deviates from traditional supernatural causes in terms of its "whatness," but to also have that new thing be well-considered, detailed, structured. the horror here is both real and metaphysical, and there is still a little ambiguity at the end, but it's of the acceptable "we can never know everything" variety than the "this author has done shoddy world-building " variety. my only complaint is that fourteen characters is a lot. and it's no fault of knox's - they are all very different characters with defined personalities, but sometimes sentences like Sam got Myr to carry Jacob in to see Warren had my head spinning a little. there were always different groupings of three or four people going off to do things, and i had to keep track of "william and curtis are with oscar now and bub and belle are with holly but wait - where's paul?? who's paul again??" and my poor little brain would have to stop and restore order before returning to the story. fortunately, this is a horror novel, and those fourteen will be whittled down a bit by the end mwa ha haaaa. but apart from that, i have no complaints. oh, except (view spoiler)[theresa and william? i read, but didn't really understand, when his interest in "his" sam diminished, but i guess i never really bought this switch over to team theresa, nor do i understand what she would find appealing in him. they don't seem well-suited, or to have any chemistry, and that just felt manipulated to me. (hide spoiler)] oh and i also HATED (but was meant to) (view spoiler)[WHYYYYYYYY?(hide spoiler)] but apart from that, i thought this was a really intelligent story that created a new kind of horror, developed and sustained the tension, and stuck its landing. which is a rare and beautiful thing. plus: SAM! i loved sam. a quick note - i am not a demonologist, so i had never heard of this kakapo that belle is so intent on saving. and- yeah, it's pretty cute:until you realize it is HUGE!and MEAN!and you wonder why i keep telling you people to be afraid of birds. but i'm done - you're on your own. don't say i didn't warn you.* i have not read many other reviews of this yet, and if someone has actually used this as a description, this is not me singling anyone out and saying "you are lazy!," it is just a comparison i thought of before chastising myself about backsliding into reductive tendencies. ************************************************************oh my god, she is doing it again!!!!despite all this, i managed to finish it.maggie's review:AT FIRST I THOUGHT IT WOULD BE A GOOD BOOK BECAUSE THERE WERE LOTS AND LOTS OF KITTIES AND THAT IS HOW YOU MAKE A BOOK GOOD BUT THEN (view spoiler)[ALL THE KITTIES BUT ONE WERE MURDERED BECAUSE THE PEOPLES WERE AFRAID THAT THE KITTIES WOULD EAT THE DUMB HEAD-HUMPING BIRDS.(hide spoiler)] AND THAT IS THE STUPIDEST THING EVER BECAUSE THOSE BIRDS ARE NOT EVEN DELICIOUS-LOOKING AND I HATE THEM. SO THIS BOOK IS BAD. I WILL CHEW ON IT NOW.["br"]>["br"]>["br"]>["br"]>["br"]>["br"]>["br"]>["br"]>["br"]>["br"]>["br"]>["br"]>["br"]>["br"]>["br"]>["br"]>["br"]>["br"]>["br"]>["br"]>["br"]>["br"]>["br"]>["br"]>["br"]>["br"]>["br"]>["br"]>["br"]>["br"]>["br"]>["br"]>["br"]>["br"]>["br"]>["br"]>["br"]>["br"]>["br"]>["br"]>["br"]>["br"]>["br"]>["br"]>["br"]>["br"]>["br"]>

OK, so I drew the cover on this book, so I should be biased. But actually, I avoided reading it for months because the excerpt I'd been sent to base the cover on was so potent and chilling I was frankly a bit scared of reading the rest.Well, I shouldn't have worried. Wake is disturbing, and it did cost me some sleep, but it was so very worth it. Terrible things happen, but somehow it was made less horrible because the characters were there with me - an ensemble of fascinating, complex, utterly human people, whose companionship quickly felt intimate and important, as though I too was trapped in Kahukura with them, dependent on their courage and kindness and vulnerable to their frailties. Wake is a masterful piece of storytelling: gripping, compelling, immersive, superbly structured and paced, beautifully told. But it's also much more than a powerful yarn; it's an instant New Zealand classic. Wake overflows with images, moments and details that resonate deeply in the Kiwi brain: from Belle's precious kakapo to the familiar sights of a quiet New Zealand seaside town - but turned, disrupted, intensified and altered by the intrusion of something unexpected and awful (in every sense of the word). These images are now a permanent part of my internal landscape of New Zealand, and Theresa, Bub, Belle, Oscar, Jacob, Warren, Curtis, Dan, Kate, Holly, Lily, Sam and even the visiting American William have entered my personal pantheon of iconic Kiwis. And The Wake itself (the No-Go, the Zone, the Madness) has become a mythical - symbolic - entry in that grim catalogue of New Zealand disasters and tragedies - natural and man-made - that haunt the collective national psyche.In short, Wake is a New Zealand masterpiece. Don't be scared. Just read it.

So, what to say about Wake then. Well firstly I read this in a day, got extremely annoyed every time I had to do other things, so utterly utterly addictive was it that it really should come with some kind of warning. Not only because it will take over your life for a while but because afterwards you may find that you have a heightened perception of your surroundings and not necessarily in a good way. The type of novel that will come back and haunt you when you least expect it, those of course being the very best ones..Theresa is a police officer and witnesses a helicopter crash. Upon heading off to search for survivors, she gets interrupted by the insanity of others – quite literally. Everyone in Kahukura has gone mad and they are busy killing themselves and each other – when the dust settles, Theresa and an eclectic bunch of other survivors must band together to try and stay alive as there seems to be no way to leave the settlement.This is highly intriguing and a terrific mix of horror, speculative ficton, drama and fantasy – Elizabeth Knox writes absolutely beautifully and with such a deft touch that you are absorbed immediately into the tale, it will engulf you completely and refuse to let go. Some of it is horrific, descriptively speaking there is nowhere to hide from the horror of a group of previously normal people suddenly becoming violently unpredictable and that is just while the scene is being set – what happens next is, in its own way, even more frightening, whilst at the same time terrifically engaging.As the surviving bunch take stock of their situation, come together and get torn apart, it is brilliant brilliant stuff. The relationships forming are key to everything and as things develop it is impossible to put aside. Sam is one of the most enigmatic and terrifically drawn characters I have found in fiction recently – and she is not the only one who will have you sitting on the edge of your seat.As someone who does not know New Zealand well, I thought the sense of place was terrific, it really put me right there, I could feel the surroundings and go on this journey with Theresa and co as if I had lived there all my life. The wildlife, the backdrop, all comes to vivid, authentic life in the hands of an author who is a magical weaver of words – the entire novel is so elegantly constructed I genuinely thought it was a work of genius.Overall a terrific read – and the great thing for me is, as this is my first novel from Elizabeth Knox I have a lovely little backlist to get to. And get to it I will.Highly HIGHLY recommended. Although possibly not for the faint of heart. Scary, intuitive and perfect.Happy Reading Folks!

There's an image early on in Wake that I will never forget. The character through whose eyes we're observing the impossible spots a couple embracing. She judges them; she's disturbed by their obliviousness to the chaos and horror surrounding them. And then she realizes that they're not kissing, after all. They are gnawing each other's faces.Wake contains other, more disturbing, scenes: self-mutilation, thoughtless and unstoppable, mass burials, rage, despair. Betrayal. Hopelessness. This is horror as my Christopher Pike-obsessed pre-teen self never imagined it — fiercely, brilliantly imagined, and the opposite of gratuitous. I'll remember the hollow violence of the face-chewers, but what I'll take away is beauty, wisdom, humanity. What's revealed when we've lost everything else.Like this:We have experiences that push us out of the flow of time. We react as if the worst hasn't already happened. We are creatures who learn, and something we learn is to fear for what we love. After the worst has happened our fears are retrospective. We keep trying to warn ourselves. Our now useless fears come and fly around our heads. They circle us, crying. The island they might have landed on, to roost, has vanished beneath the waves. What are our fears? They're the only birds left in the air. The birds of drowned nests.Works of horror shouldn't be this moving. And yet. And yet — Knox makes fellow-feeling the thread that holds her tale together, tragic, noble, inevitable. I loved Wake and can't recommend it highly enough.

This little book from New Zealand really grabbed me right from the start and turned out to be quite a surprise. At first I thought I had stumbled upon The Walking Dead meets Under The Dome, but in fact I was quite wrong, more The Leftovers meets Under the Dome. We have a group of 13/14 people (I lost count!) who have survived a murderous attack on a small island community to find themselves completely cut off from the outside world. There is no way out and there is no way in. But as they struggle to survive are they are sure they are safe? How can you fight an enemy you cannot see or are even sure is there? And just who is the 14th/15th survivor, who gives help at the strangest times yet prefers to keep his distance?The beginning is brutal with some quite savage scenes of violence and really sets a strong pace for the rest of this read so it came as quite a shock when it seemed to slow down a little for the middle section, as the characters settle down to survive and wait for help from the outside world. I did find that with so many main characters being introduced all at once that it was a little tricky to get them all straight in my mind although once I "knew" them all, it did get a lot easier. The last third of the book however, when their true situation is becoming apparent to them is a lot more pacy than the middle section and really drew me back into the read. I didn't want to put the book down as it drew near to its conclusion.It is a story that really snuck its way into my head and had me thinking about the characters and what I thought they should do and trying to work out how they could get away from the island. Thanks to the publisher for the review copy.

I really loved this book. The story was super addictive and had that impossible-to-put-down quality about it; I fell asleep in the early hours of the morning with Wake still in my hands, in fact. It was beautifully written, as you would expect from Elizabeth Knox, and effectively evoked strong moods and feelings, which made the novel even more captivating. I found myself a tad spooked on more than one occasion. The characters, who were a (if not THE) crucial part of narrative, were all complex, realistic and interesting; some were mysterious, some were loveable, some were tragic, and very few proved to be exactly who you thought they were. Wake also posed several important questions, and raised many interesting ideas, about the nature of humanity, survival, sacrifice and society. Not only was the novel enjoyable, compelling and suspenseful, it really got me thinking about a number of different issues and ideas. I could not recommend Wake more enthusiastically. Read it. You'll thank me later.

Another excellent book by Elizabeth Knox, not quite as good as the Dreamhunters or Vintner's Luck but still very, very good. I love the way this author uses words and especially the way she describes New Zealand. I have to admit I had a moment of shock at the beginning. I expect this author's books to be at least a little about the paranormal and this one did indeed to turn out so,but it was also a full blown horror story and there were some gruesome passages! Nevertheless I enjoyed the whole experience very much and the ending was unexpectedly satisfying.

Inventive, original, dark and disturbing. Wake takes what has become a common story - a small group of people survive while everyone around them dies, and makes something unique out of it.I don't want to say too much about the plot because I don't want to spoil it, and really you just need to read it yourself, but Wake is a mix of horror, thriller and drama, with a touch of sci-fi added in.Wake has a cast of 14 characters and a large part of the book is about how they interact, how they work together, and how they cope with what happens. With so many of them, a few of them inevitably get a bit lost and don't feature very much. The action mostly focuses on a core group, these characters are done very well and are believable in the way they act based on their different personalities. I ended up losing track of some of them though and I couldn't keep who was who straight if they weren't in the core few.Sam was by far my favourite character. I didn't find many of the others likeable, except I did like William, the American, - maybe because he was just honest and open from the start? But Sam was lovely and I think the author did a really good job with her story. Learning about her was my favourite part of the book. I like the way Elizabeth Knox writes, but I found it more practical and brutal than beautiful or poetic. I know a lot of other reviewers disagree with that though so maybe I just didn't really understand her style? Sometimes I had to re-read a sentence a few times before I understood what was happening. The world building was brilliant, and the whole thing was very readable, a few times I only meant to read a chapter then realised an hour had passed without me noticing.My favourite thing about the book is the sci-fi bit. I wish that was developed a bit more but it wouldn't be realistic or fit in with the story so I can forgive it.The way it ended made me happy. I don't really like when I have to make my own mind up about what is happening in a book, I always feel like what was the point of actually reading the book if I don't find out what's going on. There are enough answers in Wake to satisfy me and I like the way it's revealed slowly with enough pointers that I could try to work it out for myself if I wanted to.Wake is original and disturbing, and it is a must-read for anyone that likes survivor horror stories.

I strongly suspect that Wake is a novel that will stay with me for a very long time. Set in a small, coastal town in New Zealand, the novel tells of a group of fourteen people who survive a strange kind of madness that causes many to harm themselves before death eventually overcomes them. The same, invisible field of energy that is responsible for causing the madness also cuts the fourteen survivors off from the rest of humanity and they are forced to learn to bind together as a community first to survive and then to overcome whatever has caused the problem. These survivors range in age and there is a strange mix of complex personalities including the self-serving American lawyer William, teenage gamer Oscar, the capable community police officer Theresa and dim-witted Sam, who, initially would seem to suffer from bouts of multiple personality disorder, though her story becomes increasingly complex throughout the narrative, to the point where I realised that she and not Myr may very well hold the key to all of this and may be able to find some kind of resolution. Wake is in one sense a well-crafted gory horror story and in another, a tale of human survival and what it means to be a part of a community and to sacrifice ones own needs for the good of the rest of the group. Highly recommended.

This should be a 4 and a half star rating. I loved this book in every single way except for a dollop of confusion I had around the Sam situation. This confuzzled state meant I was busy thinking beneath the reading experience, "why is Sam like this? Two or split?" The bone is picked.Now, let's just get straight on to why this book is fabulous.This is horror/zom-rom (with a dash of com) in the most intelligent form you're likely to read in many a month. We start off with mindless acts of violence and gore, meet survivors, then push through the story of survival and relationships to sic-fi and the spiritual that spins the brain like a well flicked globe.There's plenty of Knox's usual detail.A complete sense of place - NZ all the way - somehow landscape seems like a collection of colloquialisms.There are the complications of relationships and need.There is the horror of an out of control situation, the endurance of spirit beneath this.I think I've said all I can without giving bits away.Now, go read "Wake". It's the healthy alternative to a Whittaker's bar.

From one of New Zealand's finest writers, Wake is mesmerizing. If you are new to Knox, she comes with two warnings: 1) She's unafraid of exploring the terrifying, and; 2) Her writing is so compelling you'll need to be prepared to do nothing but read for a little while. In her words, "[t]his book has a catastrophe, but it's also about the struggle to stay useful and good, and what's encouraging in that. ... A book about being trapped with mystery and malevolence, and trying to get by, and get on. A story with the pleasure of problem solving, about ingenuity and work, about morale and social cohesion, and about loss and futility." Spectacular. Highly recommended. Leave a light on.

A sleepy, waterfront town in the South Island of New Zealand with a Kākāpō reserve is the setting for this macabre, sci-fi adventure, revolving around 14 survivors of an invisible, destructive and still hungry presence that has created a kind of net outside which the survivors can not move without dire consequences.When the presence arrives, as it does in the opening pages, death, destruction and bizarre, disgusting action follows, the kind of thing that might normally turn this reader off, however I have faith in the author, an adept mistress of storytelling, so I persevere, despite the feeling of dread as the initial pages are littered with zombie-like scenes, the kind I would never wish to see on celluloid.The novel is narrated from the point of view of the survivors, as they learn how to stay within the threatening environment without succumbing to this invisible presence. They try to understand what has happened and what is continuing to happen, how to survive and overcome the insidious presence and whether they can trust each other.It reads almost like a reality television show of survival, but in reverse because they remain in the town they know, only now they are its only inhabitants having no contact with the outside world and a sense of pending doom as their isolation pushes each of them toward their own mental limits.We get to know the individual characters, thrown together seemingly at random, how their strengths and weaknesses both help and hinder the group and how as a team they attempt to survive.With so many characters and little if any connection between them before this catastrophe, the story is as much an unveiling of character, as it is a journey toward its own conclusion. I found it a compelling read, once I got past the initial horror and enjoyed the mystery of trying to predict which characters were going to contribute to the final outcome.There is a strong sense of place and whether it was the writing or the familiarity and ease at which I could imagine the surroundings, I found it a very visual read, I could see faces and hear the dialogue as I read almost as if I was indeed watching that version, I said I wouldn't. Well, maybe with a cushion to hand when the creepy music starts.It is a novel that keeps you thinking and guessing, trying to understand what the force portrayed actually is and whether it has a weak or vulnerable spot. It is made all the more complex by being invisible and the reader having no insight into what is happening in the world outside the devastated zone.My complete review here at Word by Word.

One of the strangest and most human stories I've read in a while, this novel starts out like a zombie book (why are the residents of this New Zealand spa town gnawing each other's faces off??) and takes a turn for the existential. Elizabeth Knox is a genius at manipulating point of view, creating a story with a relaxed pace that is somehow also full of twists. The invisible monster wreaking havoc on the survivors of the initial massacre literally feeds off human misery, which is basically how evil works: hurt begets hurt, war begets war. So what are a bunch of ordinary, peace-loving survivors to do? Bury the dead. Feed themselves. Care for each other. This is not, thankfully, a novel of heroes or even big heroic acts (though there are a couple). This is a novel in which the park ranger continues to look after her endangered birds, and the 14-year-old longs to return to his world of video games. The rules of Knox's world are somewhat ambiguous, but don't worry, things are *sort of* explained. Like all the books I love, Wake is about life, is about everything; and it does what it does with simple but sparkling language. Wake will stay with me a long time.

Knox has been a favourite of mine for a long time so I eagerly read this new book. She is amazing, what a great author we have. Her imagination is something else.Wake starts by describing a strange fire seen in a valley. A police officer drives there as the first responder and on the way starts seeing horrible and unexplainable things. People dead and dying from gruesome injuries, cars crashed and abandoned.Things are spinning out of control in this small community. Fourteen survivors emerge, but they don't know what they have survived from. There appears to be an impenetrable, invisible barrier surrounding the small town and many dead citizens inside the area. As they come to terms with their isolation they have to start managing the situation and the way this is portrayed and the characters developed is masterful. Half way through the book you start wondering if this really did happen or could be happening right now. And this is why I think she is such an amazing author, she transports the reader into her world.Really worth reading, highly recommended.

Wow Elizabeth Knox is a genius. Her writing is brilliant and her imagination is like nothing else. Once again she has conceived of an extraordinary world - this time where 14 normal humans battle to survive in a small Golden Bay community where all but them went simultaneously insane before dying. It is a powerful visual tale and an absolutely compelling plot - i was literally obsessed until I was done. Loved it - as I have almost all her other books which have an element of the supernatural about them. The challenge in reading this book is to actually take your time so you can savour the writing and characterisation. I probably need to read it again soon to achieve this. This would be the most extraordinary film although possibly the horrifying aftermath would be difficult to actually watch.

Oooh, got a wicked book hangover... When you are pushed beyond endurance, the monster comes to feed on your most desperate emotions... A fabulous read. Just lost track a bit of one or two of the peripheral characters now and then, but no biggie. I was lost in the story world.

Minus half a point for being just a hair too long, but otherwise gripping, full of complex characters, and ideas that pay off exceedingly well. Forget UNDER THE DOME: this is the real deal!

Check out that cover! 'Wake' is the latest in my ongoing review of New Zealand novels. Most of my regular blog readers will know that my posts about books are part reviews and part journal entries connecting my reading to my own thoughts, experiences and events as a writer. For over two years I've focused on reviewing New Zealand books, often by writers who have a connection to me, regardless of the genre: Taumarunui authors (Cate Sutherland, Stuart Campbell, Nix Whittaker), online connections (Tui Allen, Susan Tarr, Mandy Hager) relatives of friends (Kate Duignan, Maurice Shadbolt), or those that have made headlines either through awards or because of controversy (Eleanor Catton, Fiona Kidman, Ted Dawe). Perhaps it's a Nova Scotian thing – we love to celebrate the achievements and creations of those we know . . . or of those known by the ones we know . . . Knowing my current interest in New Zealand writing, my wife bought me 'Wake' by an author with which, until recently, I had no connection: Elizabeth Knox. It was a good purchase with a beautiful, very Kiwi cover, and a plot seemingly akin to 'The Walking Dead', a television series my wife and I watch together. In my early reading of it, I discovered it had more in common with Stephen King's 'Under the Dome' which I read several years ago: a small town, Kahukura, is cut off from the rest of the country by an invisible force creating a community of trapped survivors who might otherwise never have interacted, but now find they must live together and work towards their own salvation.It is a very well written book with beautiful descriptions of the shore town environment and clever similes where Knox compares natural features to things like computer games and other modern elements. I was struck by Knox's short sentences and the plethora of characters she introduces. It is chaotic at the beginning as I suppose it would be in such a situation for, not only is the town cut off, but a madness has struck the vast majority of Kahukura's inhabitants, committing horrific violence to their neighbours and themselves.Despite the genuine quality of the writing and the intriguing plot, it was difficult to immerse myself in the story as there were so many characters, so much chaos. Knox does a good job of stabilising things somewhat through the character of Theresa, a local police officer who, for reasons explained much later in the book, retains her sanity and endeavours to help those she encounters in the early days of the "No Go Zone". This device works to a point and we are led to believe that Theresa may be the central protagonist and, indeed, the book ends from her point-of-view. Comparing with 'The Walking Dead', she is 'Wake''s Rick Grimes.However, once the madness settles and the bodies are literally piled up, we get to know the other survivors better as they form their community and sort out their present survival and plans for rescuing. For much of the first half of the book, I struggled to separate these characters' personalities and I'm not sure if that is because of the writing or my reading. I'm certain Knox has provided the necessary information about each one, but I would often get lost trying to picture how Bub was different from Warren or how to distinguish Belle from Holly.Still, I was mostly OK with this, intrigued by the mysterious, mute man in black who wanders around the place, resisting any attempts to integrate him into the fold. Things felt a bit sluggish until the storyline of Sam and William began to dominate. Without giving too much away, Sam is a brilliant character, literally multi-layered in her personality. Her story becomes integral to the plot and the fate of Kahukura's remaining residents.The other reason I found the second half of the book more engrossing was because of a development in my personal circumstances. About that time, I was invited to act as a panellist in next year's inaugural Ruapehu Writers Festival, speaking alongside Elizabeth Knox herself. In addition to my enthusiasm at being invited to join one of New Zealand's celebrated authors (most notably for her novel, 'The Vintner's Luck'), I also began to read the book with different eyes, curious as to why the festival's organisers thought we might make a good team for their topic. As the festival's programme has been developed, our panel's topic has revolved around darkness in small towns and so it was with this in mind that I read the second half of 'Wake', becoming even more interested in the darkness found in Kahukura – and not just the obvious darkness brought about by the Monster creating the madness, the mayhem and the No Go Zone.I began to see the darkness in the individuals and recognise this was the strength in Knox's writing in 'Wake'. One thing I've learned from watching 'The Walking Dead' is that the only thing more deadly and frightening than the zombies in a zombie apocalypse are the other humans. But, unlike the television series or films like the 'Mad Max' franchise where most of the dangerous humans are other bands of survivors who crave resources and will stop at nothing to get them, the characters in 'Wake' have no interaction with others outside their community. The real dangers lie within and, in fact, most of their demise can be traced to the behaviour of those surviving alongside them. During their containment, all the positive elements of human nature continue: love, shared meals, tending to illnesses with great affection, sacrifices of time and energy for the greater good; but so too do the negative aspects: jealousy, sloth, deception, theft, domestic violence, murder.It's a good theme and one I enjoy exploring in my own writing. It's a theme that can answer the question, "What can horror texts tell us about ourselves and our world?" In 'Wake', Knox tells plenty and shows us plenty. I look forward to hearing more from her at the festival in March.Antony Millen is a Canadian living and writing in New Zealand. He is the author of three novels: Redeeming Brother Murrihy: The River To Hiruharama, Te Kauhanga: A Tale of Space and The Chain.

I really wanted to read a New Zealand book, not sure I ever have. And this was horror, so a no brainer of a choice really. Yet it really didn't wow me and maybe even disappointed me somewhat. Knox is a novelist and essayist of some renown in her native NZ and this is her first genre foray and it really reads like one. As such it reminded me of Justin Cronin's Passage in its literary quality and impressive girth (although Wake in notably slenderer than Cronins' behemoths), but Cronin's books were more engaging. There is something strangely dispassionate in Knox's narrative and it made engaging with the book quite difficult. There are glimpses of genuine character revelations, but not enough and too far in between. The pacing lagged somewhat as well. Plot wise it's a disaster/survival story, a localized sort of disaster, taking place in a small NZ nature reserve sort of town or village of about 500 who go through something like an extreme homicidal rage event that does away with the entirety of the human population, all but fourteen. The event takes up less that a quarter of the book and then it's a tale of survival and trying to figure out what's going on. It echoed slightly of Lost with a good measure of string theory, the readers do get to have all their questions answered, but may be left wanting....something more. This was a sort of novel that checked all the right boxes and yet didn't quite sing for me, which might just be a personal preference sort of thing. There was just a peculiar difficult to describe emotional flatness to it, despite the author's obvious talent as a wordsmith. The characters were authentic enough, but again quite often not particularly engaging or morally likable or developed enough to be sympathetic. It did satisfy on the NZ front, it was very vividly there. Long occasionally plodding read.

Incoherent drivel.....It began well as possible edge of the seat horror genre but fourteen thinly and unrealistically developed characters and a vague premise made the novel difficult to read let alone enjoy. No comparison whatsoever with a sure handed author like Stephen King. The author is unable to satisfactorily complete scenes so that the whole is very fragmented. Some characters ,like Kate and Warren, seem to disappear completely for much of the novel and the ways in which the group reacts to their dome experience defies psychology, logic and belief. None of the many characters are sufficiently developed as individuals for the reader to identify or empathise with them. Even horror/ paranormal genre needs to engage readers' sympathy. Even the geography of the restricted location is vaguely drawn with no feeling of connection between the different settings. Don't even get me started on the pages of vomiting and diarrhoea. There's a good reason that novelists usually avoid an excess of bodily mis functions. Perhaps this novel works if you read it as a comedy.

Where to start?! Firstly, I don't think I have a good enough grasp of the English language to properly describe this story. But I'll try.Elizabeth Knox has a sublime way of storytelling. Her descriptive passages are beautiful and compelling. The characters bold and real. The sort of characters where every reader has the ability to side with a different character - which would make it an interesting and argumentative choice for a book club no doubt!It wasn't at all what I was expecting, the blurb gives nothing away, but I loved it! Set in small town New Zealand, with a smallish cast of characters the story kept me gripped. In the middle I had to take a break for a day or two to digest the story, and a bit like the characters themselves, I needed a bit of normality!This isn't a spoiler as such, but beware that there is a high body count... I loved it. And wouldn't hesitate to recommend it.

My God. What an amazing novel.A little confusing at times. Because of the multiple character view points the story has.And then it takes the narrative into a whole different area, doubling the confusion.Epic action scenes, utter chaos, distopian values this book may not be to everyone's taste but if you want a truly science fiction novel set in New Zealand than this book is exactly for you.Brilliant read. and the first for 2015.I wonder why there hasn't been a movie adaptation based on this book yet.Although an adaptation would be hard because of the scale of the book, It's epicness and story line is worth telling for new zealand and international screens.

One of the best books I've read in 2013. In the beginning it's easy to assume that Wake is riffing on existing dystopic horror genres, but the story quickly emerges and develops as a work of fiction of immense originality. It's not often that I get the sick in the pit of the stomach variety of dread when I'm reading, but I totally felt it with this. I don't want to give away anything about the plot, and instead urge you to read this book immediately!

Visceral, non-stop suspense, darkness, humour, utterly loveable characters. This might be my favorite of Knox's novels.

So a sleepy New Zealand town is suddenly gripped by homicidal madness and when the madness is over everyone is dead except 14 people who are trapped by an invisible force field. It's like Stephen King's Under the Dome, right? Well, as everyone knows, King is great at characters and rubbish at endings. Knox is the opposite: the ending is great but the characters are rubbish. Unfortunately, horror must have good characters. It must. Otherwise you simply don't care when they die.There are 14 characters, but only about 5 of them have any discernable personality. Theresa is the main character. The dependable police officer. She's mild-mannered, level-headed, and just trying to do her duty to the law. Her best friend is Belle. The dependable conservationist. She's mild-mannered, level-headed, and just trying to do her duty protecting endangered birds. One of these characters is completely redundant. The narrative function of these two women could easily have been filled by one woman.There are at least three men in the group who I couldn't tell apart, except that one was an alcoholic, one might've been related to someone in town (or the alcoholic might've been related to someone in town), and one had kids outside town. None of these men had any personality and they often dropped out of the story entirely for ages.With the exception of William (because of his Dark Past) and Sam (because she's mentally retarded) all the characters have a curious sameness about them. Nobody has any distinctive turns of phrase. In fact, nobody has any distinctive turns of mind. Or at least, maybe it seemed that way to me because I disagreed so often with their group consensus.For ages they linger and procrastinate over burying the bodies because they're waiting for the authorities to arrive, while I'm rolling my eyes and thinking, 'Do you know how fast bodies rot? No, me neither, but I bet it's fast. Get those corpses in the ground NOW!'Theresa insists that they shouldn't think about what has happened because it would only traumatise them and they generally agree. I'm the opposite. I'd only be able to maintain my sanity if I threw myself into investigating and analysing it to break free or prevent reoccurence.Theresa decides, and the adult characters all agree, to withhold as much information and responsiblity as possible from Oscar the teenager because he's just a kid, which he finds hurtful and frustrating. Given that many of the adults are losing their shit while Oscar is holding it together this is completely illogical to me so it's doubly strange that there's a consensus.Last but not least: I just do not care about birds and cats as much as these characters do. But that one's on me - I bet it's quite probable to find 14 people who care more about cats than I do!So here we are, a town with 14 survivors who all have a curiously monotonous way of talking and thinking. Most of them have no backstory and few of them have much page time. After the initial frenzy the story really lags, but slowly the tension starts to build again as they realise that they might be trapped forever and whatever caused the horror might still be there with them.Messing with their minds.However, the two characters who clearly are going mad both independently withdraw from the group to go insane alone, and we never get their point of view again. So the real meat of the horror, minds being twisted by an incorporeal evil, doesn't even get shown! More characters die but I really didn't care because half the time I couldn't even remember who they were. You can't really get chills from someone losing their mind if you hardly even knew what their mind was to begin with.My interest only really piqued at the end when the survivors begin to interact with the mysterious man in black and find out more about what's happened and why and what that means for their own survival. Meanwhile, the mystery of Sam deepens and the story threads come together as the pace picks up and it rushes towards the suprising twist ending. I enjoyed the end. But I recommend you not to think too hard about it. Like much in this book, it doesn't really stand up to scrutiny.(view spoiler)[For those who have read it: I think way too little of Sam's past was explained for me to be really satisfied. How did the mysterious alien monster-hunters know to use a person to block the monster? Why Sam? How on Earth did they persuade Sam's dad to let them use his twins as a living sacrifice? Why did eating a person who can travel to the outer dimension prevent the monster from coming back? If eating Sam trapped the monster then why did the other Sam have to die to prevent Sam coming back? Wasn't that Sam trapped too, like the monster? (hide spoiler)]

Wake is set in Kahukura, a small fictional town in Golden Bay, not too far from Nelson. In Kahukura there is a small fishing wharf, an expensive luxury resort, a native bird reserve for endangered kakapo, an old folks' home, and a new subdivision is being built. The place is so familiar to a New Zealand audience that you can almost smell the sea air and recognise all of the locals. That is what makes what happens there so jarring.An illness suddenly descends upon the town, turning all its inhabitants into murderous zombie-type creatures. The illness lasts until every last person is killed. Except for 14 survivors. These 14 people happened to be out of the town limits when the illness hit, but returned to town as an invisible 'No Go' zone surrounded Kahukura. Now they're trapped there - there is no escape by sea or land, and, by the looks of the Air Force personnel they find splattered on a roof, there's no way in or out by air either.The survivors then go about the business of surviving. There's a big clean up to do to stop the spread of disease, they need to keep themselves fed and healthy (in mind, as well as in body), there is a whole lot of untended animals left behind, and some very rare birds that need to be kept alive. And then there's the long term goals: how can they contact the outside world? how are they going to get out of the zone? what is this zone and what is it for? and who is the black man that watches them so intently but runs from any contact?I know this book is a fantasy, and so the reason for the illness and the zone are fantastical, and requires you to suspend your disbelief. But by making the setting so real and so contemporary, Elizabeth Knox has made a really creepy story! The resolution may not satisfy everyone, however, the story is such a creepy, compelling, page-turner, and asks such good questions about the ethics of survival and what makes us human, a lot will be forgiven.Review originally published on http://stephellisnz.wordpress.com

On Christmas Day, my mother told me, "There was a book I was going to give to you, but then I saw it in the children's section at Whitcoulls, so I'm giving it to Maisie instead." Maisie is my 12-year-old sister."Was it Wake?" I asked. "By Elizabeth Knox?"Mum confirmed that it was, and I told her she really didn't want to give it to Maisie. I'd seen the news articles about how Whitcoulls had mistakenly shelved Wake, a "violent adult horror novel", as a children's book.The first few chapters of Wake had me wondering if even I wanted to read it. The gore is intense and it's hard to keep track of all the different survivors (or care about them). I was especially rolling my eyes at Sam, who seemed to be exhibiting some kind of multiple personality disorder.But it's what happens to the survivors after the violence that kept me enthralled. I stayed up late last night because I couldn't stop reading; I cared about these characters and I wanted them to escape.Wake is worth a read, even if you're not normally keen on post-apocalyptic fiction. I'm not, but somehow the addition of imagination and invisible monsters made this book thoroughly entertaining and gripping.

Do not read on an empty stomach. Or a full stomach. In fact, try not to think about your stomach at all, or possibly, keep a handy bucket nearby. Or a teddy bear. Knox's writing is as incandescent as ever and her mastery of horror - bodily, intellectual, cultural - beautifully rendered in WAKE. Without a doubt one of my top reads from 2013. Brr.

Terrifying horror story that scared the shit outta me (and not what I was expecting from Knox). The story is set in the Nelson region & I read it while visiting there - extra scary when you're sitting on the Mapua pier and expect Bub's boat to rock on by!!!

Not bedtime reading at the start, but you begin to really enjoy this dark gripping tale. Loved the development of the characters, and the ending was satisfying indeed, and largely unpredictable for me. Highly recommend, you can read this quite quickly compared to some of her other books.