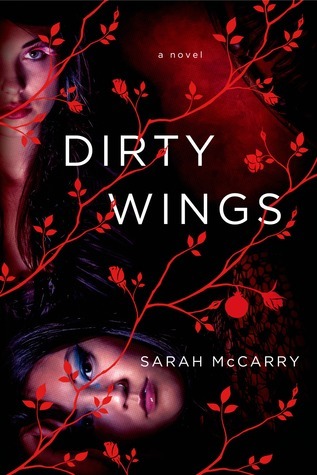 A gorgeous retelling of the Persephone myth, Sarah McCarry brings us the story of Cass and Maia--the mothers from All Our Pretty Songs--and how their fates became intertwined.Maia is a teenage piano prodigy and dutiful daughter, imprisoned in the oppressive silence of her adoptive parents' house like a princess in an ivory tower. Cass is a street rat, witch, and runaway, sA gorgeous retelling of the Persephone myth, Sarah McCarry brings us the story of Cass and Maia--the mothers from All Our Pretty Songs--and how their fates became intertwined.Maia is a teenage piano prodigy and dutiful daughter, imprisoned in the oppressive silence of her adoptive parents' house like a princess in an ivory tower. Cass is a street rat, witch, and runaway, scraping by with her wits and her knack for a five-fingered discount. When a chance encounter brings the two girls together, an unlikely friendship blossoms that will soon change the course of both their lives. Cass springs Maia from the jail of the only world she's ever known, and Maia's only too happy to make a break for it. But Cass didn't reckon on Jason, the hypnotic blue-eyed rocker who'd capture Maia's heart as soon as Cass set her free--and Cass isn't the only one who's noticed Maia's extraordinary gifts. Is Cass strong enough to battle the ancient evil she's unwittingly awakened--or has she walked into a trap that will destroy everything she cares about? In this time, like in any time, love is a dangerous game....
| | | |
| --- | --- | --- |
| Title | : | Dirty Wings |
| Author | : | |
| Rating | : | |
| ISBN | : | 9781250049384 |
| Format Type | : | Hardcover |
| Number of Pages | : | 288 Pages |
| Status | : | Available For Download |
| Last checked | : | 21 Minutes ago! |
---
Dirty Wings Reviews
This was another book that I didn't quite get.Maia and Cass were the girls from 'All Our Pretty Songs' mothers, and this is the story of how they met. Cass starts off as a girl on the streets, whilst Maia has a wealthy family and is a piano prodigy, they get drunk, take drugs, cut their hair, and generally run a little wild. Unfortunately not a lot else happened, quite similar to the first book really. Although at least with this one I know that a certain person (view spoiler)[ Aurora's father(hide spoiler)] ends up dead!Oh, and weirdest/least emotional/loving sex scene ever?"She lies still as a doll as he fits himself inside her,"6 out of 10

Full review to come. This is a beautiful story of the first year of a friendship between Maia and Cass, two very different girls who meet by serendipity and just click with each other. The "plot" is pretty much the development of their friendship, the ways in which they both change because of it, the forces which threaten their relationship, and their determination to stay friends. I missed the more obvious fantasy elements of the first book in this trilogy (All Our Pretty Songs) -- this second installment reads much more like a straight-up contemporary novel -- but the intensity and power of their friendship on these pages, the force of the emotional intimacy and vulnerability, made the story gripping and breathtaking. It's a love story, but not a romance, and is deeply real and gritty and raw. Usually I would call a book like this "too literary for me," but I loved almost every moment of this one, even when it felt like it was scraping my emotions across a rough concrete sidewalk on a hot, hot day. It's hard to read because of knowing from the first book what happens later, but in the end, it was worth the sadness and pain for me.

This answered a lot of questions that I didn't know I had with All Our Pretty Songs and I mean that in a really good way.Cass and Maia are incredible girls, rich and complex, and their friendship is so fascinating and dynamic and painful and REAL. You can totally read this as a standalone, though it'll make you want to check out the first book (or revisit it). Excellent literary YA. Full review here: http://www.stackedbooks.org/2014/07/d...

Amazing, incredible, astounding. Takes the series to an entirely new level and made me want to drop everything and immediately re-read "All Our Pretty Songs."

*I received a free ARC of Dirty Wings from Netgalley in exchange of an honest review*Dirty Wings is one of the strangest books I have ever read. No real plot, not that much of a story, but there is a wonderful friendship between Cass and Maia.This and all my other reviews are originally posted on my blog(un)Conventional Bookviews

The word that comes to mind is saturated -- vibrant prose and complicated, messy characters. I loved All Our Pretty Songs (another word that comes to mind: greedy -- as in, I gobbled this up greedily), and this is the story of the mothers of the characters of that book...how they came to know each other and, in a sense, how they came to be.Maia is an aspiring pianist, talented, driven, and isolated -- sometimes more pushed than driven. For all that she wants to succeed, and to give herself over to music, she hasn't found either herself or her place in music. Cass, meanwhile, lives on the streets; she is harder to define in part because she's not interested in being defined.They wouldn't be an obvious match if this weren't YA fiction, but it works anyway. The journey they take is Maia's, mostly; she has more layers to shed and more to lose. But they both change, and make mistakes, and make defining choices. By the end of the book they're both different people, for better or for worse -- and there isn't a neat and tidy bow to tie everything up.That's a very vague review, I know. I love the lushness of the writing and the knots of the characters. I complain about books becoming series when they'd work better as standalone stories, but this and All Our Pretty Songs do stand on their own, and...and I'm very much looking forward to the next book.

I just didn't connect to this one. I struggled with the back and forth of the chapters and found that I was mostly bored with the story. Cass and Maia were probably interesting enough, but to me they came across as flat and clichéd. I did keep reading because I was interested in the Persephone side of the story. Even that didn't entertain me. Maybe I needed to read the other book first?I can definitely see other readers loving this, but it wasn't for me. **Huge thanks to St. Martin's Griffin and NetGalley for providing the arc in exchange for an honest review**

this is not a sequel but the back story of All Our Pretty Songs. At first I wondered about the rationale of placement, but after reading and the shocker near the end I can see how it makes sense.That said, like the other book, this is an earnest but somehow lighthearted portrayal of growing up decadent. Both books prompted a similar response: I wanted to butt in at several points, to at least warn if not prevent the characters from decisions they may not live to regret.

ALL THE STARS. This is a fantastic, lyrical novel about race, gender, sexuality, culture, and finding yourself...all wrapped up in a dark and terrifying mythos.

I love this woman and the world she created.

At various points of reading I was torn between four stars (the depiction of the relationship between Maia and her father, the sumptous [to the point of ridiculousness] language of the novel), three stars (Cassandra & Maia) only to suddenly realise the book was over and my main reaction is: that nope nope nope octopus. There's a chance it was more of a disappointment because of the day I've had. But as I was looking at the ratings I just couldn't click "liked it" because by the end of it, I didn't. (view spoiler)[Also: men ruin everything. Also: that baby (babies? it's been a while since book 1) will have one hell of a FAS. Also, possibly: don't give your gal pal pomegrantes, speed or cocaine, or whatever it was that White White White Man in Black represented.And then there is that last sex scene which was all kinds of awful to read, and more than a little sad, and which read more rape-y to me than it was supposed to, probably. I guess there is only so much self-destruction I can read. And I hated Jason with my entire lesbian heart. (hide spoiler)]I guess I should have known this wouldn't be the book for me based on my track record of not enjoying books about bohemians. If Dionne Brand couldn't do it, I shouldn't have expected a different result here.In retrospect, it makes me like All Our Pretty Songs less (:(), and I don't think I'll come back for the conclusion of the series, unfortunately. I guess I'm all burnt out on McCarry's antagonistic f/f/m dynamics (ymmv, lots of people seem to have loved it). And now I need something fluffy to make myself feel less awful.

See this review and others like it at Badass Book Reviews!Dirty Wings answered questions from All Our Pretty Songs that I didn't even know I had! I mean that in a good way; it addressed situations and issues that I didn't realize were so meaningful in the first book, giving it much deeper layers. Though it seemed less fantastical than the debut, Dirty Wings was definitely an important chapter in the overall story and helped ground two characters that were more secondary in the previous book. Though this book could be read as a standalone, the experience will be much richer if you read both. This prequel novel was so good that it made me dig out the previous book so I could give it another once over.Cass and Maia were the mothers of the main characters in All Our Pretty Songs and we learned a little about them and their strained friendship, but not much about their history. Dirty Wings is their story and the events here lay the groundwork for the previous book. Maia was a sheltered piano prodigy -- adopted and provided for but never certain if she was actually loved. Cass was a runaway, scraping by on the streets. You wouldn't think they had anything in common, but a decision to steal away one summer created a lifetime friendship. As Maia ran from her parents, their expectations, and her music, Cass was just content to be with her. They have a pretty idyllic summer, going from concert-to-concert, beach-to-beach, and popping pill after pill. They are happy and carefree and secure in their friendship until Jason appears and draws Maia away. Now Cass is on the outside looking in and she can't help feeling jealous. One bad choice could cause her to lose everything that she loves...I loved following the developing friendship and love between Maia and Cass. Though they were from completely different worlds, they were both searching for somewhere to fit, someone to love them. Dirty Wings tells the story of their burgeoning friendship, but it also skips ahead to the end of the story and shows us why Maia and Cass' relationship ends up combusting.Maia has never had the opportunity to live her own life. She's always spent her time fulfilling someone else's ideals. Cass allows her to be herself and to explore the edges of her comfort without judgement. Cass grounds her and saves Maia from her personal darkness. Cass has toughened herself to avoid pain and thinks her shell makes her bulletproof, but Maia's friendship shows her she is still vulnerable. Maia's love gives her self-worth and Cass' devotion to Maia gives her something good in her life.When Jason enters the picture in Dirty Wings, he upsets the beautiful balance Maia and Cass have created. He claims Maia's love for his own and Maia is swept away in the moment. Once the shine begins to dim, you can see that Maia never truly abandoned Cass but their relationship has become strained. Cass is still the most important person in her life, even Jason sees that and is threatened by it, but Cass feels like she has to let Maia go. Maia has grown and blossomed into her own person and, even though she would never admit it, Cass has been changed by Maia's love. They are moving forward together but experiencing it in different ways and that scares Cass into making some not so great decisions.Dirty Wings has the same gorgeous, lush prose as All Our Pretty Songs, but the mystical elements are a little more tame here. We are introduced to the entity we will come to know as Minos, but here he regulates himself mostly to Maia and Cass' dreams. Though he does materialize more fully toward the end of the book, we know that it is only possible because of the choices Cass made throughout the story. Cass was the pivot point for everything that happened and will happen in this fascinating and engrossing world.Thank you to St. Martin's Griffin and Netgalley for providing an ARC copy of this book!

This is the complete review as it appears at my blog dedicated to reading, writing (no 'rithmatic!), movies, & TV. Blog reviews often contain links which are not reproduced here, nor will updates or modifications to the blog review be replicated here. Graphic and children's novels reviewed on the blog will generally have some images from the book's interior, which are not reproduced here.Note that I don't really do stars. To me a novel is either worth reading or it isn't. I can't rate a novel three-fifths worth reading! The only reason I've relented and started putting stars up there is to credit the good ones, which were being unfairly uncredited. So, all you'll ever see from me is a five-star or a one-star (since no stars isn't a rating, unfortunately).I rated this novel WARTY!WARNING! MAY CONTAIN UNHIDDEN SPOILERS! PROCEED AT YOUR OWN RISK!This is supposed to be a retelling of the myth of Persephone, although I saw no resemblance. I did, however, discover that it's the most pointless and boring story I've read in a long time. It's the second in the 'All Our Pretty Songs' series, which I didn't know when I picked it up since there is - yes, you've guessed it - absolutely no indication whatsoever on the cover that this is a sequel! Way to go Big Publishing™ - you screwed up yet again!As it happens, and despite being number two - or perhaps because it was quite evidently a big number two - this novel goes nowhere and nothing of note happens. If you like reading about the drug-abusing and thievery conducted by a couple of boring lowlife's, then this one might please you. If you have taste and a desire for an interesting story, you might want to look elsewhere for your reading fulfillment.The story is about Maia, a piano prodigy, an adoptee from Vietnam by white American parents. When her "mom" discovers that Maia can play the piano with exceptional dexterity, Maia ends up being all piano all the time which is pretty much child-abuse. She's also home-schooled (something she's forced to take care of herself since her parents are pretty much absent in in her life). In fact, her mother is a complete dick, so it's nothing more than a tired cliché that she would cut loose when she meets street urchin Cass(andra).The two of them take off for a month traveling in a car that Maia stole form her parents. Nothing of what these two perpetrate has any consequence whatsoever. I do find it amusing when YA writers who are not actually YA themselves, put their own musical tastes into the hearts and minds of their YA characters, thereby rendering the characters completely unrealistic. Since when have seventeen-year-olds ever seen music videos on MTV, for example?! MTV hasn't routinely transmitted music videos in pretty much a decade - that's almost half of Cass and Maia's lifetime. It's hardly likely that it would be a point of reference for either Maia, who was effectively banned from watching TV, or Cass, who is living on the street and has been for some considerable time!Like I said, this story goes nowhere and is boring as hell. It has nothing to offer, nothing interesting or new to say, and no point whatsoever to it. I rate it Wartius maximus.

I read this fast in the heels of its predecessor All Our Pretty Songs. It was sort of interesting getting the back story of Cass and Maia, the mothers of the teen protagonists in AOPS, when they themselves were drug-using Seattle teens. The speed-infused road trip wasn't particularly interesting, and I'm not sure I'm going to be running toward teen fiction anytime soon. Except of course the final book in the series. This stuff is easy to read quickly and I already have it checked out from the library, so I may as well read it.

Sarah McCarry does not disappoint. Like her other books, Dirty Wings is a beautiful aesthetic stream-of-consciousness of a book about beautiful, magical girls in California, in love with themselves and their own potential and each other. (Yes, very evocative of Francesca Lia Block.) They do whatever they want, they save each other, they figure out what it means to be who they are. The whole story passes like a dream in that liminal blurred girl-space between intense friendship and queer love. And on top of all of that it's a rock and roll retelling of the Persephone myth? Gorgeous.

The first book in this series, All Our Pretty Songs, was a book that appealed to me for its uniqueness. It was a weird and often disturbing read and those flavors extended to this book, a prequel of sorts. It answered so many questions, even questions that I didn't even always know that I had!This is the story of Cass and Maia, the mothers from the first book. In AOPS, there was a lot of wondering about why these two were the way the were, what made them into the people that they were. These girls come from such different worlds. One came from a privileged life with all the opportunities in the world. The other came from a disadvantaged home, with little of even the most basics of things. Against all odds, they bond, even if that bond is often dark and always codependent. The story goes back and forth from the beginning of their friendship to the present time in that book, all of it before the timing of the second book. That back and forth really illuminates the changes the girls go through, the way their lives transform over time. Like the first book, the story is dark and disturbing, painful and raw.Although this is part of a trilogy, it is an odd trilogy. The first book is set considerably into the future from the second. There is still a gap in time between the time of the second and that of the first. I am hoping that the next book will cover that time because I think there is still a lot of story to tell between Cass and Maia.Things to love... --The unique style to the story. It feels like a chemically altered reality and it is fascinating!Things I wanted more/less of... --The paranormal aspect. The blurb touts this series as an epic story of the battle between good and evil. There really isn't any epicness to it. There is the Persephone theme, but it really isn't played up to the level that the blurb suggests.My Recommendation: I really like this story. I embraces its uniqueness, its weirdness. It is different and fresh!

This is a story told backwards, and one of the only books I've read where I think the reader would really quite suffer understanding the significance of a lot of passages were they not to have read the first book in the Metamorphosis series first.That's largely because this novel is a prequel, exploring the lives of Maia and Cass before they had kids. It's told in chapters of 'Then' and 'Now'. Unlike most novels told in this format, the 'Then' passages unfold an almost idyllic background of how these two girls from such differing backgrounds came to meet. The 'Now' passages, instead of showing how everything all came together in the end, show an ever darkening spiral of how things can become worse, and lives are almost wasted.For anyone who has readAll Our Pretty Songs before, it will not come as a surprise. Maia is a drug addled mother while, surprisingly, it is Cass who looks after both her daughter and Maia's.No first person narrative in this book; the telling is equally shared in present tense between the two young women.This novel gives us the truth of the most perfect week of Cass' life, reveals it as an untruth that Cass has to tell herself to get by. It shows us the romantic love of two adolescent girls who had no idea what they were doing in their lives and no ability to understand a kind of love that fell outside of the accepted norm. Maia comes from a life of privilege, but it is that privilege that damns her as Cass gives her the first taste of a life without the rules that have thus far restrained her.It's an amazing book, and quite an acceptable backstory for the events that happened in All Our Pretty Songs. I'm looking forward to seeing how book three, About a Girl, fits in at the end. That seems to be a story set after the events in All Our Pretty Songs, and that makes me QUITE EXCITED.

This one was just like the first one for me.It wasn't an awful read, but I did find most of it to be rather dull. I didn't love any of the characters, and I'm glad it was a quick read.

Really great book, awesome to have Cass and Maia's story that takes place before All Our Pretty Songs! Really great, but sad, too!

I am too old for this book, but I would probably have loved it to bits when I was 16, so.

I really enjoyed All Our Pretty Songs when I read it several years ago, but this second installment just fell flat for me. It is only loosely similar to the myth of Hades and Persephone - the main reason I chose to read it - and I honestly felt no emotional attachment to either Maia or Cass. Considering the book is mostly about their friendship, that was a big knock against it for me. I also just found it to be quite boring; I listened on audio, and the narration was well-paced and entertaining, but the story itself basically just plodded along. Maybe it would've worked better for me if I'd read it after I finished book one? Who knows. What I do know is that I'm done with this series: no third installment for me!

What I Liked:- emphasis on music- punk style- road trips with girls- the style of writing- Oscar- ChopinWhat I Didn't Like:- no plot- Jason- Hades is a ...record producer?- Maia's entire family- what decade does this story take place in?

A lovely book, lyrically written and emotionally real.

reviewed here: https://mayareadsbooks.wordpress.com/... and belowHaving by now read McCarry's entire Metamorphoses trilogy, I can say that this one is easily the best. Told in alternating third-person from the perspectives of Cass and Maia, the mothers of the friends in All Our Pretty Songs and at this point best friends themselves, it also alternates between "Then"– before they run away together on a trip down the West Coast– and "Now"–as the trip continues and finally as they return. McCarry manages the pacing perfectly with these four different perspectives, which impressed me.One thing that became obvious reading this book that wasn't in the first book is that Maia's daughter Aurora is half-white, half-Asian, like me. I had been assuming, due to my own prejudices and stereotypes, that based on her background and behavior, she was part-black or at least Hispanic, definitely not someone like me. But I'm really glad she turned out to be what she was– it challenged my own preconceptions and made me more aware of them. Plus, I like that the author didn't let the usual assumptions about race dictate Aurora's character.But that's about the other book. This one was really beautifully written, the third-person pov (which I normally like less than first) pulling away from the sometimes overwritten style of the first book, in favor of something more precise and in my opinion lovelier. I had some issues with Dirty Wings, mainly the use of certain cliches. The failed interracial, international adoption of Maia felt like a cliche to me, because I could never get a sense of her adoptive mother as a real person rather than an antagonist. I also didn't believe that Maia played the piano better than ever after weeks of not practicing, however much else she learned on the road. It felt like a trite way to show her growth.The Greek myth retold in this episode is that of Persephone, and at one point Cass makes a shocking betrayal– I mean truly shocking, in a book about friendship. (view spoiler)[It's not when she sleeps with Maia's new husband, the soon-to-be rock star Jason, even though that explained some things about the previous book– the narrator and Aurora are actually, unbeknownst to them, sisters. It's when she gets Jason to eat a pomegranate, and then Maia eats it too, and she doesn't stop her. She does join in herself, at least. (hide spoiler)]But this alone doesn't damn Maia and Jason. They too have free will, and it's a theme in this trilogy that you can only be destroyed by your own (uninformed, misunderstood, regretted too late) consent. All the characters in this book make terrible choices, and yet it's not a depressing book, because of the love Maia and Cass have for each other. (view spoiler)[ At first it's a deep friendship, one that pulls sheltered Maia into the world of street kid Cass but brings her joy she never knew. Later it becomes clear that Cass's feelings for Maia are romantic, and that Maia reciprocates, though she remains faithful to the flawed man she impulsively married on the road trip.(hide spoiler)]Regardless, their love for each other, in all its forms, is heartwarming. It's a different kind of friendship from the sisterly love of Aurora and All Our Pretty Song's narrator, both because it edges into romance and because Maia and Cass didn't grow up together but found each other as teens. It pulled me in more.Both for its greater emotional impact on me and for the technical skill in its construction, its pov shifts and timeline shifts and careful mix of joy and sadness, I think this is the best book in the series, and enjoyed it greatly.

Review copy: libraryAfter I read this, I wanted to go play piano. That's what the writing in Dirty Wings will do to you. It's got a distinctly lyrical style to it that draws you in and keeps you reading until everything's over. Do not be deceived by the book blurb — Dirty Wings definitely does not proceed in the neat, linear fashion portrayed by the summary. But the writing suits the story — Cass and Maia, two girls who see things that no one else can see and are somehow caught up in an ancient myth.When Cass 'frees' Maia from the cage her adoptive parents have placed her in — the cage of being the good, piano-playing home-schooled daughter — things rapidly go downhill from there. Maia and Cass travel and live together in the most classic form of teenaged rebellion — drinking, drugs, sex, and rock concerts. This, I was not a fan of, simply because those elements are too often used as a shortcut for depicting freedom, rebellion, and living life on the edge. (See: Just about every YA book about edgy white teens ever.) Fortunately, the dash of mythology and the strong thread of friendship running throughout the book made Cass and Maia's adventures seem genuine, and not just cheaply gritty and edgy.The unlikely friendship between Cass and Maia is what drives the story. Cass is the street-wise runaway, while Maia is the sheltered, adopted daughter. It was fascinating to see Cass and Maia's relationship develop as the story switched between the past and the present in flash-forwards. I only wish it could have been expanded upon even more.Only after I read the book did I realize that this is, effectively, a prequel to All Our Pretty Songs, which is the first book in the series. Now I have to read it to find out what happens. It was a relief to know that Cass and Maia's stories didn't just end there. If you like gorgeous lyrical writing, or books with a mythological twist to them, Dirty Wings is a must-read.Recommendation: Get it soon! Especially if you're a fan of mythology inspired books and lyrical storytelling.Review originally posted at Rich in Color http://richincolor.com/2014/11/review...

Dirty Wings is the story of the mothers from All Our Pretty Songs, Cass and Maia, back when they were teenagers, and it's a retelling of the Persephone/Hades myth (where AOPS was Orpheus/Euridice). Maia is reserved, brought up to be the perfect child, and Cass is a witch who teaches her how to get out. We find out that they go on a road trip together, and the story continues on from there. All Our Pretty Songs is my favorite book; because of that, I was nervous that Dirty Wings wouldn't live up. I wasn't sure that any story could break my heart more than Aurora's. I was wrong. Dirty Wings is the novel I didn't know I wanted to read, is about love and death and sexuality and living and growing up, and is ultimately a story about surviving. Cass and Maia aren't perfect and they're not meant to be; the author has talked about that, about writing real characters instead of fictions. However, even though they both do some stupid, stupid things, they're never demonized (even by each other). The ending aches with the knowledge of what happens next (as does the rest of the book). Throughout, the story switches from "Now" and "Then" in its narration and as each chapter ends, another piece slides into place. It's a well-told, heartbreaking story (there were moments I had to set it down because I didn't want to read on). The writing is lyrical and sweet and drags you along. The story itself is quiet--fantastic things happen, but they don't feel forced. There were pages I wanted to print out and hang up on my wall--there was something about the way they talked about themselves that made me want to go back and give this book to younger me. So very fantastic.

The second book in Sarah McCarry's Metamorphoses' trilogy, this novel actually goes back in time to introduce us to Cass and Maia - the mothers of the heroines from McCarry's first book, "All Our Pretty Songs." Maia is a lovely, but sheltered, teen - a piano prodigy living with her rigid, overprotective adoptive parents. Cass, meanwhile, is a tough kid living on the streets - she's used to taking care of herself and no one else. But when she meets Maia, everything changes. I'll confess that I am somewhat continuing to read this trilogy as it checks off a requirement in a book challenge that I'm doing. But, McCarry's books are always very well-written and interesting, if not a bit strange. I actually enjoyed this one a bit more than the first. The story was a little more clear. Much like book one, I still maintain that I would enjoy these books more without the odd mystical influence hovering in the corners of the pages. In this novel, Maia and Cass eventually meet Jason, with whom Maia falls in love with, and with whom it seems that Minos (the shadowy man from the other world) is trying to lure away... or, as Cass fears, does he just want Maia? It's all a bit confusing and such a strange side plot to a story of troubled teenagers falling in love and rebelling against the world - which would work just fine on its own. Oh well. I'm still hooked and will read the last book. McCarry has a beautiful voice and this book is very poetical, much like the first. The story flips between present and past in this one, which can be a bit confusing, but also makes the book fly by. It's a compelling read, if not one that will leave you a bit frustrated and wanting more.

A tale of two runaways, told in chapters that alternate between main characters and 'then' and 'now.' One girl is escaping poverty, filth, and abuse, the other a constricted life and a future she is not sure she wants. Both take a lot of drugs, go to basement punk shows, have sex with the people they meet, shoplift, and swim. They both also have disturbing dreams featuring the same tall man with very dark eyes, though they see him differently, and his significance is only briefly revealed. Why they have the same dreams and what they think about it is never explored.Atmospheric, poetic, slow. Not for the impatient reader. A little cliched. Cass' chapters are better written than Maia's. Especially at the beginning, Maia's chapters are clunky, stiff. Everything about her family is a stereotype. (And Oscar, though French and worldly, sounds a bit too much like Yoda.) When the author describes something as "cheesy," it feels to the reader that the author has an awareness that Dirty Wings dips towards cheesiness, too.The jacket flap speaks of Dirty Wings as a modern retelling of Persephone, but it takes forever to get there. This is really just a story of 2 runaway girls with good intentions who make a few key bad choices.I haven't read Metamorphoses #1, but I will - reviews from those who did are much more appreciative than from those of us who didn't. Maybe it will change my opinion.

This book gives me mixed feelings. On one hand I do not like but on the other I do.I do not like it partially because the jump from present to past every chapter. I've never been a fan of stories that do that and it takes me several chapters to get into the groove and finally be pulled into the book. Some of the writing bothered me, there were a handful of times that the wording just grated instead of flowed. Or it ran on way too long and I had to look up the page to remember what was being described.However I do like this book. It was different, blunt, and the story kept me from putting the book down. It kept me wanting to continue to find out what was going to happen. There was a character I hated, but all stories have that! You keep reading hoping they go away. Or at least I do. lolI never read the first book to this series. Reading the description I figured this was a rare case I could read the second book first since it leads up to the first book. Adding the first book onto my shelf is now on my to-do list, I enjoyed this book enough that I wish to finish this series and hope I can find a copy somewhere. That is why it has four stars despite me being in the middle. Wanting the other books in the series is worth another star on it's own to me.For the right kind of person I would recommend this to them to give it a shot.