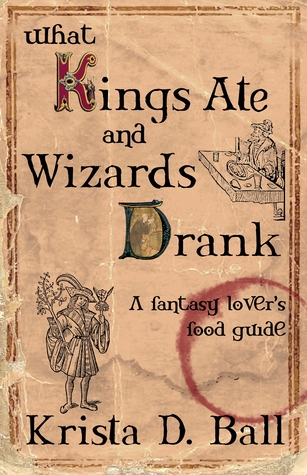 A Fantasy Lover's Food Guide Equal parts writer's guide, comedy, and historical cookbook, fantasy author Krista D. Ball takes readers on a journey into the depths of epic fantasy's obsession with rabbit stew and teaches them how to catch the blasted creatures, how to move armies across enemy territories without anyone starving to death, and what a medieval pantry should loA Fantasy Lover's Food Guide Equal parts writer's guide, comedy, and historical cookbook, fantasy author Krista D. Ball takes readers on a journey into the depths of epic fantasy's obsession with rabbit stew and teaches them how to catch the blasted creatures, how to move armies across enemy territories without anyone starving to death, and what a medieval pantry should look like when your heroine is seducing the hero. Learn how long to cook a salted cow tongue, how best to serve salt fish, what a "brewis" is (hint: it isn't beer), how an airship captain would make breakfast, how to preserve just about anything, and why those dairy maids all have ample hips. What Kings Ate will give writers of historical and fantastical genres the tools to create new conflicts in their stories, as well as add authenticity to their worlds, all the while giving food history lovers a taste of the past with original recipes and historical notes....
| | | |
| --- | --- | --- |
| Title | : | What Kings Ate and Wizards Drank |
| Author | : | |
| Rating | : | |
| ISBN | : | 9780987824899 |
| Format Type | : | Paperback |
| Number of Pages | : | 252 Pages |
| Status | : | Available For Download |
| Last checked | : | 21 Minutes ago! |
---
What Kings Ate and Wizards Drank Reviews
When I start in on a relatively dry historical subject like food, I don't generally expect to get much more out of the reading experience than the facts. I definitely don't expect to be entertained (or, if I am entertained, I don't expect the facts to be overflowing). So this book is a jolly fun surprise. It never claims to be anything approaching a definitive guide, but it's absolutely overflowing with interesting tidbits and common pitfalls to avoid. I enjoyed every bit of it and came away with dozens of ideas for my historical and speculative novels.

This book was written as a writer's guide for those that write fantasy or historical fiction, but it's also an interesting read for foodies, and people like myself, who enjoy historical fiction. It covers the general history of food, with an overview of the politics a logistics of food (such as feeding an army), food preservation, and what types of foods would be available in various time periods and climates.The prose is easy to read, well-researched, and also humorous. There are even a few recipes if you wanted to try to make a Medieval dish or two yourself. While they are not recipes I would consider making, it was interesting to see how some of the dishes I've read about people eating in books were actually made.Reading this book also gave me a deep appreciation at how easy we have it when it comes to having access to a wide variety of foods today. Even cooking a meal entirely from scratch today could be considered "fast" food, if you compare it to how long it could take to get a meal to the table centuries ago, back when people cooked over fires instead of using stoves.It also made me appreciate all the research that goes into writing a good historical fiction story; the authors don't only have to research the obvious historical facts of the time period they are writing about, but also the more mundane details of the day to day life of the people living then, the details that are often left out of the history books.

This book saved my bacon. Seriously. I write historical fiction, and my second novel was set in the late medieval era. Since I love to cook, I do a lot of research on the history of cooking, so I had several of the books listed in the bibliography. However, Krista Ball did such a fantastic job of describing a range of issues about food on fantasy and historical fiction that I saw some aspects of this topic in an entirely new light. Just before my novel was published, I made several important changes based on what I learned in her book. Very detailed and accessible, What Kings Ate and Wizards Drank is a must-read for anyone interested in food in historical fiction or fantasy. The author was clearly passionate about the topic, and I think this could have easily been another couple of hundred pages longer. Fortunately, the extensive bibliography will keep me busy for a long time to come. I could go on and on about exactly HOW useful this book was to me, but I think I'll save that for a blog post in my food in historical fiction series. :)

First off, this is an amazing resource for Fantasy/Historical Fiction writers and I'd absolutely encourage anyone who is even vaguely interested in writing a novel of that nature to invest in a copy. It's a goldmine of useful information regarding the logistics of food and travel, details you haven't thought of, etc. But more importantly, inspiration. Ball's attention to detail and her creativity serves very well as a springboard for your own ideas. I'm not a writer, but I found myself coming up with my own thoughts on fantasy races, culture and religions based on the prompts in this book. I'm half tempted to write them down.There's plenty to enjoy here for non-writers, too. The information presented does get a little dry in places, but only occasionally and to be fair it's a subject so broad that it's easy to lose momentum when getting into the nitty-gritty of it. But for the most part, Ball's tone is light and witty, and the register is IMO pretty spot on. It feels almost like hanging out with a friend and having a chuckle while they tell you about their pet peeves on a subject that they know plenty about. In other words, pretty damn fun. As someone who loves to cook, bake, and brew beer, I found it to be an enjoyable and often fascinating read. History fans will enjoy reading about the difficulties that processing and storing food presented to the commoners in years past. On the whole I'd recommend it to anyone who likes their entertainment to teach them a thing or two.

My biggest food related problem is that the Super Stop & Shop within walking distance of my house doesn't carry one kind of cookie I really like, so once and awhile I'll drive the 10 minutes to the Shop-Rite and buy a few boxes. But if I need a kiwi or a jar of molasses at 3:30 a.m. on a Sunday in January, that's no problem at all. Go America.This was an interesting book to read. There's a great deal about food that we all take for granted, and while I've learned enough over the years that nothing in this shocked me, it still left me thoughtful. It was also a lot of fun to read, as I would expect from Krista Ball.It also reminded me why, the time I played a D&D campaign where the DM was rigorous about food and carry weight issues, I very quickly took a feat that meant I didn't need to eat or drink. While I appreciate realism, there are times I want to just not worry about it and enjoy the story.

Funny and InformativeI've read several of Krista's fiction books, but this was my first experience of her non-fiction. Like her fiction, her sense of humor really shines through and is one of the highlights of her writing. There is a lot of good info in here for authors, just enough to get them considering their world-building and hopefully spark some ideas and further research. As for myself, I think I will be trying out one of the pottage recipes.

This is meant to be a guide for Fantasy writers that improves the versimillitude of their stories by describing food acquisition, composition and storage throughout history. Since I am an unapologetic foodie and an unashamed history buff the History of Food has always been one of my quirky passions. The History of Food is very much the history of humanity as well and I adore reading about it, pondering it and discussing it. My favourite Epic Fantasy novels–The Song Of Ice And Fire series by George R.R. Martin hooked me in no small part with their well-researched and accurate detailing of foodstuffs in the medieval period.This book is not meant to be exhaustive, and I didn't expect it to be overly detailed. I was prepared for it to be a survey course (heh) so it isn't the lack of scope that I find bothersome.The problem is that this book seems to have had absolutely no editing whatsoever. Now, I don't mean that it's full of typos. I don't think I saw a single typographical error. Grammar…now that's a different story. The word "less" appears when it should be the word "fewer" (i.e. 'less seed potatoes') and some other quirks popped up here and there. But the real problem was the structure. Theoretically there are different chapters that presume to address different aspects of historical food. But the author has a few pet ideas which she repeats to the point of making me want to stab myself in the eye.-Lambs aren't served at Yule / Christmas-Berries become ripe at different times-Cheese is made from rennet, which is made from calves' stomachsThese are just three of the ideas which get repeated at least five times each, in many cases almost out of context. The statements would be made, and as a reader of nonfiction I'd expect her to continue with the thesis she had just advanced. But she more often than not meanders to yet another reference of her work in homeless shelters or her fantastic berry garden. It reminded me the way my first boyfriend could turn every conversation back to baseball.I don't regret buying this book. I don't regret reading this book. I'll still recommend it to others because it is fun and not too time consuming. But just like that first boyfriend, while I have fond memories of our good times together I'm still glad I'm not committed to this book for the long term.

It's the first book I've read that includes appendices just as engaging as the rest of the text.

For me, the fantasy-reader with some interested in history, this book was entertaining but also all over the place. It's sorted by topic (feasts, food for marching armies, drinks etc.) and in each chapter, you get examples from different periods (western/Great Britain-centric since that's the author's area of expertise and the basis for most fantasy novels). They can range from ancient Egypt to the Napoleonic wars but don't go into much detail. Though she does provide a good bibliography (which includes a fair number of free sources). I did enjoy the overall style (the perfect mix of facts and humor) but did I really get anything out of it? I'm not going to laugh at every fantasy-author who writes a story where the group of heroes live off rabbit stew on their journey. (But perhaps at all those who keep hunting deer...I had never realized just how much wrong there is with that). Now for me, the person who knows that it's almost certain that she will never write that fantasy story but who nevertheless keeps thinking about it, this book is great. It's a good starting point (and tells you where to look further) and also poses some questions. Some of those could easily be the basis for a whole novel, others are more along the line of 'you should probably know how this works in your world' and yet others give suggestions for problems your heroes could run into while adventuring. It is definitely a good resource for writers. With the caveat of 'For writers who have only a vague idea about the world (along the lines of 'Romans/the Middle Ages but with dragons'). Then this book gives some good advice on what to do/avoid while detailing your world. If you already know that your fantasy world is going to be Poland under Bolesław I. but with elves and wizards then you better look up Poland under Bolesław I. because you won't find anything concrete in this (not even for slightly less obscure eras).I won't call this a must-read because you will find anything this book tells you also in various History for Dummies books but, as said, it is a great starting point and aimed specifically at fantasy writers. (And is really funny).

Very entertaining, energetic read. Ms. Ball is quite passionate about her chosen subject, even going to the lengths of trying to recreate some of the items she writes about (with varying degrees of success - some of which have quite humorous "calamities" associated with them). A lot of material is presented. A LOT. This is not a book you read and then put away never to look at again. If you want to get it right when working on your story, you're going to have to pull this book out and use it as a reference. Unless you have an amazing memory, you're just not going to be able to file away all of the tidbits of information Ms. Ball writes about.To some extent, the difficulty in remembering all of the material is due to how the material is presented. Within each topic, the author often bounces around time periods, making it difficult to remember what was available when. You'll want to look over the information in question and verify what/when/where it was available and how it was used. Appendix I in the back is of immense help in keeping seasonal track of what your folks were harvesting, eating and or preserving. Appendix II is useful as an example of what items might be required, and in what quantities, for you medieval noble to put on a proper feast. The book ends with some useful reading suggestions, some of which I may try to hunt down.In addition to basic food information, Ms. Ball also discusses herbs, medicine and disinfectants, preservation, cooking methods, storage, domestic animals, the politics and social norms associated with food, and even the complications of feeding an army. Definitely worth reading and keeping as a reference book.

This is an absolutely brilliant book, which manages to teach you a shocking amount while reading less like a textbook and more like a good conversation with a particularly funny acquaintance. The book is well researched but doesn't go too far into details that wouldn't interest a general audience. My twin, who actually lives for long periods in the woods regularly, was completely in love with the first chapter when I read it to him and dubbed it true to life. It truly feels like you're sitting down with the author to chat about the impracticalities of the hero's journey in most fantasy novels.I never buy gifts, but I have purchased two copies of this book for friends already and plan to buy more. I am excited to read the sequel as well.Witty, a quick read, and yet you learn as you laugh. What's not to love?

What can I say? I love this book. I wish there was a six star rating for it. Informative, fascinating, funny, what more can one ask from a history guide? But it's not just that. It's also a writer's guide, and as a fantasy writer, I can't tell you how much this book is helping me create a realistic backdrop for my epic fantasy and my steampunk stories. From how to pickle eggs, to what one could find in a medieval market, what a rich man's table looked like and what a poor man would do to feed his family, from what armies ate in the past and when certain fruit and vegetable or meat are available, this book has it all - even great recipes to try.One last thing: There should be a warning against reading in public. I can't count the times I burst out laughing. *unsafe for reading in public places*

OK, it was a little hard to try to find a non-fiction book for me, but the moment I saw the title for this it screamed out "read me!". I love food, and history, and this is a little book aimed at prospective authors of fantasy so that they will "get the food right". And yes it grabbed my attention!So basically Ms Ball covers a whole heap of topics relating to the cultures of food - what different types of people ate at different time periods. She concentrates on the "british middle ages" (and even that is a HUGE topic) covering things like when different foods are in season, how different animals were used, and the type of things eaten by different people. Heck, she even includes a few recipes.I quite liked the style of this book as she writes in a very conversational manner - I can almost imagine sitting in a summery backyard, chatting over tea and scones :) It is full of sly humour and witty observations, which I totally wasn't expecting! Unfortunately for me though, this felt very superficial. Perhaps as I'm not the focus reading group... most of the tidbits she was relating were things that I already knew. But then again, I am a history buff and a cook, so not your average reader in this matter.Ms Ball never claimed this was a comprehensive book - and states a number of times that this is meant to just whet your appetite (pun intended) about the subject of food and history... So while the bulk of the book felt rather simple to me, I was VERY impressed by how she provided backing material (in the form of footnotes and a grand appendix) which have given me a few score of additional books I need to dig up and read!You'd like this if : You want a humorous and witty introduction to the history of food, and all the ways it can be applied to fantasy fiction (and how not to fall into obvious pitfalls).Other ThoughtsI never expected to really enjoy reading this so much - let alone get stared at on the train as I was laughing while reading...

If you're looking to write any sort of work of fantasy or historical fiction, then this is the book you need. You will lean more information about food than you have ever wanted to know, or ever should know in some cases, but it is invaluable to any aspiring authors(like myself).Even if you just enjoy reading fantasy, then you will still enjoy this book. It provides insights into your favorite worlds(Middle Earth, Temerant, Alagaësia, etc.) and why many parts of those worlds may be the way they are and hint towards a bigger picture. This book is made for any fan of fantasy or historical fiction, as well as steam punk sometimes.

Nonfiction isn't my thing as far as reading material. With the exception of an art book, this is the only nonfiction I've ever read that wasn't assigned. And it was great. Mrs. Ball manages to keep a lot of voice in what could otherwise be a very dry subject, and while it might not have been marathoning material, it kept me entertained for many short bursts, and I know I'll be revisiting it when I start writing in a more medieval style world again.

Entertaining read. Food in the Middle Ages was boring, but this book isn't. I'd put it up there with Steamdrunks. It's funny, well written and this is not an easy subject to do that with. Good book.

Let this be proof that if a book is well-written and interesting I will persevere over deeply annoying typos, even when they're as frequent as they are here. There are little errors like mentioning eating more berries than you pick (I think that's impossible, unless you don't count windfalls as having been picked), and the best typo in any document EVER, with which I will close this review. Although "drowsy" for (I assume) "dropsy" was pretty good too. But … cellars on ships and root vegetables not in cellars (lofts? Really?) and sentences like " something that is drank" or " was probably drank through a straw" were much too common; the book is crying out for a strong editor. (*makes "call me" motion in author's direction*)There were also a few things I wondered about – like were "chocolate-dipped beef jerky protein bars" really "passed around at the Battle of Hastings"? (The author's note was "(I'm not even making that up)", but chocolate hadn't made it to Europe by 1066, or even close, so… Er?) And did travelers really have to convince innkeepers of their worthiness? I thought they just took their money up front if they were worried and sent knee-breakers after you if you crossed them.There was also a sort of odd section on "The Midwife and the Nurse", in which the author indulges in a bit of ranting (like how she was stunned that people she informally polled all (or almost all) thought abortion was purely a modern phenomenon (I'm stunned too)), but never really discusses maternity-related food. It would have been a great place to put things like what food and drink and herbs and concoctions past cultures believed improved fertility or the chances of carrying to term, or helped a new mother "let down" milk, or how babies were weaned, or … etc.But there were two reasons I persevered. One was the basic intelligence – which can be taken two ways:And the other was the humor, like the note at the end of the mead recipe to "drink until your mood improves", and the tales of the author's experimentation for research purposes, both pleasant (chocolate for breakfast!) and un (self-ground flour).Actually, there were three reasons – the third being Newfoundland. The author is – unless my memory is fritzing out – from Newfoundland, Canada – and so is my mother. I've been to visit family several times – and we still have kinfolk on the rock. So when she talks about "gooseberries, partridgeberries, cloudberries, plus blueberries. Oh and screech", I have a big grin on my face; every chance I get I order partridgeberry and cloudberry jam from The Dark Tickle Company and anywhere else I can find it. And screech? Yes, b'y. (Well, no, neither Mom nor I have a screech habit, and I've never been screeched in, but I surely know of it.) The only thing here is that Mom's from Doyles on the west coast, which is apparently much more sheltered than other areas. "Every Canadian reading this book is going to groan and complain that I just perpetuated the frozen tundra myth", she says, and with statements like "People did live in this desolate and harsh region" I suppose she does; I know my grandfather farmed a decent plot of land for decades, and Codroy Valley is lovely. It can actually get quite hot and humid there. (And I never saw fried cod tongues there. When I was a kid the weirdest thing I met with was fries eaten with vinegar instead of ketchup.)And now, as promised – the Best. Typo. Ever."Pemmican is perhaps one of the best-known preserved food stuffs in North America. It's often in the form of beef, bison, or elf jerky, often with BBQ sauce or peppercorns."Well, the dwarves have cram; perhaps the orcs have elf jerky.

Like sitting and talking with a friend on Foods and Drinks in different times and the affects on people and needs.Amazing to bring thoughts to mind for story ideas and culture around what I've created. I would suggest this for anyone wanting to learn a bit about foods in historical times and writers of fantasy.****FULL REVIEW****An insider look to foods and drinks in fantasy worlds to help make the story feel more authentic to the time. The types of food available can also help draw a darker or enlightened picture of a world. How long does it take to make rabbit stew? And catching the rabbit? How about dressing a deer? Spices and breads and so much more to look into!We love food. So why not make learning about it fun too? Krista does that here.For those writing, Krista gets you thinking more in depth of what you are creating. For those loving history, this shares in fun foods at different centuries along with recipes.This book opened my eyes to how food can reflect and create a world. Food is touched on in different aspects of living. From the poor to the rich. On the move or city living. Even sailors/pirates out at sea. So many aspects and all live very differently. This book of information helped me thinking on the foods in stories, even worlds I've created. Krista tells you how things work and suggestions for the heroes on the run in the woods. How to survive with or without food. Some references are given to help match the food in your land, culture, stature in society, and along with taxes.Even specific diets. Some of us can think out the diets from what we know of history, but this pins it down for us. There are reasons why there may not be many children born in a time frame. The woman may have been missing certain items from their diet that could result in miscarriages.Krista presented this book in a fashion that reading about food and history felt like sitting down and talking with an old friend. This book was NOT like reading a history book. Krista made the topic fun. She shares recipes and her experiences. Yes, she's tried making some of the foods and drinks and shares how it was to make it or even taste it. Some good, some not so good. lol. There are myths that surround foods and the times, Krista talks about that and if they are true, false, or a touch of both and why.But the neat thing with food, it touches different aspects of world and people. Krista talked about health in the middle ages and further back. There are herbs for all things from health to sick to in foods and drinks. Then on to who healers are, even a few thoughts to get you thinking as to a history to your healer choice.This book was fun to read and learn. I will be using it as a reference guide to help me along. It can be used for anyone wanting to write fantasy, historical, steampunk or Victorian era.

What Kings Ate and Wizards DrankPart wilderness survival guide, part ramble through history, part essential list of how to feed characters on quests and part good fun. While fantasy authors will find the information invaluable, and readers of fantasy will have a better idea of the difficulties the characters face, even the casual reader will enjoy the wit.Many fantasy novels have the characters having food almost drop into their arms...and always an inn to shelter in when the weather turns nasty, but Krista gently cautions the unprepared travelers with headings like "My Heroine is going to starve to death, isn't she?" And provides plenty of advice for authors who know not what they write.Survival issues are only part of the book; there are chapters on banquets, finding accommodation in monasteries and the like. And how to feed an army, with examples from Roman Legions to Napoleon's retreat from Moscow in 1812. The differences between journeying in the winter when everyone has eaten most of their stored supplies, and travel during summer when food is plentiful, and can be picked as the lost children wander. The differences between city folk and and country people gave me a smile, because the issues of familiarity are still with us. When I worked in Northern Canada every winter we always picked young lads off the farm ahead of city kids, who were soon despondent if they didn't have cable TV behind every tree.Medical issues are well covered as well as some of the serious things like "The Dark side of Food; politics, famine and genocide." But to lighten the mood Krista covers what to drink right after, with enough info that Sir Bedevere could set himself up in a bootlegging business when not out slaying dragons. And to inform, and possibly challenge the bold reader, is a chapter on delicious recipes from earlier times that might tickle the palate...perhaps of the most adventurous. This reader would like to tackle the fried cod tongues, and was almost raised on pottage and meat filled pastries (Hot Oggies anyone? Cornish Pasties to those who were never near the docks at Devonport.) The Pork Fat and Molasses Dip took me right back to the days when my mother kept a pot of drippings in the larder to supply the fat for frying, pastry making, and that odd craving for bread and dripping, that would come over one periodically.Yes, "What Kings Ate and Wizards Drank" called to my inner fantasy self on every page.

Shorter version of the book: Dear Fantasy Author, with regard to the feeding of your characters, you're getting it totally wrong.Heh. I keed, I keed. But...to a lesser extent, this is true. I've read several books lately where our intrepid heroine survives in the wilds by scrounging for berries. And survives pretty well. No notable weakness, dizziness, etc., even though she's walking miles a day.Sorry, but no. My activity level is pretty high, especially for a first world human, and after a couple days of eating only a handful of berries, I'd fall down. Thud! Face-plant.I'm a gardener, so you'd think I'd know better, but even I've missed the fact that some of the foraged foods--berries--are only available for a short time each year, often not when the characters is subsisting on said tasties.Another valuable point. Setting a snare for a rabbit or other small game requires knowledge of the environment. Barring an actual apocalypse, the desert cottontails that frequent my property are 100% safe, but if necessary, I know enough about their habits, trails, etc., to effectively set out snares. But that knowledge might not work as well in a new locale. Which leads to the obvious conclusion: us'n writer-types, by ignoring the difficulties of procuring food in a pre-industrial setting, are not only setting up unrealistic scenarios, but also missing loads of opportunities to make our characters' lives really, really difficult.What King Ate and Wizards Drank is a great primer for anyone interested in creating realistic scenarios involving the procurement, cooking and availability of foods in pre-industrial time periods. If even includes recipes, so you can get a taste of eating medieval. (Vegans, vegetarians and others on restrictive diets won't find anything to eat within the pages, though. Back in the day, people didn't have the luxury of not-eating anything.)Four stars because I wish the author had elaborated more on some of the information presented. Sometimes it felt like the information presented was only a teaser. Also, I would have like a little more focus on cultures outside of Western Europe.Nevertheless, a useful text. I need to get a print version to keep as reference. Especially since drawings, and footnotes are a pain in the arse on a Kindle Paperwhite.

I really enjoyed reading this book - it was not what I had expected!This is not a story - it is a reference work for authors. In places it could even claim to be a serious academic work - except that such works are generally very dry, and this has humour!First: The purpose of the book. The author describes it as 'A writers Guide'. I suspect that the author has become annoyed (maybe very annoyed) on more than one occasion, by simple errors made by historical fantasy authors. She even quotes an example: chocolate-dipped beef jerky protein bars being passed around at the Battle of Hastings. She promises she isn't making that up, but I wish she had given a reference to identify the culprit!Anyway - what she has come up with is a light-hearted and amusing reference work, sufficiently academically-oriented that the final 10% of the book is references to sources and other scholarly work - but it is nonetheless highly entertaining. It tells the reader all he or she ever wanted to know (unless they are very specialised indeed!) about food in the sort of European Mediaeval environment that many (most?) fantasy works are set in - not only what people ate, but some suggestions (and problems!) about where to find it, how to prepare it, and what problems might follow, e.g leftovers attracting scavengers and maybe predators as well as the local Lord's verderers with strong opinions about poaching ...Please note: This is a reference work for authors from someone who is an expert on the history of food, intended to prevent the worst of author errors - but this author admits that while it would be a good idea for other authors to include this level of knowledge and detail in their research, it would not be wise to include all of it in their books. On the down side, there are a few occasions when the author repeats herself, going over areas already covered in a previous chapter - but even so, this is a useful reference work and a surprisingly enjoyable read.

Very helpfulI am so amazed I haven't read this earlier. While I was reading I felt as if I learned something new on each page and could almost feel myself growing smarter. I had started more than one conversation in the past week with," Did you know..." let's just say most of my family has learned to leave the room when I start that way or when I interrupt a conversation with, "Actually, I just read..."As an aspiring writer I've come across multiple instances where I've contracted writers block because of my lack of factual information on "what to pack when saving a world from a vampire vs. mage war that will keep your hero/ine at peak physical condition 101". I'm so happy I found this book. Not only was the information useful and interesting, the author made reading it quite fun and worth my time. Though the final manuscript could have used a final run through to catch the few redundant sentences found within the piece, I still enjoyed it quite thoroughly. I would heavily recommended this piece to writers aspiring to become fantasy/historical authors. I know it helped me a lot even with its generalized information. Not all readers of fiction, the audience I prefer to write to, really care about how to cook cod's tongue or whether or not I'm applying mustard plaster correctly. I didn't even know it was thing until reading this book. As long as it fits in with the world I created and gives it a realistic feel, I would be happy and I think most of my readers would as well.

One of the most difficult things for me when writing it figuring out what my characters should be eating, drinking, and carrying with them. I am constantly scrambling to track down which berries, fruits, vegetables, etc., are available in a particular season. This book is the solution I wish I had found when I first began incorporating specific details about meals and traveling into my stories. Whether writing a medieval-esque sweeping fantasy or a Victorian mystery, Ball provides enough hints, tidbits, and even recipes to help address some of the most obvious (or not so obvious) blunders writers make regarding food, drink, and keeping your heroes and heroines alive while traveling. I appreciate the seasonal calendar guide in the appendix (it will make figuring out the feasts so much easier), but my favorite and most useful section was in regards to marching an army and the different ways to keep them from being too weak to fight at the end of the road. The comparison to modern hiking and army calorie requirements (for both men and women) to keep fit and not die getting from point A to point B truly helps to bring home the situation of how important it is to figure out proper rations. After all, in fantasy, we usually throw enough problems at our characters that we shouldn't toss starving to death on top of it...unless the story requires it, of course. Bottom line, What Kings Ate and Wizards Drank is a must-have for Fantasy and Historical Fiction writers!

This is an absolutely charming reference book and food guide! It covers everything from the general history of food, an overview of the politics and logistics of food (and feeding an army), food preservation, what types of food would be available in various time periods and climates, AND actual recipes for making some of these historic dishes yourself.The prose is easy to read, accessible, and funny. (Also well-researched, and complete with end notes and citations.) There are plenty of wonderful side bars with little tidbits, facts, recipes, and trivia you didn't know you needed to know. Ms Ball has a talent for inserting hilarious anecdotes (such as her collage years without coffee) and fascinating stories about everything involving food.This isn't just a book for fantasy writers, either. WHAT KINGS ATE is perfect for foodies, the SCA, history buffs, and everyone who enjoys a good book.I've found this gorgeously put-together book indispensable for reference, and also it does what any good book is supposed to do: it tells a compelling story.WHAT KINGS ATE AND WIZARDS DRANK chronicles food and history in a fun, engaging style. And like a good meal, it leaves you full and satisfied at the end. (Although there's always room for dessert!)

...What Kings Ate and Wizards Drank is a humours book and not a very heavy read but it touches upon the very basics of our survival. As such it points out a lot of very important matters to us if you are prepared to read between the lines. You could read it as a writing guide or a humorous reflection on the Fantasy genre. It is both of these things, but I thought there was even more to it if you project what this book has to teach on our current food situation. Looking at it in this light, What Kings Ate and Wizards Drank is a surprisingly relevant book. It is one of the areas in which I would have liked a bit more information. I see plenty of opportunities to expand it, or even have a more science fictional look at the subject. Maybe food in genre fiction is just too large a topic for one volume. What Ball has produced here is an intriguing introduction to the subject however. Read it and let and let Ball tickle your curiosity. You'll never look at stew quite the same way again.Full Random Comments review

If you write fantasy or historical fiction, listen up. You need to read this book. Period. Krista Ball has gathered in one easy-to-read work detailed information about a variety of medieval foods and topics related to them. Whether you want to hold a feast, keep your hero fed while he runs from the corrupt town guards, or stop your troops from deserting while you march them through enemy territory, Ball has the information you need.My one tiny complaint is that her book largely focuses on European food history. My fantasy series The Dragoon Saga draws on Japanese mythology, so I would have loved to see more discussion of Asian food traditions. But this in no way diminishes Ball's work. I understand why she made the choice she did. No one book could cover the food history of the planet in any level of detail, and most fantasy uses a pseudo-European landscape anyway. That said, if Ball ever wrote a companion work that examined other cultures' foods, I'd buy it in a second.

Very informative, yet entertaining, read. Such a short book can't hope to cover all there is to know about ancient and medieval food, and the author is up-front about it. I think its biggest strength is the questions it raises about the nitty-gritty logistics of historical and fantasy worlds. If you want more details, you'll have to refer to the bibliography. "What Kings Ate" gives you a place to start your research and makes you ask the basic questions. That said, there's good information and fun tidbits in this book. Overall, a very useful addition to one's reference library.

This book has been highly eye opening and informative. It lets you know the logistics to feeding a marching army in the Middle Ages, how likely it would be that a person fleeing with little preparation would have an easy time finding food on the run and have time to prepare it, how difficult it would be to find a lamb for sell in the winter... really just things you kinda skim over in reading historical fiction as well as fantasy novel until someone like Ms. Ball takes the time to point them out to you.

Krista Ball does wonders for the non-fiction writers' guide genre! "What Kings Ate" is easy and fun to read while giving important details to keep in mind when writing (or getting ready to research) a fantasy or romance book set in medieval England. For first-timers in these genres, it's a must read! She covers everything from how to feed your soldiers to what the poor ate and preparing for a grand feast. Ball will have you thinking about your characters and world in a new light. I can't wait for the sequel - I hope she writes one ;)

More of a writer's manual on writing believable food, drink, and medicine into speculative fiction, but includes some recipes too--fried cod tongues (who knew cod had tongues?), seal flipper soup, and other delicacies. Some very interesting food history that I didn't know I'd always wondered about, too. Like, how DID they preserve eggs without refrigeration? How were chickens used to make ale? Very interesting and useful advice for writing speculative fiction.