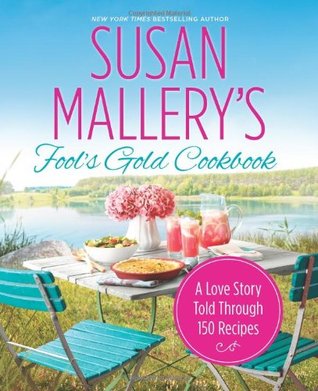 New York Times bestselling author Susan Mallery invites you to taste the local cuisine of her beloved fictional town and share in a year's worth of deliciously seasonal recipes. Fool's Gold is known as the Land of Happy Endings, but it's also the land of hearty appetites. Throughout the series, the residents of Fool's Gold have found joy, comfort and good times through fooNew York Times bestselling author Susan Mallery invites you to taste the local cuisine of her beloved fictional town and share in a year's worth of deliciously seasonal recipes. Fool's Gold is known as the Land of Happy Endings, but it's also the land of hearty appetites. Throughout the series, the residents of Fool's Gold have found joy, comfort and good times through food. Now two local Fool's Gold chefs will also find love through food! Join them as they flirt, fight and fall in love, one season at a time. You'll also find favorite recipes from popular characters in the series, such as: Heidi's Arugula, Corn and Cherry Tomato Salad with Goat Cheese. Liz's Spaghetti for the Girls. Denise's Summer Berry Pie.  With chapters for summer, spring, fall and winter, you can find the perfect recipe for everything from holiday get-togethers to cozy date nights, always using the freshest ingredients. And the heartwarming love story that is woven throughout is Susan Mallery at her finest. The more than 150 recipes and dozens of gorgeous photographs in this book will inspire you to find perfection in the simple and the seasonal. And with all of Fool's Gold with you in the kitchen, your every celebration will have a happy ending!...
| | | |
| --- | --- | --- |
| Title | : | Fool's Gold Cookbook: A Love Story Told Through 150 Recipes |
| Author | : | |
| Rating | : | |
| ISBN | : | 9780373892815 |
| Format Type | : | Paperback |
| Number of Pages | : | 272 Pages |
| Status | : | Available For Download |
| Last checked | : | 21 Minutes ago! |
---
Fool's Gold Cookbook: A Love Story Told Through 150 Recipes Reviews
The short love story throughout the cookbook is sweet. The recipes are amazing, they are easy to understand and look so yummy. I will be putting this cookbook to use!!

I received this book from the author for the purpose of an honest review. I have to say this is the first book (cookbook) that my husband took from me and read through himself. He's getting into grilling and smoking and wanted to see what recipes we could work with for that. He loved the ideas and how we could tweak each to fit our tastes/needs. I loved all the great food, the way the recipes were set up and the short story that I read in a few hours. Overall the book was great. It'll make a great addition to anyone's cookbook library. It'll make a great gift for the Holidays as well, I'd get it now while Harlequin has a $2 coupon (Look on the author's website or Harlequin.com for it). I also plan to get a Kindle copy so I can take it with me when we go on trips/camping. It's the perfect addition to your library whether you cook or not.You'll love the images, the recipes, the story, and the even the feel of the book. *as a side note Target has an edition that includes a few extra recipes/content for the same price*. I highly recommend you pick up this book/cookbook today! You'll love it.

Borrowed this book from the library to read on my Kindle. First read the story which was very nice but too short. Have been reading all of the Fool's Gold series and love how Susan Mallery intertwines her characters in every book. Then went back and read through the cookbook. It was so good, that now I must buy a copy of the book so I can have the recipies on hand all the time.

Cookbook + Fool's Gold romance story!Category: Cooking, Food and Wine

Beautiful book. Kudos to Susan Mallery for putting together such a fantastic cookbook. The way the cookbook is divided into seasons is a great idea; and the recipes themselves are all "easy" and "fast" so that even the most challenged of cooks can master them. And wonderful hints and tips are also shared within all the pages. And then... to top it all off....the lovely and sweet love story. A "ten minute" love story and yet it soars and resonates within you. And the added plus for all the Fool's Gold fans are that these recipes have been mentioned in the different Fool's Gold stories throughout the books. BUT if you've never read any of the books, you can still LOVE this cookbook. And just think...what a great GIFT this book can be...or just get you started on reading all those Fool's Gold books if you never have had that pleasure. All in all there is so much to love about this one book. It's a masterpiece. And I haven't even attempted makng all the recipes I've marked to try. There are sooooo many. Thanks, Susan Mallery, for such a treasure!

I love cookbooks, I can sit and read them like novels. I love the Fool's Gold series, so to mix the two? Yes please!!! The recipes are luscious and organized by season and type so it's easy to hunt up something to try for dinner. Interspersed with the recipes is the novella for Ana Raquel and Greg. What's not to love? It's a great idea!

Received from Good Reads first reads giveaway.This was a really neat concept. A cookbook with a love story behind it. The story of two chefs, Ana Raquel and Greg, who met while they are children share a past, meet up again, write a cookbook and re-connect. The story was very endearing and sweet, the recipes are fantastic! I am looking forward to trying some of them out. Highly recommend.

I loved this book!!! A story and a beautiful cookbook!! Double terrific!! So clever !!

book 12.1 in series. The story of Ana Raquel Hopkins and Greg Clary. They have known each other since they were 7. Greg always seemed to beat her at anything she tried to do. She felt angry but grew to possibly have feelings for him. At their Sr. Prom she wants to have it out with him and instead they end up in bed together. She leaves Fools Gold feeling that Greg has played her. Now 10 yrs later she has come home to open a food truck and wants to write a cookbook on the towns special recipes. The mayor Marsha puts them both on the project and they wind out that they both have really had feelings for each other all along.

All in the name of love and foodRachel and Greg have been competing since they were young...Both followed dreams of being chefs.. Together can they find the middle to work as a team?? Another great addition to The Fools Gold Series....Within the pages many recipes from our favorite characters....

The cookbook is a good 4 stars but the short story was way too short. I would only give it a 2 stars so I rounded it all up to 3 stars. Would defiantly recommend as a cookbook, good for beginners.

#12.1 in series. Have to look for more.

great short story ... loved the recipes. can't wait to try.

Love the concept! A cookbook based on all those love stories? Awesome!

Originally reviewed at Books Etc.Let's get something out of the way right up front: I don't cook. I can (obviously since I'm still living) but I kind of hate it. There are a few recipes that are my specialities but for the most part my boyfriend is the one keeping me fed. So, it may seem strange that I'm reviewing a cookbook but I was intrigued by Fool's Gold Cookbook. The recipes were divided into seasons plus there was a short story included throughout as well. Then, when I got the book, I realized that Susan Mallery chose the recipes because of their simplicity. Simple? Sounds perfect for me!Not only were the recipes divided by season but each season was subdivided by occasion: light meals, celebrations, breakfast and brunch, comfort food, and holidays are examples of what was included. You could find a recipe for almost any event and I loved that.As I mentioned, the recipes in this book had been selected because they're quick and easy. However, when my boyfriend was making the Baked Potato Leek Soup (page 157) he found himself asking questions like: "Should the potatoes be peeled?" "Does the pot need to be uncovered or not?" He had to ask because the recipe was not clear enough And then he realized that there were no directions for the bacon. I had noticed a few recipes seemed overly simplistic in their directions so I worry this problem may come up again. These things aren't a huge dealbreaker but it's a problem for someone who doesn't cook ever (like me). Oh, and the soup? Freaking delicious.I may not like cooking but I do enjoy baking. I discovered after finishing the book that most of the recipes I marked are those for something sweet. What can I say? I like my desserts. I picked one that I was most excited to try: s'mores bars. I adore s'mores so was looking forward to seeing how this recipe turned out. This was a crazy easy recipe to make, which was great. While the final product was pretty delicious, it fell apart a little bit. The graham cracker crumb crust probably needed a bit more butter and when my boyfriend was cutting his piece the chocolate layer came right off the crust. I think I'd also use a different type of chocolate chip instead of semisweet. Overall though, this is an easy recipe and a tasty one. I think it'd also be a fun recipe to make with kids. They wouldn't be able to mix the sweetened condensed milk and the chocolate chips over the stove or pour it on the crust but they could help press down the crumb crust and stick the marshmallows and crackers into the chocolate.As for the story aspect of the book, I enjoyed it. I've never read any of the Fool's Gold stories before but I've wanted to. I love small town romances and when past characters pop up in a new story. Because this was just a short story, I wasn't too worried about being lost with the setting or characters. I especially liked that Ana Raquel and Greg had known each other as children. They were sort of rivals but it seemed like Ana Raquel disliked Greg more than he disliked her. In fact, he didn't seem to dislike her at all! The story was cute but there really wasn't much substance to it. I'm going to assume that had to do with the fact that it was so short and in a cookbook and not as a testament to the Fool's Gold series as a whole.I'm looking forward to trying a few more recipes from Fool's Gold Cookbook and also checking out the whole series by Susan Mallery. I would have liked a few more pictures, more substance to the story, and more detailed directions, but, overall, this is a pretty good book. Who knows, maybe this cookbook will help turn me into a halfway decent cook! ;)Happy reading...and cooking!*A copy of this book was provided by the publisher in exchange for an honest review.*

Susan Mallery's Fool's Gold Cookbook: A Love Story Told Through 150 Recipes by Susan MalleryWhen I first got this book it was for many reasons: the love story and the recipes. I had seen the trailer for a shrimp/mango dish and know I will love that one for sure. Cookbooks don't normally excite me, this one did after watching the trailer.I glanced through quickly and found so many I will be making. Then back to read the full love story of Ana Raquel Hopkins who had once lived in Fool's Gold but was split from her sisters and sent to a foster home not in the area.They all back together now and she has a career she went to college for: chef. She runs her business out of her food trailer and has an idea of making a FG cookbook. She takes her idea to Mayor Marsha and she also loves the idea but..Greg is the owner of his own restaurant at the vineyard in town and he has an idea to make a FG cookbook and the Mayor throws them back together again for this endeavor. They don't quite hit it off as they have a lot of background that didn't go just right. Love descriptions of not only the food but the kitchens. Love how they do finally work together for one good cause...there are troubles along the way...The cookbook part of this book: WOW! Not only are different seasons color partitioned but there are also other categories: drinks, breakfast, desserts, etc.Love how the recipes I was interested in are made from scratch as that is how I cook also. Fresh ingredients to make the food taste the best it can. Also love the tips along the way and was happy to learn new things in preparing some of the foods.For my party I will be making the sweet potato biscuits or the carrot muffins. Love how the index not only has the names of the recipes in alpha order but major ingredients are also indexed.I found all of these 150 recipes to look too good to be eaten but the desserts won out for me. I love chocolate but the pumpkin and the carrot muffins would also be a favorite of mine.Not sure which I like the best the cookbook or the love story, Glad they are both in here.Love the synopsis of each of the books in the series and I know I still have a few left to read.I received this book from the author in exchange for my honest review.

As a Fool's Gold cheerleader I was excited to help promote Susan's first cookbook. I didn't realize I would be given a copy to read and review though. This is my first cookbook to review so….here goes! Readers don't have to have read a sentence of any of Susan's books to enjoy this lovely cookbook filled with easy and quick recipes. The recipes are divided into seasons, so if readers want something delicious to try in the fall they can turn to that section. The recipes all include a brief description, how many it serves, little helpful tips for better results, and of course the list of ingredients and directions. Susan has included recipes that take advantage of fresh produce and alternative suggestions. In between the pages of recipes is a, what I like to call, ten minute love story. Fans of Susan's Fool's Gold romances get treated to Ana Raquel and Greg's love story. If you don't enjoy romance you can simply skip past and continue cooking. However, if your cooking skills are slightly mediocre like mine, you can enjoy the knowledge that one thing from the cookbook will end happily. I tried my hand at two of the recipes. I made the Creamy Turkey Salad with Dried Cranberries and Toasted Pecans (Pg 8) and simply modified it with dried blueberries and chopped walnuts. It was somewhat of a success. Some family members loved it… others not so much. I was hoping to eat more but I came home only to discover the little pigs I live with ate it all. I then tried the Steak Stir-Fry with Snow Peas (Pg 17). It was another success. All was gone by the end of the meal. I give the "Fool's Gold Cookbook" 5/5 stars. It was so much fun to review my first cookbook. If you've followed the Fool's Gold series you can try several of the mentioned recipes the characters enjoy which is a nice plus. The added 'ten minute romance' was a nice light touch and the recipes are quick and easy. Well done Susan and happy cooking to all.

Reviewed by ColanthaBook provided by the author for reviewOriginally posted at Romancing the BookI've been a fan of Fool's Gold series for a long time and have read up to the more recent books. So when I saw this book, I was excited to see the recipes that are mentioned in some of the books and I wasn't disappointed! These recipes are basic, healthy and are organized by season, so if you are lacking any ideas for breakfast, snack or a dinner in the summer for friends, Susan's Mallery's Fool's Gold Cookbook is for you. And the bonus part of the book, is the short story featuring the romance between Ana Raquel and Greg, childhood friends that are love to cook in the story.As I flipped through the book, two recipes that caught my eye, were the watermelon punch and the chicken wraps. I won't describe what was in the recipes, but my husband really loved the punch and I was a bit disappointed when he drank it all. I really loved the wraps and ate them for two days straight. Even better were the suggestions Susan Mallery gave on making the recipe your own.I definitely have to buy the book, because I received an e-book and needed one I can flip through regularly and keep on my fridge. So far, I have written out the two recipes and are held up by a magnet on my fridge.And lastly, I wished the story had been a bit longer, because the ten minute story left me hanging for more Fool's Gold, and because of that, I had to read the next books in the series. I chuckled when I noticed the recipe names sprinkled throughout the story, so that means I need to start all over from the beginning to see which recipes she mentions because they don't jump out until you pick up this cookbook. And this is even harder when you are hungry because you don't know which ones to try.I recommend you check this book out; not many romance author's create a Foodie Do-it-yourself scavenger hunt in their series. And you just might become a fan of Fool's Gold just as much as I am.

3.5 starsThis book was a combination cookbook and novella. As the blurb mentions, it features some of the recipes prominent in previous Fool's Gold stories. Not to mention, the novella is the story of Ana Raquel, seen with her food truck in Three Little Words, and Greg, the owner of a local restaurant. However, instead of having one part cookbook and the other part story, the story is intertwined within the cookbook, weaving through a couple of chapters at a time. The cookbook is broken into seasons and the story works alongside of each. It story all the more real; as Ana and Greg talked about where to fit what recipe and how to plan the book, the cookbook mentioned that season or food. It was a unique twist that kept me just as invested in the recipes as the story.However, as much as I LOVED the some of the recipes, I don't think I will be making them any time soon. Looking through this cookbook was more intimidating than inspiring for me. Despite the cookbook saying these were recipes you could serve for your family or your special guests, they seemed complicated and full of difficult ingredients for me. Some of the ingredients I don't even think I could purchase in my area. I think my idea of what constitutes easy and serve to family is a little different than the peoples of Fools Gold. Still, I can say I would probably purchase it and store it on my shelf if only to impress my friends and family for having it! :D*review copy provided by author/tour promoter for honest thoughts

Seriously I cannot stop smiling. Mallery was absolutely genius in putting The Fool's Gold Cookbook together. I wasn't sure how it was all going to work with the whole cookbook/romance combo but it was utterly and deliciously perfect.I couldn't resist flipping through the recipes first. And ended up marking more than 30 of them *must try soon* lol. Every recipe sounds delicious and simple and there are gorgeous photos mixed throughout which is always a plus--I do wish there'd been just a few more but that's a minor complaint.Then it was on to the novella which is broken down into sections and mixed in with the recipes as well. And it was just lovely. You get to actually see Ana Raquel and Greg putting the cookbook together. It made it so special getting to see them coming back together--they grew up driving each other crazy--picking recipes, spending time together. I just loved it and that the recipes they talk about and eat are right there in the cookbook for you to try.Mallery had me barking out a laugh one minute and amazingly had tears trickling down my cheeks more than once as Ana Raquel and Greg found love and brought their dream to life. I'm a total foodie and have tons of cookbooks but this one I think is going to be my all time favorite because of the emotional connection it so easily created with the funny and sweet romance. Definitely recommend picking up a copy. And now I'm off to do some cooking. Reviewed for herding cats & burning soup

Susan Mallery's Fool's Gold Cookbook is inspired by her love for cooking as well as the her well-known series, Fool's Gold. She designed this cookbook to be very user friendly. It contains yummy, easy to do recipes. I love this because I'm a busy woman like most of the women out there. I don't have a lot of time to spend in the kitchen and to be honest, recipes with more than 6 steps intimidate me. So as I flipped through this cookbook I realized that Susan Mallery had women like me in mind when she made this cookbook. I've made a few of her recipes and they turned out really good. Also some of the recipes come from the characters in the series such as: Liz Sutton's simple and fresh Summer Squash Saute (so good). I also love that Susan has separated her recipes according to the season. And the recipes are perfect for each season. And for a bonus surprise Susan Mallery has included a short story into this cookbook. The story is woven throughout the entire cookbook. You don't have to be familiar with the Fool's Gold series to enjoy this story. Which is what I love about Mallery's writing. However I must warn you, it will leave you wanting to read more about these characters and the town. I would definitely recommend this cookbook to anyone and everyone. It's full of yummy recipes and a heartwarming story!Read more at http://www.2readornot2read.com/2013/0...

Susan Mallery's Fool's Gold Cookbook is double the pleasure and fun because it's a cookbook and romance in one! That's right, it's a cookbook with a romance embedded in it! Great recipes, easy, tasty, fun, and they fit into the Fool's Gold series. Those familiar with the Fool's Gold series love Susan's romances, and this fits in a storyline with compiling a cookbook. Ana Raquel and Greg have known each other since childhood. Always competing, Ana Raquel thought him annoying. But on prom night, she found herself alone with him, and one thing led to another. Embarrassed, she left town. Years after culinary school, she finds herself back in her hometown running a food truck. Fate would have her brilliant idea of a cookbook the same as another chef in town--Greg. Mayor Marsha thinks it the best plan and throws them together.What ensues is a fun romp through the kitchen trials of testing food, a minor disaster, and a little unexpected romance on the side. Susan's latest Fool's Gold pairing is a wonderful love story.The cookbook features recipes from the rich history of Fool's Gold characters. There's something for everyone--dinner, entertaining, desserts, and as the theme from the loves story, they're based on the four seasons.Whether you love cookbooks, Fool's Gold stories, or both, you won't be disappointed!

I love all of Susan Mallery' s stuff, but I was super excited to get the cookbook. Not only is it filled with more than 150 great recipes from the Fool's Gold Series.The cookbook is divided up into 4 sections Winter, Spring, Summer and Fall, each section has great recipes for that time of year. Recipes such as Fajita Quesadillas in Spring, Buttery Tilapia Dijon Dill Green Beans in Summer, Blueberry Muffin Coffee Cake in Fall, Christmas Morning Chocolate Swirl Buns and Homemade Hot Chocolate in Winter. Not only do you get all these great recipes but she included a Love Story in as well. This is Ana Raquel and Greg's Story. Ana Raquel and Greg have been in competition with each for years. Ana Raquel considers Greg her biggest rival, but when both bring up making a Fool's Gold Cookbook to the mayor, she suggests they work together. Sparks start flying. I have tried and loved a couple of the recipes and long forward to trying more. Only problem is every time I look at the pictures, I become hungry. I truly enjoyed reading Ana Raquel and Greg's Story. This is definitely one cookbook I highly recommend. I received an ARC copy of this book in exchange for an honest review. All thoughts and opinions are my own. My review can be found at http://booksbooksmorebooks.blogspot.c...

Fool's Gold Cookbook by Susan MalleryA seasonal cookbook with non complicated, tasty recipes. Each section has dishes that would be appropriate in a season. For example in summer you can find Ten-Minute Crisp Chopped Salad and in the winter section, the Diner Meatball Hoagies. I'm not a cook. I have no interest in cooking. I was interested in this book because it contains a short romance by Susan Mallery. But as I read the story and flipped through the pages, I realized that the recipes looked fairly easy with only a few steps. And they looked yummy. Now suddenly I'm thinking "I can do this!" I admit the chopped onions and mushrooms will come to me already chopped thanks to a large fresh produce section in my local grocery store. I will take every short cut I can and why not? I'm not a chef, and have other things in life to deal with.The short romance is a little schmaltzy. It follows the actual cookbook creation process and explains the seasons that make up the sections of the cookbook. But it's fun and a nice little romance to read as you browse the recipes. And I'm looking forward to surprising friends and family by creating some of these dishes. "Yes, I made them! No I didn't cater!!"I received a copy of this book from the author.

See full review at my blog http://thebookmomster.wordpress.comLet's start with the romance. It's rated G so no worries about having kids looking at the cookbook and getting an eyeful of something they shouldn't. I love that the characters fall in love while trying to put together this cookbook. Continuing with the theme of this year's books, the characters also have a past and that plays into the romance as well. For FG fans or newbies, the back of the cookbook contains a listing of all the FG books to date and all the characters involved. Awesome!As for the cookbook itself, I love the way it is laid out!!! The book is divided by the four seasons and each season is then divided into two sections based on the season (i.e. Summer is divided by Warm Weather meals and Picnics and Parties). Each section is color coded making it easier to skip to where you want to be. This week, I'm cooking the Seared Chicken with Lemon Spinach – it only takes about 15 minutes to cook! The desserts in the book look divine and I'll be testing the Classic Guiness gingerbread among others. The back of the book contains conversion charts which I always find helpful.Overall, Susan shares some wonderful recipes and a heartfelt story and I loved it!

First I would like to say...Any Romance that includes DELICIOUS Recipe's among the pages, is MY KIND OF ROMANCE. This collection of Recipe's is TOP NOTCH, from Pumpkin Spice Latte Muffins to Ethan's Favorite Macaroni and Cheese with Toasted Garlic Bread Crumbs (I know you are drooling right now). Within the pages of recipes is a Super Sweet Romance Novella, with Ana Raquel and Greg, High School Nemisis', but in reality, it had really been love. This novella was a great addition to the Fool's Gold Series, and it was fun to get the REAL PRODUCT from the Romance, which follows this couple as they create the FOOLS GOLD COOKBOOK.Coming from a Baker and Wanna Be Cook, I plan to use this book many a times, and I am already planning the menu for my daughters 1st Birthday in November!! The Desserts range from Sweet to Sultry and mouthwatering good. And the level of Comfort Foods all in one book, is out of this world.Thank you Susan for creating this Amazing Collection and for Sharing it with me, I will certainly be using this book for years to come!!This one is a NEED TO BUY for all my Baker/Cook Readers!!

Susan Mallery has created a cookbook with over 150 recipes from the establishments and women of Fool's Gold. The book is designed in Spring, summer, fall & winger so you can enjoy items in all year long. In between the pages of food designed to make you drool is a love story between Ana Raquel Hopkins and Greg Clary who have been estranged since they met in Fool's Gold many many years ago. Each has an ambition to be the best chef in the world and have competed for that goal for years. Now they are thrown together by Mayor Marsha to come up with a cookbook for Fool's Gold and must work together. Is this challenge going to be met head on or will sparks fly between the two? You get a romantic read along with some yummy dishes like Liz's Spaghetti for the girls, Denise's Hendricks Summer Berry Pie and can't do a book with out Heidi's Arugula, corn and cherry tomato salad. So come back to Fool's Gold and sit a while and stop by Ana Raquel's mobile cart for some yummy dishes or for a romantic evening Greg is offering a sit down meal for you and your loved ones.

This cookbook is beautifully put together with chapters of the Fool's Gold novella nestled among the recipes. The story was cute, but completely predictable to make it coordinate with the cookbook's recipes. Personally, I think the greatest feature of the book are the simple yet tasty recipes. Unfortunately, I have a number of food allergies and sensitivities, so it can be difficult for me to find recipes that work with my food restrictions. I was thrilled to find that many of the offerings here meet my needs as is or with a few simple substitutions. I have already tried the Farmer's Market Quinoa Salad (YUM!) and the Green Pasta Pesto with Zucchini Carpaccio. I have tagged a number of others that I look forward to trying in the coming days. All in all, I think the concept of the cookbook with the accompanying story was creative and well-executed. It would make a great gift for any fan of Mallery's Fool's Gold novels. I received a free copy of the book through Goodreads First Reads.

In compliance with FTC guidelines; I received the book for free through Goodreads First Reads.The recipes in this book all look simple to make and seem like they will have a tasty outcome. I like that the recipes are divided into seasons. It seems like a logical progression when considering the availability of produce at your local market.The added romance story is cute. I liked the introduction to the town of Fool`s Gold. The cast seems warm and friendly and has the flair of a real small town. The back drop of the town is hardly used.The story portion took me less than an hour to read. It is short. I would have liked the story to be more involved. But that is the price of a short story I suppose.Over all I thought the idea of combining a romance story around the idea of making a cookbook was a clever one. I will keep this cookbook for years to come and more then likely make every recipe sooner or later.