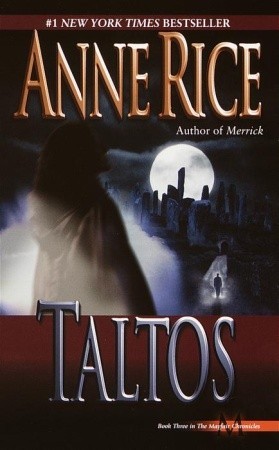 "Taltos is the third book in a series known as the Lives of the Mayfair Witches... Their haunted heritage has brought the family great wealth, which is exercised from a New Orleans manse with Southern gentility; but of course such power cannot escape notice... or challenge... Rice is a formidable talent... [Taltos] is a curious amalgam of Gothic, glamour fiction, alternate"Taltos is the third book in a series known as the Lives of the Mayfair Witches... Their haunted heritage has brought the family great wealth, which is exercised from a New Orleans manse with Southern gentility; but of course such power cannot escape notice... or challenge... Rice is a formidable talent... [Taltos] is a curious amalgam of Gothic, glamour fiction, alternate history, and high soap opera." The Washington Post Book World"Anne Rice will live on through the ages of literature." San Francisco Chronicle"Her power of invention seems boundless... She has made a masterpiece of the morbid, worthy of Poe's daughter... It is hard to praise sufficiently the originality of Miss Rice." The Wall Street Journal"An intricate, stunning imagination." Los Angeles Times Book Review"Spellbinding... Mythical... Anne Rice is a pure storyteller." Cosmopolitan"Beautifully written." Kirkus Reviews (starred)....
| | | |
| --- | --- | --- |
| Title | : | Taltos |
| Author | : | |
| Rating | : | |
| ISBN | : | 9780345404312 |
| Format Type | : | Mass Market Paperback |
| Number of Pages | : | 556 Pages |
| Status | : | Available For Download |
| Last checked | : | 21 Minutes ago! |
---
Taltos Reviews
this character "Ashlar" just up and jizzes all over the faces of the preceding novels in the series, except that it is not hot, not hot at all. The Witching Hour was a fascinatingly cracked historical-family saga and Lasher, although a much lesser work, was a disturbingly oedipal psychodrama. Taltos is like a big bucket of spooge, just silly and disgusting and entirely unappealing to even contemplate. ugh, thanks a lot Rice for ruining a perfectly good series! almost as criminal is the increasingly revolting elevation of the character Mona, surely one of the most unlikeable, creepy (and not in a good way) characters that Rice has ever created. please no more pedophilia disguised as romance..."empowered" juvenile characters like Mona need to vanish from literature without a trace, post-haste. my gosh, surely that is not too much to ask?

Tim Curry narrates, so... time for a re-read! :D

The grave of bones scene in this book is creepy...not a good way to die : /

Rice remembered all the detail but forgot to throw in some story to go with it. First two books were great. Maintain a safe distance from this one.

If you've already been sucked into the Mayfair trilogy, you're going to have to read this book. I'm sorry. It's not good. Really though, this series is worth finishing, even if you LOL your way through the last book because it's so freaking ridiculous. There is a good explanation for what Lasher is, and how he came to be involved with the Mayfairs, and what the Talamasca knows about it; you're going to want to know this stuff. Unfortunately, the characters (particularly the family members) have all lost their minds. Some poor relations come out of the swamp which is pretty cool, but they're just as crazy as the rest of them, except more functional. Keep a punching bag handy.

I loved this trilogy so much and the last part doesn't let it down. Rowan and Michael are great characters and the usual southern new Orleans setting works so well for these books. The talamassca is in these more than her Vampire novels and it was great to learn more about the shadowy organisation.Mona Mayfair is another good character and in this book she gets a lot more time as she is central to the storyline. We also find out just who Lasher was, where he came from and the whole history of the Taltos race. It makes for fascinating reading. All your questions from the first two books are answered very well.There are some huge surprises and I love Ash, the century's old Taltos Rowan and Michal find. A brilliant end to the trilogy and there are two good tie ins to the Mayfair Witches in blackwood farm and blood canticle which are her last two Vampire chronicles books. I'd definitely recommend these books.

It took me a while to get around to this third installment of Rice's Mayfair trilogy. I started it a while back and realized I couldn't quite handle it yet so I moved on to other things for a while then came back and was able to finish it. There's just something about this story, from beginning to end (1st book to 3rd book) that has gotten under my skin. It's one of those stories I won't soon forget... beautifully written yet intensely disturbing. The perfect formula for an unforgettable tale. Anyway, as to this book specifically I just have to say... Rice's vision of the "Taltos," a forgotten, practically extinct race of beings that are so close to human they can pass as human but the differences are so NOT human, and THEY ARE SO CREEPY, well it's brilliant to say the least. These beings have been around since the dawn of time and when humans began making an appearance the Taltos made fun of them, describing them as "hairy monkey things." As humankind evolved and advanced, the Taltos managed to stay out of their way, until disaster struck and their "paradise," their island of plenty, fell into the sea. The surviving Taltos were forced to journey to the bitter cold land of Britain where they managed to hang on. (Being able to give birth to walking, talking, fully knowing children was a definite plus in terms of replenishing their numbers). They were able to pass as human for a long time, until humans became smart enough to question why they had no "young" and finally began to catch on to the differences. Of course mass slaughter of the Taltos was the inevitable outcome; pretty obvious social commentary here. However, the graphic scenes of Taltos being forced to procreate as part of religious ceremonies (the "children" are born almost instantly upon conception), offspring being forced to procreate and then being tossed into the fire and on and on until the people were satisfied enough "sacrifice" had taken place... well, I had nightmares to say the least. It's the mark of a very good author when a story sticks to you like this. I don't know how I feel about the ending. Happy and horrified at the same time I guess. Rice kinda sorta left it open for another sequel, but I really hope that never, ever happens. I honestly don't even want to know what could potentially happen next...

3.5 stars usually it's the middle book in a trilogy that I would give the lesser rating to but in this case taltos was my least fav of Mayfair witches

So, I am writing this review many, many years after the fact. This was my third Anne Rice novel after The Witching Hour (which I loved) and Lasher, which was OK. And along comes this book? I just couldn't get into it. It was so horrible, squicky and stupid. In fact, my best memory of it was the woman at the laundry in Georgia who saw me reading it and warned me not to delve into books like this, they would only wreak havoc with my soul. If only she knew how prescient that comment was! Just not in they way she intended. You are dead to me, Anne Rice. Dead to me! Because of Taltos.

Every time I read an Anne Rice novel I come away from it feeling as though for a while I were peeking into another world, a world I would very much so like to exist in. Knowing my luck even if I did exist in this world she's created I'd never happen upon one of these amazing creatures, and so I'd still never be the wiser or I'd become a part of a short tragic scene. Taltos is another example of Anne's amazing skill as a writer, and master story teller. Her words are the paintbrush while your mind is the canvas! I just simply love Anne's work so much, and highly recommend it to everyone.

A profoundly dumb conclusion to the series. It's Anne Rice—I don't expect Chekhov. I liked "The Witching Hour" because it was smutty and dark. But the answers we receive in this book are so dumb that they reduce a good ghost story to the level of weird, sci-fi slash fiction. This is "The Force is caused by midichlorians," level stuff. The series would have been so much better if it had just ended as a sort of open-ended horror tragedy after book one.

!!Warning; Can contian spoilers if you haven't read The Witching Hour and Lasher!!Taltos is the story which birthed the journey of Lasher and the Mayfairs taken in The Witching Hour and Lasher. Yet it also furthers the relationship development between Michael Curry and Rowan Mayfair. After all the tumultuous events in Lasher I tumbled in to a story that I found very bittersweet to read at times. There are more troubles ahead for the Mayfairs. Characters who I had to say goodbye to and more history to absorb from newly introduced characters. Once more, Anne Rice put me through the emotional wringer in Taltos. I absolutely fell in love over the course of this trilogy with the magic of her storytelling but it also took a lot out of me. The bittersweet unfolding of Rowena and Michael's situation didn't give much room for happy moments. The painstakingly honest dialogues, the sharing of opinions about personal and family matters leave nothing to the imagination. There is no lovey-dovey romance here but an irrevocable bond forged through an attraction that defies all. There is adversity and survival but no sunshine and daisies or an over the top happily ever after for them. Oh no, it is a double-edged sword of pleasure and pain. It has a gritty vibe yet the core of them burns fierce for one another. No matter what they individual decide it is their form of love that fuses them together. The complexity of Rowan and Michael's relationship in gradually layered through the three books. It is but one example how Anne Rice has deepened and enriched various storylines and characterization over the course of this trilogy. I have a penchant for complex and dark romance but even for me it was at times hard to digest all the dilemmas this main couple faced. I wanted some happy time as well but never really got it, not even at the ending, which left a tinge of sadness as I closed this book.Another complex character was Taltos himself. The very thought of such a being tantalizes my fantasy. He was vast intelligence wedded to primal instinct with at times innocent reactions or emotions. Every single time a character opens up about his or her past I'm mesmerized by their stories. They take me back to other times and in the case of Taltos, to forgotten times. Anne Rice spins her own take on the history of the Picts, the creation of Stonehenge and historical England. Via Taltos I was shown a time in which he lived, what his customs and rituals were, how he encountered mankind and how he ultimately got cursed. I was completely absorbed again by the imaginative and at times such detailed storytelling! I was rapidly flipping the pages to discover more and in my queste to discover more I turned to be quite the gluttonous reader.On the other hand I got a bit tired of the Talamasca. The slow disintegration of their duty to watch but never to interfere was evident. There was scheming within the Talamasca by individuals but I was done with all the scheming on their part. These three self-absorbed characters were annoying the daylights outta me. Before their introduction in Taltos I did not know them, their motivations contrived and they failed to add any suspense to the overall plotline. The Elders also irked me, I was to be believed they never came forward in moments of need and loss of structure. Or when a being of significant importance to their history was brought over, that they would not react. That they would choose to be forever cloaked in mystery. For me the dialogues and story development between Taltos and the Mayfairs was all that mattered. The Talamasca had lost its effect and function for me at a certain point in the story.The arrival of Mona Mayfair in Lasher allowed the plot to thicken that much more in Taltos. She is a strong headed teenager and together with the spunky Mary Jane they added an exuberance with their antics and interactions. Both were quick witted and I instantly liked them. Even with things that were hard to swallow, such as the pregnancy, it wasn't an uncommon thing in the Mayfair family. Anne Rice has created a family with its own set of customs, rituals, habits and structure. They fascinated me to no end and it was this very factor that made me read on and on from the first page in The Witching Hour. All these woman, whether strong, normal or weak, they all came alive with their quirks. Many had an imperative part to play and I cherished them for it.With the ending I found some closure but many questions are left unanswered. Perhaps this is what Anne Rice wanted, to leave many things to the imagination of the reader and it does fit the complete vibe of the storytelling. Still, with such an intense emotional investment in reading this trilogy I would've liked an ending that gives a bit more satisfaction. I'm left with questions and an image of resignation, that in the end the Mayfairs have been pawns in the larger scheme of things. While Michael and Rowena's gestures speak of approval, what did they think of the final moments? What is in store for them now? How will Mona deal with the decisions made? What did the Talamsca do with Tessa? Smaller story threads found a conclusion but the bigger picture is definitely left to the imagination of the reader. I stand divided about it, at one hand I find it completely fitting and at the other hand I wanted an ending that left me with the knowledge that after all this pain and strife the Mayfairs are in a good place. And I did not get that notion...3.5 stars

Reminded me of the "Watchers" from Buffy..

Still full of excitement... Hard to write a review... First of all, I am happy I have finished reading all "Mayfair witches" series. After "Vampire Chronicles" I thought that "Mayfair witches" won't be so good and I'll be disappointed... BUT... I wasn't. All these three books were as good as Vampire Chronicles. Anne Rice is my favorite author, I'm fascinated how she created such families, their histories, family trees and everything else. And I just love when she mixes real history with her fiction, it's like..."revealing truth of hidden historical facts". Her characters are brilliant. They all remind me of some people I know, or of myself. In this book I mostly was amazed by Ashlar. I must say, my heart was touched by every single part about dolls. I even did notes of some quotes. The way author writes about dolls, makes me so...I don't know..very touched. Dolls for me are my whole life, my children, my family...and when I found these scenes about dolls in this book, I had to read few times everything again to get stuck in my mind. Parts about dolls- were my favorite. It's like her thoughts came out of my mind. Anne Rice is a brilliant author, because she can touch every single reader's heart. I wish there would be more books about this family of witches. It's such a story that you want to know more and more. Since I'm very interested in genealogy, I am trying to make a family tree of these witches. All this genealogy thing in these books made me so excited!

This is the final book in the original trilogy. I've found two others with Mayfair Witch characters but they are mixed up with the Vampires in those two books, and I'm not sure I really want to deal with either of them.We finally get to know a real Taltos in this book. One who was around when disaster struck this not-quite-human species. They are normally a separate species, but even though Ash doesn't remember a time when the two species were a single one, they have to have been one at some time because they can interbreed, and have, over and over again according to his story.Once again there are multiple tales in this book. A couple of them in the present day. One about Mona and her child and a second one where we find out what was really going on with the Talamasca, who turn out to have a dark and angry side of their own.But primarily we find out about the history of the Taltos.I had a wonderful time with all three books, once again, and I'm sorry that time is over.

I started this book with the sense that it was unnecessary; after all, Lasher and Emaleth, the only two Taltos still alive, were both killed at the end of the last book, bringing a close to the conflict between the Taltos and the Mayfair witches. However, because people love trilogies just as much as Anne Rice loves interview-style exposition, we get a third part to the Mayfair saga.All kidding aside, this is a very interesting book; we meet a new, more mature Taltos named Ashlar, and he freely shares with the Mayfairs the history of his species, stretching back to Atlantis, to the Picts, and continuing up until medieval times and beyond. We also learn about what's going on inside the Talamasca, specifically with regards to the excommunications of Yuri and Aaron in the second book. Overall, I think I would say that I prefer this trilogy to Rice's vampire work.

Just finished this last book and must say am mildly disappointed--it leaves you hanging, drags you on for at least a hundred pages with this confusing stream of consciousness memory trail and confuses you by turning your favorite characters into dependent mindless ninnies..it is crazy to meet Mona and love her headstrong mind and mischeviousness and then see her become doting and helpless after a strange experience..What can I say I loved the premise, thought most of the chararcters were okay (hated Rowan, Michael, Ancient Evelyn and Gifford but loved Ryan, Mona, Mary Jane, Julien and Stella)but the ending disappoints and leaves you wondering if Ann Rice had another book in mind--which wouldnt be so bad so she can redeem herself for ending this powerful trilogy like that--for shame :)

Oh Taltos, I am so disappointed in you. Why couldn't you live up to the first two novels? Why? Answer me, goddammit! You had so much potential but you just threw it away. Don't you think it pains me to see you fail like this? Mediocre, that's what they'll call you, you know. Those people out there who had such high hopes for you and you let them down like this? For shame! You should hang your head in embarrassment after this weak ass stunt you pulled.

The 3rd book was much better than the 2nd, but left me saddened that the story is over. I did not care for the abrupt ending to the trilogy. Even one or two more chapters would have sufficed... only they do not exist.Having waited so long to finish the series I am only disappointed. What happens to the family? The Taltos? Everyone? Too many questions are to go forever unanswered!

Well, Anne Rice is definitely committed to her vision.

3.5Que giros y vueltas me ha presentado esta historia! Me ha gustado, me ha confundido, me ha sorprendido.Sigo pensando que no tiene el impacto del primer libro y que a pesar de que estoy de acuerdo con el final, se enredo tanto que ya no sabía por dónde iba a ir.Es complejo a tope, los personajes son tan profundos y con tantos matices que me encanta que sus concluciones no son los tipicos finales rosas pero tampoco terminan siendo negros, hay de todo! El final deja abierta varias cosas y según tengo entendido los mayfair vuelven a aparecer en las crónicas vampíricas pero de forma secundaria, tal vez ahí cierre algunos círculos.No estaba segura que incluir la historia de los Taltos fuera buena idea y mantengo la opinión que "La hora de las brujas" pudo llegar a ser un libro autoconclusivo pero también debo reconocer que fue una historia completa y la disfruté.

Very cool series. I fell in love with Anne Rice after reading these.

I liked this one but thought the ending a bit rushed. The final installment of the Mayfair witches trilogy. More information about Taltos and their origins. Introduction to Ash, only male Taltos left in existence and his relation to the the Mayfair family.

I was almost considering not reading this book--not because I didn't enjoy the 2 earlier installments of the Mayfair Chronicles, but because they were just so....meandering. I often had to force myself to work through the denser, long-winded descriptions and too-drawn-out, chapters-spanning monologues of characters recounting every last detail of their backstories that Rice seems to be quite fond of. But I pushed through for my love of her expertly-crafted characters and spellbinding world.So I was completely taken aback when "Taltos" ended up becoming my favorite book of the series. It was almost the same length as "Lasher," the preceding title, and yet the writing was far more compact and relevant. We still get Rice's long and beautiful descriptions, but within reason. There is only one chapters-spanning backstory monologue in this novel, and most of it remained both interesting and significant. The new characters Rice introduces are captivating and fit right in with the rest of the cast."Taltos" was probably the only book of the series that I consistently had trouble putting down--definitely a page-turner. I am sad to see the Mayfair Chronicles dwindle to a close, especially with an ending like this; I want to know what happens next! All in all, this series has been a wonderful ride, and I highly recommend all three books to anyone even remotely intrigued by the supernatural.

Culmination of the Mayfair Witches' trilogy, this sometimes feels as though it's an entirely separate book as much of it is concerned with the relating of Ashlar's tale, which is a delicious mix of history with myths and legends, all imbued with the inevitable sadness that comes from having lived a centuries-long life.The events concerning the Mayfair's (other than Rowan and Michael, who simply listen to Ashlar for the most part) and the reclamation of the Talamasca are relegated to the sidelines, which is a shame as I would have liked to have seen a little more to these stories, particularly in the case of the Talamasca (though that part does have a fantastically grisly punishment at it's conclusion). I enjoyed elements pertaining to Mona and Mary Jane, and would have liked to have found out a little bit more about the Fountevrault Mayfair's, but was slightly ambivalent about Morrigan and this part of the story was that which I enjoyed least. It's arguable that this book is the least necessary in the series as it was hard to see where things could go after the events in the last book, which would have seemed a more natural conclusion, but nevertheless this was still highly enjoyable and definitely worth a read.

This book was my favorite one of the series. I read the whole book in a day and loved it. I loved the characters. Because of this book I decided I would love to have a little girl named Rowan. About a year after reading it I decided to try for a little girl. Nine months later my little Rowan arrived. In the books one of the signs that a Mayfair is a witch is her being born with an exter finger. My baby girl was born with an exter finger as well. It was kind of a creepy coincidence. The Mayfair witch books are well worth reading. You have a old powerful faimly of witches, a spirit who helps and hurts the faimly, an ancient group that watches and records the supernatural. Some how part of this group has become corrupt and has turned on some of its members. You discover the Taltos an ancient raise that gives birth to full grown walking talking children. You meet unforgettable characters that are easily to fall in love with. The books are a bit odd but that just adds to the dynamic of the books.

Here we are there is another Taltos Mr Ash.....he claims to be the st.ashlar. I loved him...i loved the story it took a step back fromt he total immersion into the talamasca story that was hugely explored in Lasher. You learn about the Taltos race and thier tragic end. this is what Lasher worked so hard for. It is shorter than the prevous two books. I enjoyed it very much and by the end i was in tears.

Really, why did this book need to be written? It has very little to do with the first two books of this "trilogy". They stood alone in terms of story, and Taltos adds nothing but an unrelated story line. I hate how Rice disposes of the character of Aaron Lightner. For such key person in the first two books she really just erases him from the page. The entire book droned on like a third rate spy novel with the usual huge flashback from that point.

This book was SO weird. The first book, The Witching Hour, a 1000 page hunker was fantastic. Lasher, the second book was okay. This one was just creepy and perverted and cringey. The characters and the idea of this book are so out of place compared to #1. I still want to read Interview with a Vampire because Pitt and Cruise!