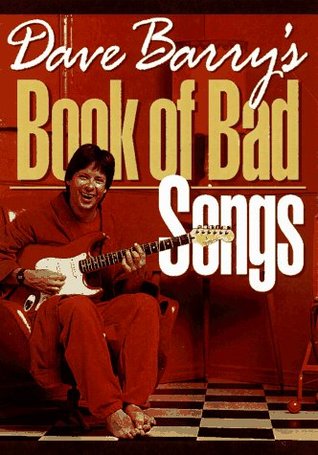 Based on the results from Dave Barry's monumental survey, Dave Barry's Book of Bad Songs is a compilation of some of the worst songs ever written, including such special categories as Teen Death Songs, Songs That People Always Get Wrong, Songs Women Hate and, of course, Weenie Music....
| | | |
| --- | --- | --- |
| Title | : | Dave Barry's Book of Bad Songs |
| Author | : | |
| Rating | : | |
| ISBN | : | 9780836214437 |
| Format Type | : | Hardcover |
| Number of Pages | : | 112 Pages |
| Status | : | Available For Download |
| Last checked | : | 21 Minutes ago! |
---
Dave Barry's Book of Bad Songs Reviews
This is one of the funniest books I've ever read. As Barry says, "song badness" is apparently a topic that people care about a lot. And how can we not? In a world where Neil Diamond has made a living confessing his innermost feelings to a cruelly unresponsive chair, it is our pleasure, nay, our duty to mock.

I learned that I am not the only person fascinated with terrible lyrics. Do it to my one more time. Muscrat love. I sincerely hope that if I am ever in a coma, someone will read this out loud to me because it will still make me laugh.

Too too funny! My husband and I both read this book and then went back and re-read and laughed over so many of the funniest parts. It's a short book, not a huge time committment, but hysterically funny if you are familiar at all with the songs.Some of the funniest parts are from his "bad song survey" comments, in which people commented on the songs they hated or did not understand:"The part of 'Billie Jean' where Michael Jackson sings 'The chair is not my son' (We don't know if this is the same chair that refused to listen to Neil Diamond.)"There's an entire chapter devoted to indistiguishable lyrics. For example, "Help Me Rhonda", where in sounds like the Beach Boy are singing, "Well since she put me down, there's been owls puking in my bed." I still have no idea what the real lyrics are! Cracked me up when I read the part about the song "Blinded By the Light" in which it really does sound like "Wrapped up like a douche, another runner in the night." It's only recently my husband told me the real words, I always thought it was something about douche!!

Oh My GOSH!! This book was hilarious! Really. I literally laughed until I cried. Had I read the previous journal entries prior to the book, I would have heeded Carol's warning and saved myself from having to actually leave the comfort of my bed as to not wake the other-half with my persistent giggling! (when Barry talks about "Girl Watchers" ;Hello there femalemy, my but do you look swellGosh! Thank You, Male! Let's have sex relations!" yeah; that's where I lost it.)I read this through in one evening and laughed out loud; I read passages to my other-half and together we laughed. Then, I called my mother the next day to read passages over the phone and together, we laughed hysterically!

I may have read this book more often than any other book on my Kindle. This time I was in a mildly bad mood and it made me laugh, full-on from the diaphragm, on the DLR at Westferry. At WESTFERRY. I fully believe that Dave Barry is one of the greatest American writers of the postwar period and so many sentences in this are a work of art. This whole book is a work of art. It should be shot into space on the next Voyager or Pioneer or Vanguard or We're The Best, Hi Exoplanets or whatever, assuming Domald Tromp hasn't defunded the entire science branch of America yet. VERY BIG TICK.

This book had me rolling on the floor, laughing. Dave Barry has been one of my favorite authors of all time for a long time now, and I think this books is him at his funniest. I don't even mind him taking a jab at some of my favorite songs, such as "Never Been to Me," because he's right, despite the beautiful melody, I still can't quite figure out what the lyrics are about, either. One of my particular favorites in this book is the section about songs with lyrics that are hard to decipher--funny, funny, funny! This book was published sometime ago; shouldn't it be time he comes up with a sequel commenting on songs that have come out since?

Dave Barry's hilarious take on all of the impossibly bad songs that haunt the airwaves (up until the early 90's, that is). I found myself knowing nearly every song, and most of them in excruciating detail. His warning that "reading this book will get these songs into your brain" is 100% accurate. My biggest complaints about the book is that it is very short (albeit longer than the original article the idea branched from) and the list stops at the early 90's. It would be interesting if he did the same thing for some of the more current tunes released in the past 2 decades - although that would probably mean they would re-enter our conscious again and that might destroy the universe.

I hate the song "You're Having My Baby" by Paul Anka, and apparently, I am not alone. Barry lists it as one of the most reviled songs of all time! Find out what other songs make the list here, along with misunderstood lyrics. Speaking of mishearing lyrics, my husband misheard one of the lines from the Kiss song "Rock and Roll All Nite" Original line: I wanna rock and roll all night and party everydayHow my husband heard it: I wanna rock and roll all night, and part of every day. Naturally, as you would be a bit tired from the all nite partying!

Whatever you do, don't read this book while you're eating or drinking.You'll just get choked, and then either someone will have to do the heimlich maneuver (manuever? they both look wrong) on you, or you'll end up looking dead and foolish.This book is just that funny.Also, you'll never be able to listen to the radio the same way again. Especially the oldies station.And I can't listen to Gary Puckett at all any more after reading this.

Well, Dave Barry warned me at the beginning that I would be sorry if I kept reading past his WARNING page. I read on anyway and now, as he says at the end of the book, my "brain is now an infected, festering, oozing mass of irritating melodies and pathetic lyrics." Oh well, it was totally worth it since it was laugh out loud funny.

I love this book. I read it at least once a year, when I want to be helplessly giggly, and be reminded of the best birthday card I ever bought. (It had a cake. In the rain. If you're old enough, you understand.) Weenie Songs, Teen Death Songs, Songs Women Really Hate . . . there's something for everybody.

Laugh out loud funny. I actually had to go into my room to read during SSR (silent sustained reading) time with my girls because my laughter was disturbing their attempts at reading. Not to mention my bursting into song regularly - a bit much for them. :-)

If you want to laugh and have some really bad songs stuck in your brain, this is the book for you. Chapter title -Teenage death songs-think Leader of the Pack or Honey. Help I have Bobby Goldsboro songs stuck in my head!!!!

So OK, this is not a great work of literature, but it made me laugh so hard that I cried, and my husband kicked me out of bed. It takes some talent to write something this funny.

My FAVORITE Dave Barry book of all.

Dave Barry's Book of Bad Songs is simply a book of bad songs from about 1960 to 1990. Dave Barry makes fun of them and is amazed by them at the same time. I chuckled throughout my reading of the book but I also laughed so hard at parts that tears came to my eyes. Nearly his grand finale was a chapter entitled "Teen Death Songs" and, yes, there were enough well known songs during that time period about teenage deaths that he had no problem filling an entire chapter. I will leave with the words of the Temptations' Ball of Confusion, "Great googa mooga, can't you hear me talking' to ya".

Very short, but highly entertaining audio book to listen to on a long ride. I think you'd have to be a person of a certain age, though, to remember most of these songs as the book was written in 1997 and the songs go back decades from there. I especially liked the part about about Gary Puckett as I had just remarked to my husband a week or so earlier, when I heard "Young Girl" on the radio, how creepy some songs from the sixties sound nowadays.

OMG! This is just what I needed to read this morning--I forgot how funny Dave is & how much I enjoy his books. I was laughing so hard, I was crying--especially the Songs People Get Wrong. I have never laughed so hard reading a book. Loved it (& I remember most of these songs & have them on old 45s in the basement).

This book reads like it was written in an afternoon, and was read as quickly. The material in this book is suited for a tight 750 word shtick, which is what it started as; a column in a newspaper. It made me smile a few times, so kudos for that.

Definitely a lot of bad songs listed in this book. Funny to remember them.

Whenever I need a really good laugh, I pull this off the shelf and read it ... again. It only takes about an hour and I feel immeasurably better afterwards.

A deep exploration of the ambiguities of existence.

Dave Barry always makes me laugh out loud. This book didn't disappoint.

A fun read. It brought back memories of songs with ridiculous lyrics and those who sang some really bad songs.

Oh,HELP, my sides hurt!This is one of Dave Barry's funniest books yet! I wish it was longer but I don't know if I could survive much longer laughing that hard. Try to read this in a private place so bystanders don't think you're crazy!

Dave Barry's Book of Bad Songs, by—of course—humor columnist Dave Barry, was an amusing, quick read that resonated precisely because who among us cannot identify with knowing any number of popular songs that induce more cringing than actual enjoyment?The result of a Barry column surveying readers for the songs that they hated, but that expanded far beyond its original bounds because of the overwhelming response, Dave Barry's Book of Bad Songs works primarily because of Barry's "voice" permeating the whole thing. Alternately damning with faint praise (or . . . not) and extracting hyperbole where it probably shouldn't belong, the book succeeds insofar as it illustrates the many reasons why a popular song fails on an artistic level, albeit at a level that fits, essentially, a humor column rather than scholarly research. So help me, I have enjoyed many of the songs Barry and his readers single out for criticism—much of the work of Paul McCartney and Neil Diamond come to mind, both mine and Barry's—but when stripped down to their lyrics or actual premise, many of these gems are truly deserving of at least some opprobrium. Yes, I understand that popular music is what it is precisely because of the repeatable formula of the whole thing—it's why so much of what we hear on the radio sounds the same, as well as why we only hear the same couple Radiohead tracks over and over again—but Barry makes the argument that that's no excuse. One gets the distinct impression that for at least some of these tracks, the writer Should Have Tried Harder; for others, there is perhaps no redemption whatsoever.Of course, I'm probably almost definitely overthinking this. After all, Dave Barry's Book of Bad Songs is just an extended newspaper humor column. However, at 112 pages, the book manages to get actual humor across without overstaying its welcome. In less deft hands than Barry's, it might have been less amusing or too long, but form fits function, here. If nothing else, I can say that Dave Barry's Book of Bad Songs made me laugh for a few lunch breaks, exactly as advertised, and what more could I really want from a casual humor book?

Twenty years ago Dave Barry wrote a classic Miami Herald column mocking songs that stink, eliciting thousands of reader comments and leading to this great collection of bad lyrics and apt quips about them. For example, "I Am," written and sung with great emotion by Neil Diamond: "I am, I said / To no one there / And no one heard at all / Not even the chair." To which Barry responds: "Was Neil surprised?" And then there's "MacArthur Park," by Jimmy Webb: "Someone left the cake out in the rain / I don't think that I can take it / 'Cause it took so long to bake it / And I'll never have that recipe again." Which Barry and many readers dismiss as inane, intolerable, incomprehensible, inexcusable, and many other "in-" pejoratives. Chapter themes include ""Teen Death" and "Weenie." Barry generously highlights others' creative mockery, passing along such choice reader comments as "I'd rather chew a jumbo roll of tinfoil than hear that song."Given the continuing ubiquity of annoying lyrics ("Like the ceiling can't hold us," over and over and over), can we hope for a sequel from Mr. Barry? I wrote him to ask and will keep you posted. (Jeff B., Reader's Services) Update:I wrote the following to Mr. Barry at the Miami Herald: today's lyrics equal yesteryear's manure in terms of suckiness so how 'bout a sequel to help us endure the ongoing unluckiness ?He answered graciously: I don't think I'd survive the effort. But I appreciate the thought. Dave

This book was gifted following a discussion about an NPR Soundcheck Smackdown, which pitted the lovers of Neil Diamond against the dingalings who don't like him (I know, blasphemy). The segment opened with a brief interview with Dave Barry, who years ago in one of his columns made the mistake of being negative about Neil's choice of lyrics in "I Am I Said." The reader response was primarily one of spittle-flecked ire - not only for Barry's criticism of this song and thus of the Neil, but of other song lyrics that should have been mentioned as just dumb. The result was a reader survey of "bad songs" which provided fodder for this book. And what a perfect foil to a cold and rainy afternoon! I chuckled so much I was shaking, trying to hold in my laughter; it was a rollicking quick read through the Land of Bad Songs. He has a gift for hitting on the idiocy, and no one is safe. For the record, he has reformed his ways and now worships at a tastefully decorated shrine to Neil. Also for the record, heed his warning: some of those songs definitely remain trapped in that large capacity of our brains that retain such trivial nonsense.