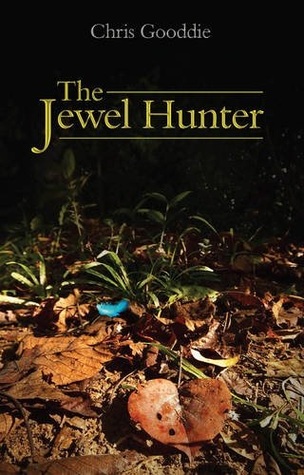 A tale of one man's obsession with rainforest jewels, this is the story of an impossible dream: a quest to see every one of the world's most elusive avian gems--a group of birds known as pittas--in a single year.Insightful, compelling, and laugh-out-loud funny, this is more than a book about birds. It's a true story detailing the lengths to which a man will go to escape hiA tale of one man's obsession with rainforest jewels, this is the story of an impossible dream: a quest to see every one of the world's most elusive avian gems--a group of birds known as pittas--in a single year.Insightful, compelling, and laugh-out-loud funny, this is more than a book about birds. It's a true story detailing the lengths to which a man will go to escape his midlife crisis. A travelogue with a difference, it follows a journey from the suburban straitjacket of High Wycombe to the steamy, leech-infested rainforests of remotest Asia, Africa, and Australia.Dangerous situations, personal traumas, and logistical nightmares threaten The Jewel Hunter's progress. Will venomous snakes or razor-clawed bears intervene? Or will running out of fuel mid-Pacific ultimately sink the mission? The race is on. . . .If you've ever yearned to escape your day job, wondered what makes men tick, or simply puzzled over how to make a truly world-class cup of tea, this is a book for you....
| | | |
| --- | --- | --- |
| Title | : | The Jewel Hunter |
| Author | : | |
| Rating | : | |
| ISBN | : | 9781903657164 |
| Format Type | : | Paperback |
| Number of Pages | : | 424 Pages |
| Status | : | Available For Download |
| Last checked | : | 21 Minutes ago! |
---
The Jewel Hunter Reviews
I am still waiting to find the perfect blend of birding-adventure/travel writing. Usually, travel writing leaves me crabbily wondering what birds might have been in the area (if only the benighted author had been willing to take a look at them), whereas birding-adventure writing feels a bit frenetic and obsessive. The Jewel Hunter is a good example of the birding-adventure subgenre, with plenty of the author's unmistakably British sense of humor, but after a while, although I love birds (most people I know would say I am excessive about them), I wanted a bit...more. Birds might be the best things on earth, but they're not the only things on earth. Or maybe I'm just jealous because the author took a year off and saw 1900 species of birds. Maybe.Recommended for hard core bird nerds. For everyone else, you may be a bit mystified by the birdiness.

Do you have a "plan B" — that secret dream you've quietly nurtured for much of your life? Choosing to pursue your "plan B" is a bold and often transformative decision that many adults are too afraid to commit to. But The Jewel Hunter [ISBN 978–1903657164; WILDGuides Ltd, UK; 2010] is the real-life story of one man who finally overcame inertia to devote eleven months of his life to his "plan B": his obsession to see all living species of a small jewel-like songbird, the pittas.At 45 years old, Chris Gooddie is a proper British professional. He's gotten a good education, he works hard as a sales director in the publishing industry, he lives in London and is, according to all appearances, busily climbing the corporate ladder. Of course, like most of us, he does occasionally have his moments of inexplicable exuberance, such as when he was searching for a snowfinch in the French Pyrenees and almost froze to death whilst dressed as a pantomime cat.Gooddie also daydreams a lot, perhaps more than most professionals. One of his favorite daydreams was a secret ambition he'd been nurturing for much of his adult life. Gooddie is a closeted treasure hunter. His treasure? Birds.But not just any bird: Gooddie dreams of pittas. There are 32 species of pittas in the world and Gooddie wanted to see them all before he becomes extinct — or they do. This seems easy enough until you learn that only two or three people have ever seen all of the pitta species in their entire lifetimes.But this nearly universal oversight is not because pittas are little brown birds. Sometimes known as "jewel thrushes", pittas are medium-sized roundish songbirds with soft voices, long legs and a nearly non-existant stub tail. They bounce around in dense and shadowy tropical rain forests, their presence occasionally betrayed when a stray sunbeam finds their stunning gleaming plumage. They are, in birder's vernacular, cosmic mind-fuckers — also referred to as "CMFs" in polite society.One species had particularly captured Gooddie's imagination; Gurney's pitta, Pitta gurneyi. This spectacular species only occurs in lowland rain forests of peninsular Thailand and southern Myanmar (Burma). For 34 years, this secretive little jewel had been thought extinct until it was rediscovered in 1986. This news captivated Gooddie. He even competed in two fund-raising London marathons to help save this species, whose entire Thailand population was thought to consist of just 20 pairs of birds.So knowing this, we cannot be surprised when one evening, Gooddie found himself in his office once again, daydreaming about pittas."Animals are the best things in the world"Gooddie doodled instead of working on yet another computer spreadsheet."Birds are the best animalsPittas are the best birdsGurney's pitta is the best pitta"And just like that, Gooddie closed his spreadsheets, typed his resignation letter, cleared his desk and left. Gooddie turned his back on a £90,000/year job to devote the next 11 months to his dream. He traveled more than 200,000 kilometers through Thailand, Malaysia, Taiwan, Sabah, Vietnam, The Philippines, Indonesia, northern Australia, Sri Lanka, Manus Island, The Solomon Islands, Uganda and Zambia, spent almost £30,000, lost 13 kilos, met many interesting people and ate a lot of fabulous cooking. Along the way, Gooddie ran into an angry sun bear, curious elephants, poisonous snakes, scorpions, numerous leeches and gazillions of mosquitoes. But he also saw more than one-fifth of all the known species of birds in the world. Most importantly, Gooddie got the opportunity to chase the objects of his passion through the tropics. But even the author is amazed at the pittas' wiliness. He writes:…ALL Blue-rumped Pittas [sic] I have ever seen (in Vietnam) have approached to within two metres without me seeing a single feather on their sneaky behinds. They will be watching from a hidden vantage point closer than you think humanly possible. That's because whilst it's impossible for a human, it's eminently possible for a pitta, which is able to take the subway, or glide through the forest without touching the floor. Despite their typically rather chubby frames, they are able to flatten themselves behind single blades of grass. They can travel through space-time without leaving a ripple in the continuum in a way that even Stephen Hawking cannot explain. [p. 37]Black and white maps sprinkled throughout the book help the reader keep up with the author's international journey, and most maps include a drawing of the pitta species that the author was chasing. Despite this, I wish there had been a summary map at the beginning of the book showing the complete journey or, barring that, each detailed chapter map should have included a smaller inset map showing the nearby land masses for those who are not familiar with this region of the world.The book also includes 138 colour photographs of people encountered, places visited and birds seen. These photographs, taken by the author, are presented in chronological order in special insets. The fifth and final section of photographic insets ("The Treasure Chest") are the author's pictures of pittas. Considering how challenging it is to simply see pittas, it's surprising that Gooddie managed to photograph most of the species. As you might expect, some of these photographs are blurry or capture a distant jewel-like pitta peering over a large green leaf blob in the foreground blocking most of the camera shutter. But these poor quality photos are few and they nicely reflect both the author's humorous conversational writing and the adventures he had.Even though I enjoyed the book, I was frustrated by the author's superficial discussion of deforestation and illegal logging, which pose tremendous threats to all wildlife endemic to the coastal and lowland forests throughout southeast Asia and the Pacific. I think Gooddie could have made his story stronger (and provided a richer explanation for his "pitta passion") by including one chapter about these issues, combining information from the conservation literature with his on-the-ground experiences. However, that said, the author's interest appears genuine: a percentage of the profits from the sale of his book go to BirdLife International, one of several organisations that are working to protect the last of the pittas' habitat.This 424-page trade paperback is printed on heavy paper and bound in a heavy paper cover. The cover photograph is nice, but oddly, the colour is not properly balanced. The chapters were named for the places that Gooddie visited, but because this book was focused on seeing the pittas, I think the pitta species seen should have been included (perhaps parenthetically?) in the chapter name, too — either that, or there should have been an index of pittas seen. Throughout the book, Gooddie demonstrates that he is a rabid "lister" who keeps detailed lists of all sorts of things, so it only makes sense that his trip bird list should also have been included (it wasn't). A few cut-and-paste errors detracted from the story, but otherwise, this book was well edited and produced.Despite its few flaws, this rollicking tale is an engaging and compelling memoir that bird watchers, nature lovers and fans of travel literature will enjoy. This book is a must-read for those who (like me) are nurturing their own dream to go on a tropical birding expedition, and is essential reading for anyone who nurses their own secret "plan B".NOTE: Originally published at The Guardian on 28 February 2011.

I loved this book, although I have no doubt this is because of my love for Pittas and because the author's humour struck a chord with me. Initially I found all the analogies a little irritating, but it wasn't too long before I found the humour intended.